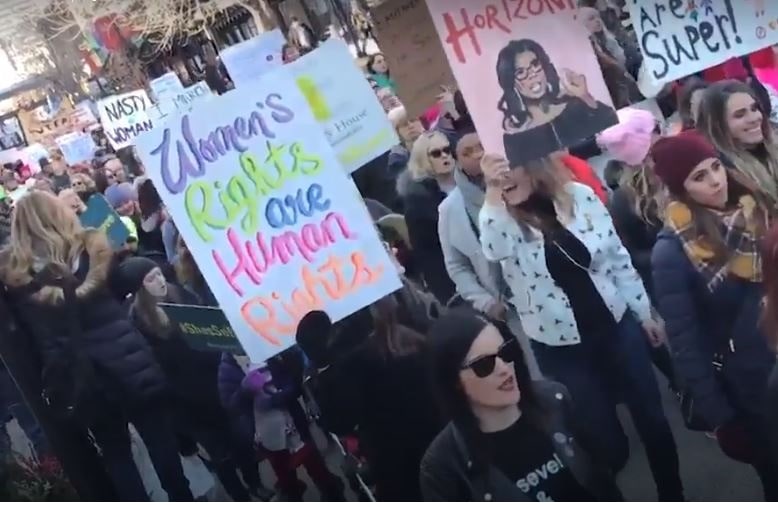 In 1970, I was elected to the Board of Directors of the National Organization for Women in New York City. This quickly triggered invitations to speaking on campuses throughout the U.S.—from Yale to Harvard to Stanford. Each engagement led to an average of three more.
However, after starting hundreds of men's and women's groups — one of which was joined by John Lennon — I began integrating the life experiences of college men into my talks. I soon invited my entire audiences of college men and women to "walk a mile in each other's moccasins"—the men in "men's beauty contests" to experience the beauty contest of everyday life in which every woman participates; and then the women to take a few of the many risks of sexual rejection the guys typically experience.
The feminist groups that sponsored me loved the male beauty contests. My invitation for the women to risk the sexual rejection experienced by men was more complex: first, the college women found it much harder than they anticipated—but 70% or so could get up the nerve to take risks. Second, the ones who couldn't get up the nerve had an emotional experience of the type of rejection men typically experience. And third, the feminist leaders on campus who were my usual sponsors—and had just been cheering during the men's beauty contest that the men were "finally getting it"—suddenly either held back or left the theater once I asked the women to "walk a mile in the men's moccasins."
Related: A New Tactic to Undermine Free Speech?
It was then—in the early seventies—that I began to experience that the campus feminists wanted men to understand women but had no interest in understanding men. I saw the handwriting on the wall: if I were to persist in my journey from ideology to compassion, I'd be forfeiting a very rewarding career. I cannot say the decision was easy—income, awards, media were all at stake. But I did decide to persist. And sure enough, my speaking engagements on campus went from more than I could handle to the following experience at the University of Toronto in 2012.
A campus association at the University of Toronto (called Canadian Association for Equality, or CAFE), heard that I was working (with John Gray) on a book to be called The Boy Crisis. They had heard that my findings went deeper than boys throughout the developed world dropping out of school more than girls, but that they were also experiencing problems with mental health (e.g., mass shootings; depression; suicide); physical health (e.g., obesity; sperm count), and future economic productivity.

The book wouldn't be published until March 2018, so no one had read it. Nevertheless, the feminists on and off campus, catalyzed by the Socialist Workers Party, organized a campaign to vigilantly rip down all the posters that were used to publicize my talk—usually moments after they were put up. And the night of the talk, they formed a human blockade of the entrance doors that you can witness in the video below.
When the campus police were unsuccessful distinguishing between, "protest yes, blockade no," the Toronto city police had to be called in.
The feminists accused the police of being violent; fortunately, the video was available to offer evidence of the police restraint even as the feminists cursed them and gave them the finger. And that was before I had given any speech anywhere on The Boy Crisis. Shortly after, I gave a TEDx talk that gives you a sense of what I was in fact saying.
In the seven weeks since the publication of The Boy Crisis, my brief interview for Libertarian Matt Kibbe's Free the People on Facebook on fatherlessness and mass shootings quickly went viral with more than 22 million views in five weeks. I have been asked by liberal and conservative organizations to speak on the causes and solutions to the boy crisis.
Related: Five Realities of Tribal Politics
Although I dig deep into solutions that can be employed in high schools and colleges, not a single college in the U.S. or Canada has asked me to speak on their campus. Rather than becoming men by finding their voices while in college, they will be told on campus that they have white male privilege; that saying what they feel is "mansplaining"; that anything they feel should be repressed, not expressed.
The Boy Crisis outlines ten causes of the global crisis facing our sons. Some of them—such as environmental toxins–are aligned with liberal perspectives. But I discovered the primary cause of the boy crisis to be minimal or no father involvement. The conservative media was fascinated with the hard data that reinforced their understanding of the importance of the intact family and dad-style boundary enforcement that leads to the postponed gratification boys (and girls) need in order to achieve. However, the impact of conservative media led to no outreach from college campuses.
On the liberal end, college campuses would potentially be reached by The Atlantic and CBS Sunday Morning, both of which carefully considered coverage of The Boy Crisis, only to suddenly drop their interest. I held out hope when Katie Couric came to my home to interview me for an episode on gender for her America Inside Out series on National Geographic, to be aired on May 9. While this series will be available on many college campuses, the boy crisis will never reach the ears of college students via Katie Couric or National Geographic.
Related: Insisting That Whites Should "Step Back"
Readers of Minding the Campus already know how liberals, the champions of free speech on campus, have become the champions of censored speech. How the champions of female progress are now the champions of mixed signals: "I am woman, I am strong," versus "I am offended, I've been wronged."
Does the solution include an evolutionary shift in the male-female tango? Yes. But let's do it with respect for women. When females are encouraged to speak up, and males are told to shut up, that does not generate respect for women.
And let's do it without undermining feminist progress toward female equality. When both sexes get drunk and have consensual sex, if the drinking erases her accountability, but not his, that undermines the responsibilities that accompany equality. When due process is eliminated to protect only women, that also undermines the responsibilities that accompany equality.
When boys know they want sex more, and girls want it less, increasing boys' chances from the outset of being rejected, and then boys learn to risk sexual rejection by expectation while our daughters risk it by option, we prepare our sons for more risk-taking than our daughters. That does not prepare our daughters to be equal risk-takers in business or life.
In aggregate, advancing a narrative of victim power ultimately leaves girls and women protected, but powerless. Yes, the over-protected are more loved; but the over-protected are less respected. The next evolutionary step we need in the male-female tango is equal accountability, equal respect, equal listening to both sexes, and equally loving both sexes.
Until we do, we'll be preparing more boys like Royce Mann for the next freshman classes. The brilliant 14-year-old Royce Mann won a poetry slam that went viral by articulating the shame he feels at becoming a man—at becoming "mostly an attacker." The shame Royce has already absorbed will be reinforced when he learns that anything he feels should be repressed, not expressed.  When the feelings of boys, already repressed, are further repressed, boys can become depressed. And our sons find themselves, male privilege and all, committing suicide with five times the frequency of their female campus colleagues.
Whenever only one sex wins, both sexes lose.