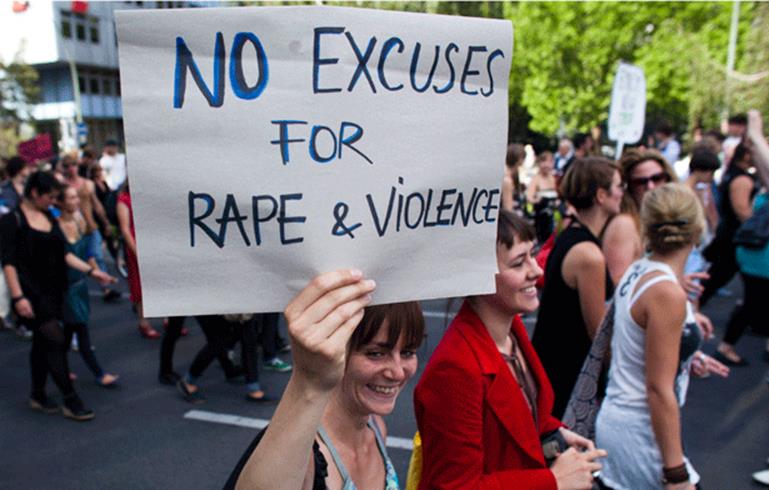 "After a University of Nebraska at Lincoln student was sexually assaulted in her dormitory last month," Inside Higher Ed reports, the university came under intense fire "by students who thought police should not have mentioned in a campus-wide bulletin that two men accused of sexual assault were black, believing that it reinforced harmful stereotypes." The criticism was so vehement "that university officials are now re-evaluating when and how racial identifiers should be included in such warnings."
Sexual assault on campus is rarely reported to state and local police departments. It's handled internally through controversial Title IX committees which typically support the accused, regardless of contrary evidence. Nevertheless, identifying the perpetrator of a legitimate assault is one way to keep other potential victims safe.
Sue Riseling, executive director of the International Association of Campus Law Enforcement Administrators, "said she supports campus police forces sharing a suspect's race because that informs the public and helps with an investigation," but some institutions and race advocates disagree. After an incident in 2015, notes Inside Higher Ed, the University of Minnesota "said it would limit references to race in its crime warnings to only 'when there is sufficient detail that would help identify a specific individual or group.' [Of course, racial information does identify "a group," but never mind.] Brown University has also excluded race from its crime alerts since 2015."
Many experts oppose reporting the racial identity of suspects. Shaun Harper, director of the University of Southern California's Race and Equity Center, argues that "it's the job of the police, not the job of faculty, staff and students, to do the work stopping the assailant, or the criminal. I just don't think the descriptions of race are necessary," a conclusion that was reinforced after one incident when "he realized he matched the exact description in the email" and was "scared to death to walk out of my building — someone might have thought that I was him."
Also arguing against reporting racial identity, Harvard researchers found that "a single word, indicating the racial identity of an alleged crime suspect, can shift implicit and explicit stereotypes toward entire racial groups."
Racial profiling is always controversial and usually condemned unequivocally … except when it's not. For example, selective institutions like Brown, and probably even the Universities of Minnesota and Nebraska, engage in racial profiling insofar as they seek racially identifiable information and "consider" it in admissions, hiring, and promotion.
Even leaving aside that inconsistency, however, if racial profiling is usually wrong, even evil, why is there no similar outcry against profiling by sex? Given the increasing condemnation of "toxic masculinity," surely reporting the sex of suspects or offenders can reinforce the stereotype that all men are capable — and often guilty — of rape.
Even many extreme advocates of the notion that masculinity is often toxic, such as Salon's Amanda Marcotte — who has argued that toxic masculinity rather than Islamic terrorism was responsible for the shooting in Orlando that left 50 dead — recognizes the danger of condemning all men. "Every time feminists talk about toxic masculinity," she notes, "There is a chorus of whiny dudes who will immediately assume — or pretend to assume — that feminists are condemning all masculinity, even though the modifier 'toxic' inherently suggests that there are forms of masculinity that are not toxic."
If reporting the racial identity of offenders should be barred because it reinforces "implicit and explicit stereotypes," in short, why shouldn't reporting sexual identity also be prohibited? Surely the fact that the victim identified the offenders as male is not a sufficient reason since that justification would also apply to racial identification.
For that matter, why should the sex of the victim be named? In the recent incident at the University of Nebraska, the victim was identified as "a young woman" assaulted in "her dormitory" (interestingly, her race was not identified). Doesn't that identification reinforce the stereotype of women as victims?
Just as all victims of assault, sexual or otherwise, are not women, all offenders are not men, and this is true even without venturing into the transgender minefield. (What if the offender was identified by the victim as a "man in a dress" or a transgender woman?)
In short, the language police should take a break from telling the rest of us what to say and, if they are really worried about reinforcing stereotypes, clean up their own inconsistencies.