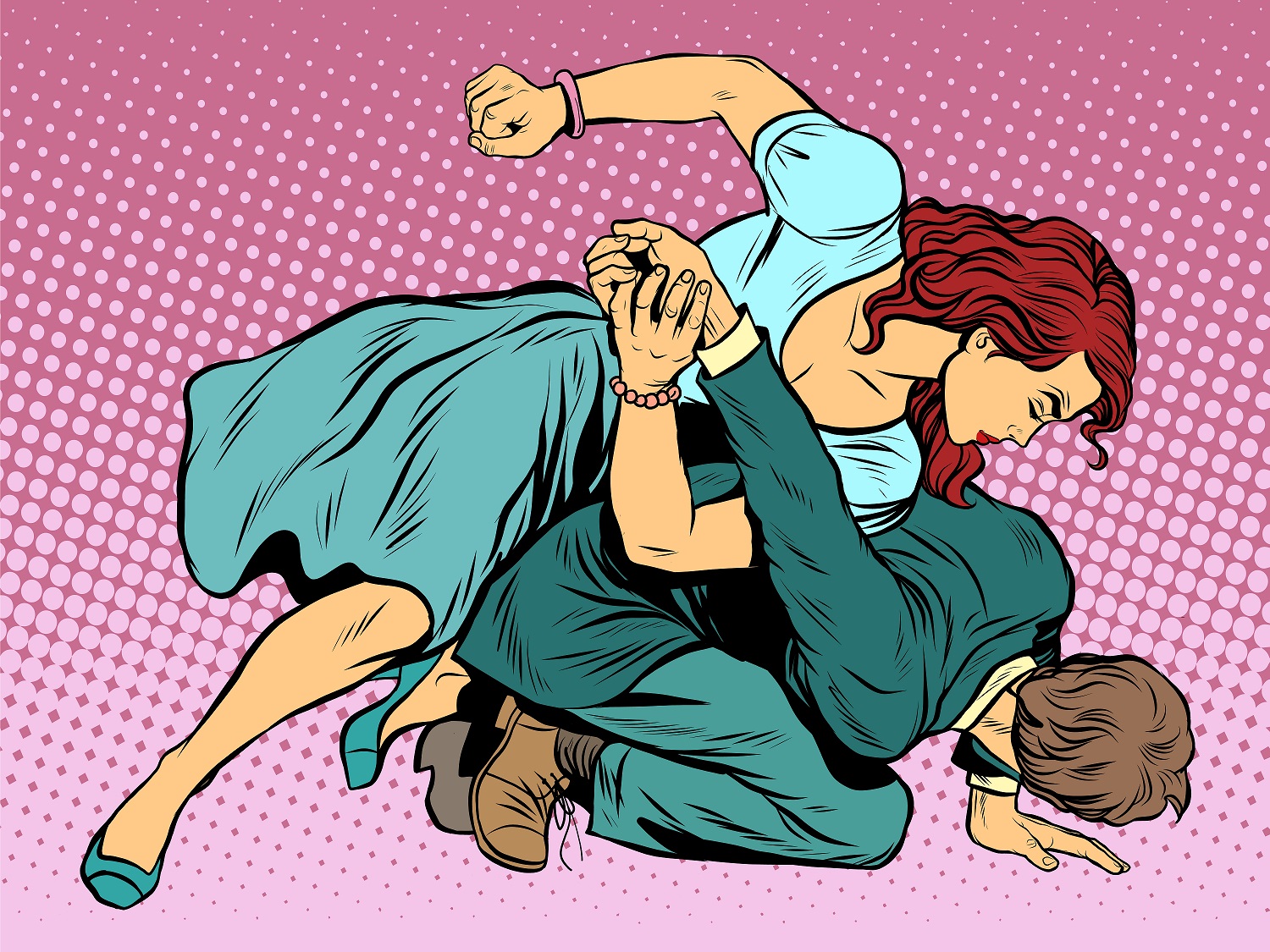 Well, it's official: the worst aspects of feminism are winning: not the let's all play nice kind that actually wanted equal, not special, rights and opportunities for everyone, but the crazed we've-got-to-destroy-men kind; the kind that saw feminism as a zero-sum game and composed fantasies of worlds without men, or with only enough men to keep the species going until even that problem was resolved; the kind that forgot how awful junior high school girls can be to one another (and grown women too, now that I think of it), and pretended only boys cause suffering and problems. Like other noxious concepts arising out of politics run amok, "toxic masculinity" has finally become not a slur but a mere description.
Still, who could have imagined that an entire profession would sign on to the extremist view set forth by some feminists? The level of success achieved by feminists awash in misandry can be gauged by the American Psychological Association's first-ever Guidelines for Psychological Practice with Boys and Men.
Claiming to be based on decades of research, these guidelines rest on the notion of "patriarchy" and fulfill the feminist extremist vision by designating traditional masculinity as harmful, period. Stoicism, aggression, competitiveness, risk-taking—all these become one-dimensional negative traits in dire need of being rooted out. Suddenly, the well-known data of higher male suicide rates, shorter lifespans, higher accident rates—which never kept feminists from revisiting the dogma of male privilege and female disadvantage– are to be remedied by an attack on the very idea of masculinity.
Of course, the APA has only about 118,000 members, so why worry about them? It is possible, however, that they might have an inordinate influence on what goes on in schools, clinics, and private practice—especially since about 75% of all PhDs in psychology now go to women (a trend that began in the late 1980s).
[Lashing Out at Psychologists for Messing With Men]
Since 2009, women have outnumbered men overall in doctoral degrees earned, and the gender imbalance in psychology is particularly marked. Moreover, in fields such as developmental and child psychology, women Ph.D. recipients outnumber men by more than five to one. According to the APA's own documents, this has for years caused concern about the "feminization" of the field of psychology.
In a 2011 report, the APA affirmed that gender diversity is important, as is a diversity of viewpoints. But if the APA just redefines what desirable human characteristics are, perhaps they won't have to bother with this problem or the fact that women are the vast majority of therapists in practice. The profession of psychology seems happy to impose its shifting ideology on its clients, and today that includes a critique of power and privilege generally. Like education, therapy will become more doctrinaire, curing people of their bad ideas and habits, and pretending they're all the result of patriarchal social conditioning.
It's true that signs of the coming victory have been around us for decades now – in sexual harassment policies that treat even innocuous words or gestures as sexual assault, in language policing, in non-stop ridicule of men in sitcoms and commercials, in denial of all of men's contributions to getting us past just survival to the comfortable middle-class life people everywhere aspire to, and in the perpetual blame they bear for all the ills of the world.
But there is hope: Biologist and DNA forensic expert Greg Hampikian in 2012 wrote an op-ed in The New York Times called, "Men, Who Needs Them?" arguing that humans certainly didn't. Sperm banks, Hampikian pointed out, have an enormous supply of frozen sperm, so men would not be missed. But even without them, male-free reproduction has been a serious research project for well over a hundred years.
[The Toxic Mission to Reengineer Men]
Artificial parthenogenesis has been more than fantasy since the late 19th century when Jacques Loeb figured out how to induce cell division in sea urchin eggs. And in our time cloning will in all likelihood make men superfluous before long. More important for understanding the present climate, however, is that Hampikian, in his tongue-in-cheek tone, was merely echoing what some feminists have been seriously writing and dreaming of for generations.
There is a rich literature of anti-male diatribes—often in the form of utopian (or dystopian) fantasies, or bizarre tracts such as Valerie Solanas's 1968 SCUM Manifesto (SCUM = The Society for Cutting Up Men), or the writings of Mary Daly, Sally Miller Gearhart, Marilyn Frye, Andrea Dworkin, Catharine MacKinnon, and numerous others whom I labeled heterophobes in the mid-1990s.. Specifically, heterosexuality was renamed heteronormativity, to separate it from its biological basis, and set it firmly in the realm of socially constructed artifices in much the same way that the term cisgender is now being used.
Such views quickly gained traction in the new field of Women's Studies that developed in the 1970s. Still, fierce conflicts occurred between different kinds of feminists in the early years: anti-pornography vs. free speech, pro-sex vs. anti-sex, and so on, but rarely was there a direct challenge to the growing anti-heterosexual bias in Women's Studies. An attitude of appeasement (perhaps born from guilt) on the part of heterosexual feminists was a component from the beginning. The idea that rape is about power, not sex, was readily accepted and soon became an unquestioned orthodoxy—unhelpful in understanding or preventing rape–and the definition of rape and sexual assault continuously broadened.
But antagonism toward men (in particular, white men) hadn't yet spread throughout the university. It did so over the years via expansive and poorly defined campus sexual harassment rules, which routinely denied the accused due process, along with policies aimed at impeding personal relations wherever there existed "power differentials," which in fact characterize virtually all relationships since human beings are rarely identical in their positions, skills, and attributes, and "power" resides in numerous forms. The demand for "verbal consent" at every stage of sexual intimacy, which began as an oddity in a few progressive schools, is now taken as normal and desirable by many people.
In other words, it wasn't just rape that was "really" about power; everything was.
[Why Men Are Falling Behind in Schools]
Institutions took a while to catch up with feminist ideas, to buy into the view of women as routinely and constantly victimized by men and needing protection—to be provided not by individual men, which would merely reinforce the patriarchy, but by governments and institutions, which somehow were granted credence in this arena if in few others.
Why did feminism take such a turn – against men? Some of the reasons are obvious. Legitimate grievances existed against women's past restricted legal rights and opportunities, and tendentious "biological" arguments were indeed used to keep women in their place.
More crucial is that political movements must have antagonists, for alliances are often forged and maintained by sharing intense negative feelings. This is a major reason why there persists such exaggerated rhetoric today of women's vulnerability at the hands of men and the patriarchy, scare statistics about a "rape culture" on campus, and a tireless search for microaggressions. These are all necessary to rally the troops.
But some reasons are less obvious, or at least often overlooked in today's sex wars. The vast majority of women are biologically female (not a category arbitrarily "assigned at birth," as current dogma has it, despite the existence of some infants born with sexual anomalies). Equally inconveniently, the vast majority are heterosexual, even after decades of propaganda to convince us otherwise. If one does not believe this is "compulsory heterosexuality," as famed American poet Adrienne Rich called it long ago, if one grants that there are biological drives at work in us, as in most species, resulting from the reality of sexual dimorphism, then feminist cohesion is always likely to be threatened by women's attraction to men.
Hence an elaborate ideology and intense group pressure have been—and still are–applied to keep women from consorting with the enemy. Early on, heterosexual feminists acquiesced, shamed into not flaunting their (politically suspect) heterosexuality. Yet the rampant misandry seen today doesn't seem to have succeeded in eliminating heterosexual attraction, any more than social pressure in the past managed to eliminate same-sex attraction.
Perhaps, however, heterosexuality can be driven underground. Will we soon be at the stage where women will secretly seek out masculine men (are some already quietly doing so?), where the gulf between ideology and reality will result in covert heterosexuality? Where consciousness-raising groups will form so that women can disclose their shame and guilt over their irrepressible sexual attraction to men, their inability to bring desire into line with politics?
What we see today is not a pursuit of equality. The obsessive use of the word privilege as a devastating indictment can't conceal that what is occurring is a reversal of privilege, with women ascending and men declining. Katharine Burdekin, a feminist writer of speculative fiction, more than 85 years ago envisioned such a situation, in her 1934 novel Proud Man (first published under the pseudonym Murray Constantine). Adopting the perspective of some future being that is truly "human," Burdekin's narrator surveys the sorry scene of 20th century England and says:
If women retain their biological importance, and become pleased with themselves from birth, and learn to associate power with the womb instead of with the phallus, a dominance of females over males is not only possible but likely. Their self-confidence, which would be rooted as deep as the old male jealousy, would cause in them a tremendous release of psychic power with which the males would be unable to cope. Naturally, a female dominance would make the race no happier, nor bring it a whit nearer to humanity. The privilege would merely be reversed, and possibly it would be more oppressive and more cruel.