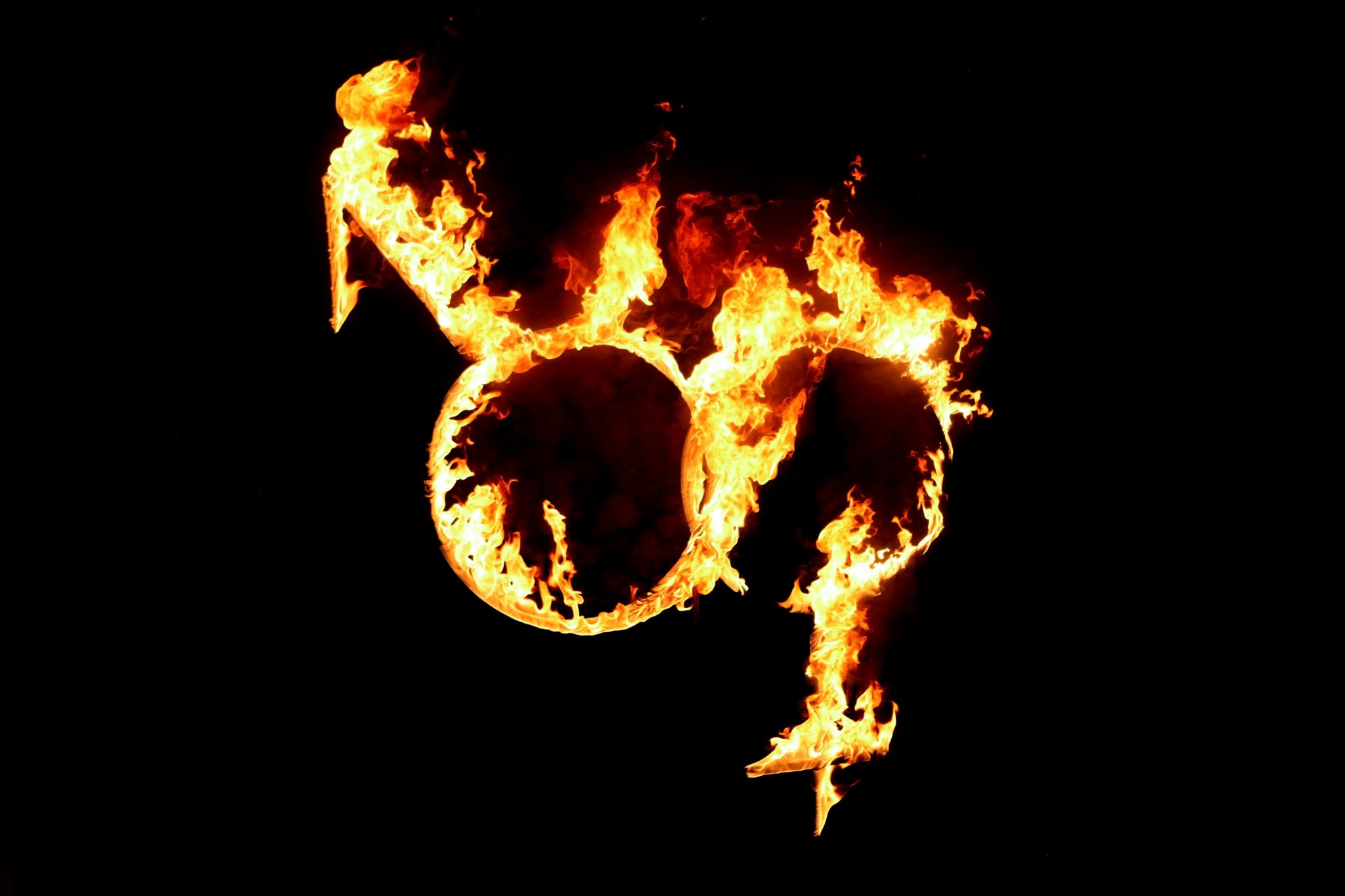 Op-Ed: In contemporary America, women and men still act out ancient roles. From the point of view of the men, the society is a matriarchy: Women have physically less demanding jobs — with the sole exception of childbirth, by now a rare event in the average woman's life. Women sustain far fewer injuries on the job, are not required to go to war, take better care of their health, and for these reasons and many others enjoy a lifespan significantly longer than that of men.
In this society, men use their physical strength, when necessary, on women's behalf.  Women claim to be equal partners when that suits them and claim to be entitled to special consideration when that suits them. They insist on autonomy in maintaining or aborting pregnancies, but at the same time, they determine the fathers' duties-and rights, if any. Women claim child support. They can either demand or impede fathers' continuing involvement with their offspring, as the women see fit. The result is that women have advantages over men in child custody suits, just as they have learned to use charges of child sexual abuse and domestic violence.
Though dozens of studies show that women, by their own account, initiate violence against their domestic partners as often as (if not more often than) men, and cause as much injury when weapons are involved, somehow the social mythologies of this country keep that fact from gaining broad public attention, let alone credence.
But worst of all, in terms of the interactions of daily life, are women's emotional demands on men. At home, men routinely sit through harangues that demonstrate women's greater verbal skills and emotional agility. Men, inarticulate, try to figure out what is required of them in a given situation. Not by accident, verbal therapies in this society archetypically began with men listening and women speaking. Even as little boys, males learn to be in awe of girls' verbal fluency. The feeling of ineptness, of being no match for females at the verbal and emotional level, is the common inheritance of all but a few exceptional males.
The matriarchy here described, structured to protect women's interests as against men's (and, ironically, having conned men into defending such a set up) puts a premium on women's special social and emotional skills. Everywhere, women engage men and one another in personal conversation, offering and receiving disclosures, demanding commiseration, giving advice, spreading censure. Men, trained to keep to their workhorse style, are uncomfortably cornered by women, in the workplace, and at home, demanding that they speak from the heart.  When asked "How are you?" women give a detailed and precise accounting. In offices, they spend valuable time discussing personal matters.
Studies are done on the economic costs of smoking and poor health, but not of the costs of women's work habits.
In the private sphere, women endlessly complain that men are not on their wavelength. An observer of this society, coming into a shop toward the end of a conversation and hearing one woman say heatedly to another, "… stood there like a stone and said not a word!" knows that a man is being described. Or on the street, overhearing one woman say, in anger, to another, "It was like talking to a plot of grass!" knows that an unsatisfactory encounter with a man is being recounted.
At home and on the job, men are reminded of their emotional inferiority and verbal inadequacy. Nowhere are they as quick as women in their emotional responses, their verbalization of those responses, or their acuity in gauging the dynamics of interaction or situation. And constantly they are reminded of this disadvantage. Women berate them, browbeat them, even physically attack them out of frustration at these characteristics.
Somehow it is always men who are to blame. Even in the schoolyard, little boys suffer from puzzlement, pain, and ostracism as little girls make comments and express expectations boys cannot quite grasp or respond to. Thus, boys are trained into a lifelong awareness of inferiority.  At home, mothers demand expression of their sons' and husbands' feelings and berate them when they are confused and reticent.  At work, women exchange knowing smiles signifying that   men 'Just don't get it."
Finally, some men are organizing around the issue of emotional harassment, the problem that hitherto has had no name. A sophisticated analysis of the matriarchal bases of this social practice springs up. Everyone denies that it has anything at all to do with biology, which allows women to be fully blamed for this domineering and demanding behavior, highlights women's shortcomings, and pushes them into corrective political action.
And so, a men's movement develops.
Men who have been in "denial" for years hear the news, attend workshops, go to counselors, speak bitterness in groups to help them be on the alert for any sign of emotional harassment.
They seek redress and financial relief for the emotional harassment imposed on them by a woman who, perhaps inadvertently, said a wrong word or hinted at an emotional demand, creating a hostile environment and making it impossible for men to participate fully in school or on the job.
Courts, overwhelmingly made up of individuals who feel condescension toward these male complainants, uphold new laws and interpretations that outlaw emotional harassment in school and workplace. The economic costs of the underutilization of men's emotional capacities begin to be gauged.
The constant pressure on men to tell personal stories and focus on the analysis of their feelings is finally recognized for what it is: a gender gambit designed to maintain female superiority by reminding men of their place and of their vulnerability to women's more high-powered emotional and verbal style. Mass culture is rewritten, and all those strong silent types in film and fiction are now understood to be men damaged by matriarchal values.
Mystified women start watching their every word, guarding against any idle gesture or expression that might inadvertently express something that, to vulnerable men, could be taken as emotional or verbal harassment. Women become cautious, wary, suspicious, ever on guard lest a misplaced word or even implicit emotional demand might cost them their reputation, employment, and family.
Men enjoy women's discomfit, the groveling and awkwardness that become part of daily interactions as women are put on the defensive. Woke women join the men, fearful that otherwise they too might be targeted as abusers and exploiters.
A new day is celebrated by men, who have at last found redress for one of the oldest abuses in the history of the species.
And, thus, at long last, the entire society moves one step closer to perfect equality.
Adapted from the introduction to  D. Patai, Heterophobia: Sexual Harassment and the Future of Feminism (1998).