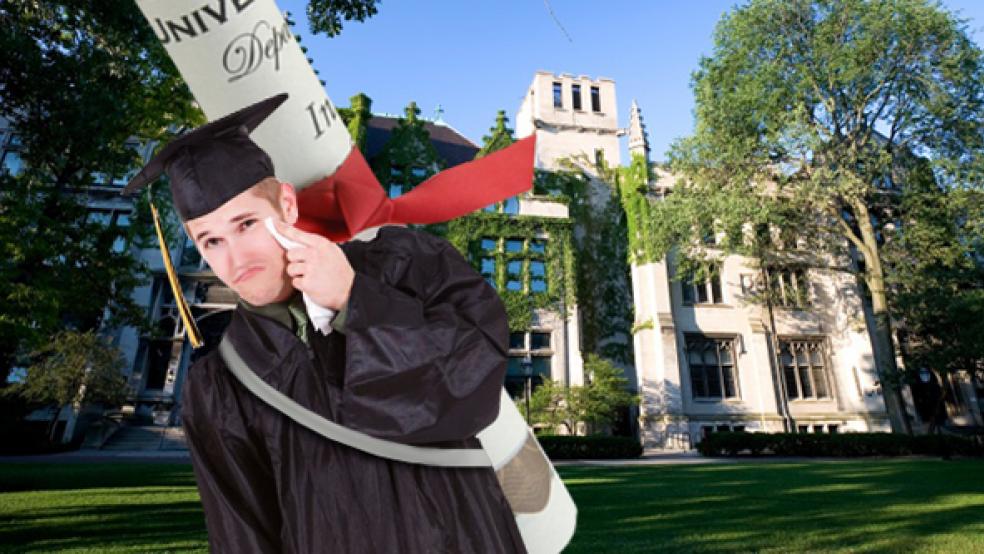 Op-Ed. An estimated 14.67 million college students attend what we call "state universities." Some of them are renowned highly selective research institutions like the University of California at Berkeley or the University of Michigan, while others are relatively obscure schools with an open admissions policy. But all receive some degree of subsidization from the state government where they are physically located.
Yet there are good arguments to make state universities independent private institutions, albeit ones that still indirectly receive some governmental support. Our so-called "private" schools already mostly are indirectly heavily dependent on the federal government for support via its financing student tuition and room and board charges, not to mention research support and favorable tax treatments. With a few exceptions like Hillsdale College, purely totally independent private institutions are extremely rare.
Let's give money to needy and accomplished students, not to schools. Data collected by Harvard's Raj Chetty and associates show that the family income of kids attending schools like the University of Virginia or the University of Michigan averages around $200,000 a year, with the median income also in the six digits. These schools are not places where poor but bright and ambitious kids heavily populate. People worried about income distribution and access to economic opportunity should be concerned that state government aid to colleges is, in fact, largely a middle and upper-class entitlement.
Why don't we provide vouchers for college attendance like some states do for students going to K-12 schools? The aid could be more explicitly targeted to kids who are either relatively poor or who excel academically. For example, suppose Michigan gave vouchers for attendance by residents that vary in magnitude from $1,000 to $15,000, with extremely high-income applicants made ineligible for any assistance, while very low-income students could receive enough to cover most basic living costs (more than they get today)? Why don't we further restrict assistance after the first year to students showing at least minimally acceptable academic performance, perhaps something like a "C" average (2.0 grade point average)? Why don't we put a five-year limit on vouchers, reducing the phenomenon of students taking six years to get a degree?
Meanwhile, state schools would be freed of restrictions on tuition fees. Perhaps Michigan would raise its in-state rate by many thousand dollars (say $8,000) to make up for lost state appropriations. Schools like the universities of Michigan, Virginia, and Colorado already derive a tiny proportion (less than 10 percent) of their revenue from state appropriations. To sweeten the pot, all sorts of other restrictions on schools could be lifted. The University of North Carolina might have its governing board picked in a less political manner, or the University of California could select more non-Californians to serve. State rules on new construction, such as prevailing wage laws, could be eliminated, lowering costs. Legislated or informal politically imposed restrictions on the enrollment of out-of-state students would disappear. Universities would lose a direct handout from the state, but gain freedom of action, in return for now having to fight harder for students to fill their classrooms.
Some flagship state schools tend to neglect their undergraduate students, viewing them as cash cows helping expensive finance research and graduate programs. If the students are writing bigger checks (directly or indirectly), they likely will command more attention, for example, less often getting closed out of classes. A bit of needed consumer sovereignty will come to higher education.
Moreover, the distinction between "in-state" and "out-of-state" students could potentially be eliminated. One issue would be: should state scholarships be available to residents wishing to attend universities in other states? Conceptually, I think the answer should be yes, but financial and political constraints might make that impossible in the short term. In general, though vouchers will stimulate intercollegiate competition for students, a good thing.
In any proposal of this kind, there are winners and losers. Schools with generous state subsidies but which are not terribly popular with students will lose. The degree to which a progressive voucher is used may also impact who the winners and losers are.
As for the students, if there is substantial progressivity in the voucher scheme, those from lower income backgrounds should gain, making the top state schools perhaps a bit less academic gated communities than at present. Upper-income kids might have to pay tuition fees closer to what they would pay at private schools.
By not funding some higher-income students, state governments could structure the scheme, so their total appropriations for higher education actually fall from existing levels, perhaps providing some taxpayer relief. If the switch is done in an expenditure-neutral sort of way, state budgets are not impacted but the freedoms granted to individual schools would in some cases, allow them to increase total revenues.
Federal data show that graduation rates are somewhat higher at private schools, even controlling for such factors as family income or high school grades. The reason for this is simple; I think: families typically have more "skin in the game" in private school settings. For example, when students are paying a small portion of tuition bills, they are not incentivized to graduate on time as much as when attending colleges imposing a significant personal financial burden. The move to having students writing bigger tuition checks, even if partially compensated by governmental funds, might work to induce higher four-year graduation rates. Imposing some modest academic performance standards likewise might improve student academic performance modestly.
Student academic achievement could be further stimulated by offering a voucher bonus for superior academic performance. Thus the voucher approach can be customized to both improve student access and academic performance.
The proposal is not problem-free. There would be some transition issues as states move from traditional funding of schools to emphasis on funding students via scholarships. Probably the new approach would need to be phased in over several years to minimize disruptions to existing students. But currently, schools are costly, and learning outcomes are dubious. Some financial innovations are certainly worth a try.