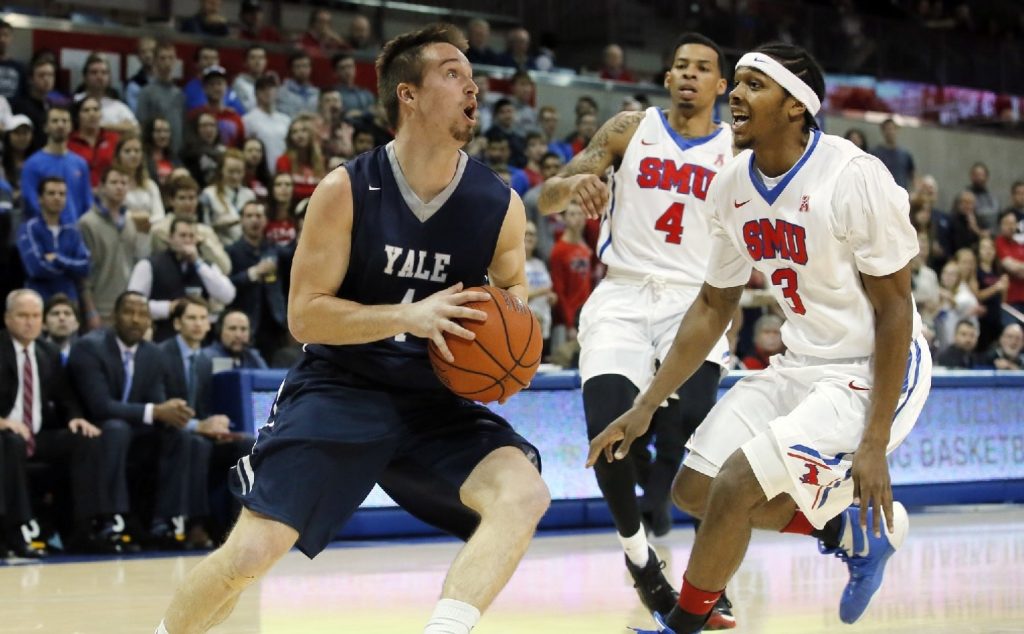 Some 500 lawsuits have been brought by accused college students in Title IX cases since the Obama administration's "Dear Colleague" letter of 2011 made it easier for accusers to prevail. Of those 500, one of the most troubling has been the case of basketball star Jack Montague, expelled by Yale in 2016 just as his team was about to enter the NCAA tournament for the first time in 44 years.
Last week, the long-lasting lawsuit between Yale and its former basketball captain was settled without releasing the terms of the agreement. Normally after such an outcome, the university spokesperson issues an anodyne statement to the effect that the school prioritizes safety and will continue to do so in the future. In this instance, Yale took a different course: according to a June 25 AP article, university spokesperson Thomas Conroy declined to comment. (The day before, Conroy did not respond to a request for comment from me.)
The Case
It's easy to see why Yale couldn't even come up with something to say — the university's handling of the Montague case cut many corners. In 2015, amidst heavy pressure from campus activists and left-leaning media for an alleged insufficient toughness on sexual assault, Yale Title IX officials learned (second-hand) that a female student had a "bad experience" (that was it) with Montague at some time in 2014.
[Yet Another Attack on Due Process by Title IX]
For several weeks thereafter, increasingly desperate Title IX officials urged the accuser to file a report against Montague, but she demurred. She said she'd be OK with filing an informal report, so he'd get counseling; Yale officials refused to do so. According to the investigator's contemporary report, this refusal was accompanied by a Yale official telling the accuser that Montague had a previous disciplinary incident—a disclosure that would violate FERPA, a federal law protecting the privacy of student educational records. The accuser subsequently denied that anyone from Yale told her about this but was at a loss to explain the investigator's contemporary record.)
Nevertheless, the accuser still wasn't willing to file a complaint against Montague. So Yale officials organized a final meeting with her, joined by David Post, chair of Yale's Title IX tribunal, At the meeting, Yale told the accuser they'd set up a special process for her—in which Yale's Title IX office would file the complaint against Montague, and she would just appear as a witness.
This manipulation of procedures led to three areas of concern.
First, Post then served as chair of Montague's hearing—an apparent conflict of interest given his role in the bringing of charges.
Second, Yale Deputy Provost Stephanie Spangler had previously announced the criteria for the Title IX office filing a complaint—and Montague's case came nowhere near the standards.
Third, when Montague's hearing opened, Post and his colleague gave the accuser all the rights of a complainant, even though she technically was only a witness. The message was hard to miss: getting Montague offered an opportunity for Yale's Title IX office to demonstrate to the campus—and its critics—that anyone on campus was vulnerable to its reach.
[Major Victory for Montague in Yale Lawsuit]
Once the hearing process commenced, Montague's chance of exoneration was virtually nil. The decision not only cost Montague the remainder of his basketball career at Yale but almost certainly denied him a chance of playing professionally in Europe.
The Lawsuit
Montague sued, hiring Max Stern to represent him. As occurred in the Amherst case, in which Stern also procured a settlement, Stern's filings were rich in detail and laden with exhibits, allowing for an unusually detailed understanding of the case.
Yale did not file a motion to dismiss. The university did file a motion for summary judgment but was mostly rebuffed. (Yale prevailed on the Title IX counts, but largely due to a new Second Circuit precedent, Doe v. Colgate University, that makes it all but impossible for an accused student to prevail in a gender discrimination claim.) On all other key counts, Judge Alfred Covello allowed the case to proceed to trial. The key issues: Yale's manipulation of its Title IX process; a lack of basic fairness in Yale's targeting of Montague; and the possibility that Yale had found Montague guilty despite sufficient evidence to do so.
The settlement was announced on the same day that the two sides would have needed to submit their pre-trial memos. Yale was unusually vulnerable here. Covello's ruling allowed a trial that would focus not only on Montague's specific case but, in effect, Yale's entire Title IX process. Because of what happened to his basketball career, Montague had an unusually strong claim for damages. And, as juror comments in the criminal trial of former Yale student Saifullah Khan showed, the prospective jury pool in New Haven didn't share Yale's guilt-presuming attitudes toward sexual assault.
[The Media Slams Yale Student Verdict on Rape]
So, Yale settled. And, as seen in Conroy's refusal to comment, the university apparently hopes that the issue will simply go away, without broader notice. The media that so actively covered the case three years ago seems eager to go along.
The current unwillingness to comment stands in stark contrast to Yale's performance when the allegations went public. Then, a Yale dean sent out a campus-wide email using the case to highlight the university's purported commitment to safety. Those remarks—along with an even more troubling statement from the Yale women's center—was amplified by CBS News, which chose to cover the case on its evening news broadcast.
The villains of that segment? The other Yale men's basketball players, who wore Montague's warmup shirt before a game after the UWC action to support his case.
Three years later, the people who stood by Montague have been vindicated—and CBS News has moved onto other matters. (It mentioned neither Judge Covello's ruling nor the settlement.) NBC News and the Washington Post displayed a similar pattern.
The Media
This media reaction, in theory, provided an opening for the campus newspaper, the Yale Daily News, to shine a light on Yale's dubious approach to fairness in adjudications. Campus newspapers have been up to the task before—the Chronicle during the Duke lacrosse case, the campus publications at Boston College, Cornell, and Stanford on Title IX matters. In this effort, the Daily News spectacularly failed, coming across as more a propaganda organ than a news source.
The article on the denial of summary judgment ran nearly four days after Judge Covello's ruling. Reporters Serena Cho and Asha Prihar focused on Covello's siding with Yale on the Title IX claims; their article didn't mention that Covello greenlighted for trial not merely specific elements of the breach of contract claims but also the fairness claim and Montague's assertion that he was found guilty without a preponderance of the evidence.
Incredibly, the article didn't include even one quote from Covello's ruling (it was unclear if either of the authors had even read the ruling)—but made space for three paragraphs of comments from accusers' rights activist Michelle Dauber of Stanford Law School. The article then concluded, remarkably, with a line about the number of complaints listed in the previous two Spangler Reports.
Prihar and Cho were back to pen the article about the settlement. Yet again, the article contained no quotes from Covello's ruling, which it instead summarized as follows: "a federal judge ruled in April that Montague's case warranted a trial by jury, despite concluding that Yale did not discriminate against him on the basis of gender." (People who only read the Daily News would have been utterly mystified by Yale's decision to settle.)
The article recycled an earlier quote from Stern and a couple of items from the complaint and then featured five paragraphs of comments from a professor at Chicago-Kent College of Law, Katharine Baker. Her thesis? "It could very well be that Yale said the process of proving that [they're] right is going to be more expensive than settling, and not worth it given everything else that's going to come out." It was unclear whether Baker had read Judge Covello's denial of summary judgment, which did not suggest that the "process of proving that [they're] right" was likely to end well for Yale.
The article then concluded not with a remark about what happened to Montague, but instead with a note that "Yale received a record number of sexual misconduct complaints in fall 2018." The Daily News reporters did not explain the relationship between the number of complaints Yale received in 2018 and the university's willingness to use flawed procedures in 2015 and early 2016 in the targeting of Montague.
Although Montague likely obtained a quite favorable settlement, this outcome is hardly a victory for him. Yale's unfair handling of his case meant that he lost out on a chance to play in Yale's first trip to the NCAA tournament in 44 years, which was capped off with a thrilling win over Baylor. And Yale's manipulation of procedures cost him a chance at a pro career. In an ideal world, Yale would learn from this case and rework its procedures to ensure that no future student suffers from an experience like Montague's.
That, however, seems very unlikely.