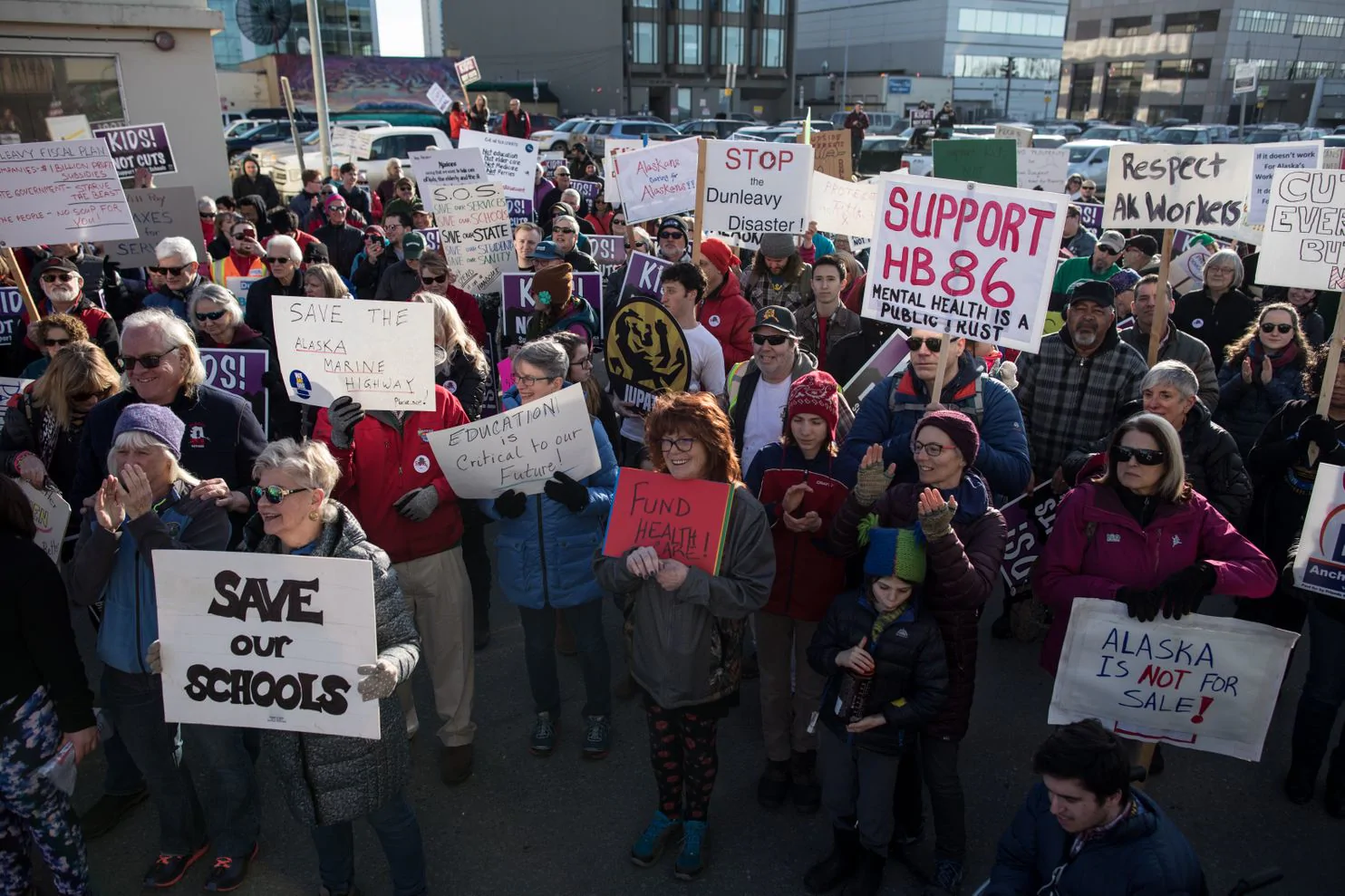 The state of Alaska has unleashed a grizzly bear of a problem for the lower forty-eight. By slashing public spending on the University of Alaska by 41 percent, the governor and the legislature have defied one of the settled rules of American politics: Thou shalt not threaten public higher education. What if other states follow Alaska's example?
Many states are burdened with excess branches of state universities and supernumerary state colleges. Under-enrolled, larded with poor-quality programs, thick with make-work offices and administrators, and host to thinly disguised political operations, these institutions burden the taxpayer and provide little by way of worthwhile education. Yet they are seemingly immortal. That's because they are usually spread across the state in a manner that gives every state legislative district a stake in protecting its own and because a college campus is a ready-made organized interest group.
Breaking Up Is Hard to Do
New York State has 62 counties and, coincidentally, the State University of New York has 63 separate campuses. Not every state has such a widespread commitment to higher education. The University of Wisconsin has only fourteen branch campuses in addition to its main campus in Madison. But when the University of Wisconsin at Stevens Point announced in March 2018 that to close a $4.5 million deficit, it would eliminate thirteen under-enrolled majors, it ran into a buzz saw of criticism. A year later it partially reversed itself and saved six of the thirteen programs: French, German, History, Geography, Geoscience, and two arts concentrations.
Some states have succeeded up to a point in divesting themselves of less profitable programs. Ten years ago, the Indiana State University weeded out 48 academic programs. The University of Southern Maine recently cut its programs in American and New England Studies and Modern and Classical Languages and Literature.
Cuts, Then Recriminations
Such cuts are never easy for the institution, the faculty, or the students, and they are typically followed by years of recriminations. Nearly everyone can think of a better way to balance the budget—and it is surely true that public universities are rife with highly-paid do-nothing administrators. The first step in balancing any university's budget should be to eliminate every diversity dean, ethnic counselor, and grievance advocate on the payroll. The second step should be to eliminate every "co-curricular" position aimed at promoting "student engagement" and other forms of political activism. Leave the forlorn German professor or geographer alone until you have swept the non-academic stables.
It is an open question whether that means eliminating sports programs and the expensive tutoring that often comes with them. These programs undeniably attract students who would not otherwise enroll, but at what cost?  Because of Title IX, colleges and universities must field a large variety of women's sports teams, many of which attract little attention. Cutting men's teams seems to come easily to college administrators who might flinch from the prospect of shutting down a women's badminton program.
The obstacles to cutting and consolidating in higher education are everywhere. When the Connecticut State Colleges and Universities in April 2018 proposed to consolidate the state's twelve community colleges, the regional accrediting agency issued a flat no. Such a change, said the head of the New England Association of Schools and Colleges (NEASC), would create "potential for a disorderly environment for students." One might think the disorder of a financially failing system would be even more worrisome, but NEASC pleased quite a few opponents of the consolidation, including the officials of the American Association of University Professors.
Indeed, wherever and whenever some political or educational leader declares that it is time to pare back the runaway costs of higher education, an organized opposition almost instantly appears. More often than not, it succeeds in stopping the plan.
Will Alaska be different? All we can say at this point is that both sides are assembling their forces. Governor Mike Dunleavy has imposed line-item vetoes on Alaska's 2020 budget totaling $135 million in cuts for the state's three public universities. The Alaska legislature had an opportunity to override the vetoes but failed to find the necessary votes. The matter now rests in the hands of the Board of Regents, which is weighing a variety of approaches. It could shut some regional campuses; narrow the curricula of the three universities; or consolidate all the universities into a single entity.
Many Years of Significant Cuts
I know several faculty members at the University of Alaska in Anchorage and have heard first-hand their distress. The 41 percent cut follows several years of significant reductions, in the range of ten to fifteen percent annually. Governor Dunleavy—I quote a faculty member who under the circumstances I won't name—"insists that no cuts be made to the small campus in Juneau or to any of the other community campuses strewn across the state, which are inefficient and very expensive, and the University president [Jim Johnson] insists that no cuts be made to his 28% 'statewide' budget, which does not contribute to instruction or research."
In short, with other options off the table, the 41 percent cut is likely to tear the heart out of the liberal of the University. It isn't hard to imagine that such an excision will meet with the approval of many conservative and libertarian voters in the state for whom the "liberal arts" have become indistinguishable from progressive propaganda. They are profoundly mistaken about this, but it is late in the day to separate the gold from the pyrite.
Another of my acquaintances on the faculty blames the larger problem on budgetary bloat. Alaska plainly had it easy when oil revenues were so high that the state could send an annual subsidy to every citizen and heedlessly build out a vast educational bureaucracy. Now in leaner times, the bureaucracy protects itself and throws the core educational purposes into the Bering Sea.
The University of Alaska at Anchorage's Faculty Senate issued two reports on the situation, the most recent of which enunciates its opposition to consolidating "the university system into one accredited university." It believes the costs savings will not be realized, and the result will be a "student and faculty exodus." In a state that already has shortages of highly skilled labor, such departures would be damaging. But is the Faculty Senate engaged in a classic strategy of featherbedding? Is it attempting to protect duplicate jobs that could be easily erased?
One of the Faculty Senate's recommendations, "prioritizing instruction" in the effort to balance the budget, is surely right. Another is a call to eliminate the University of Alaska's $54 million "statewide" budget, i.e., the supernumerary expense of running all three state universities as a "system." The Faculty Senate believes the three universities—Anchorage, Fairbanks, and Southeast—would be better as three entirely separate entities. It is hard to disagree. Alaskans get nothing at all for their $54 million annual expense in supporting extra administrators to oversee the three campuses together.
It isn't hard for an outsider to spot educational expenses that could be trimmed with no damage to education itself. In 2017 The Northern Light reported that four of the highest salaried positions in the state's public payroll were university administrators. Governor Dunleavy may well have read the Must Read Alaska report in February, "University enrollment dropping, salaries through the roof,"which detailed the eye-popping salaries of university officials. The article calculates that enrollment fell 20 percent during the five years from 2014 to 2018, and the University of Alaska Anchorage's six-year graduation rate is only 29.1 percent.
Paying No Price for Damage?
Alaska's public higher education system is thus a soft target. It may have pockets of excellence, and there may be a powerful case to identify and preserve those pockets. I believe there is. But the system administrators have squandered years of opportunities to fix the underlying problems. My guess is that Governor Dunleavy's cuts will go through, and he will pay no real political price for damaging the university system.
If so, will other states follow suit? Will the grizzly head south? States vary so much in their economic circumstances that it seems unlikely that any will immediately seize on Alaska's example. But the next time a governor needs to close a yawning gap in the state budget, the idea of trimming the public universities will not seem so far-fetched. If it was done once, it will be done again.