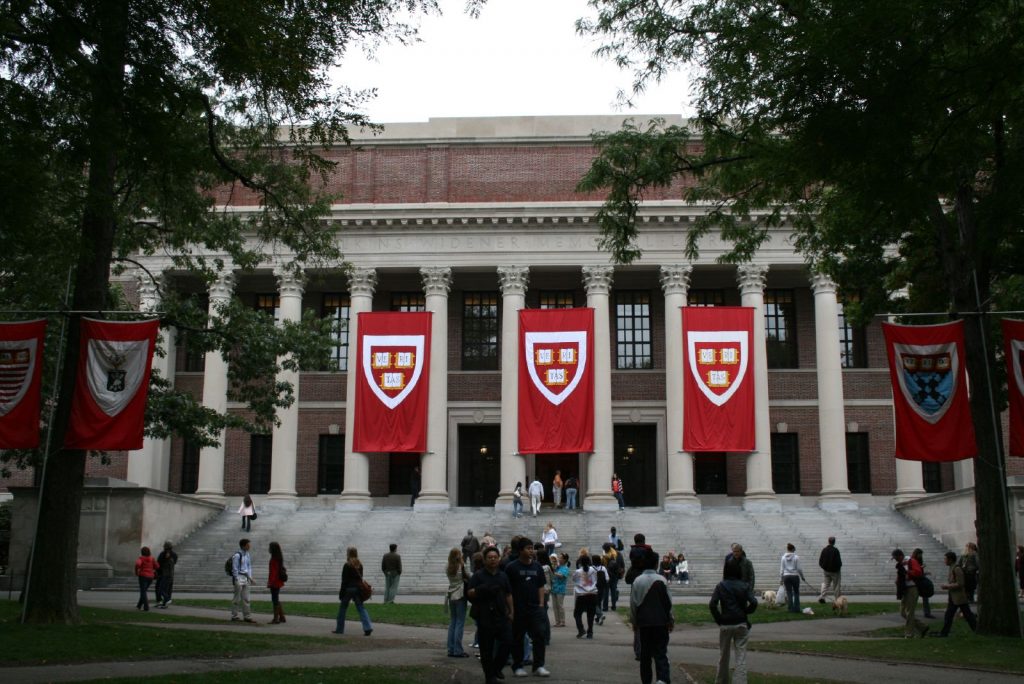 A few days ago, Judge Allison Burroughs, appointed by President Obama to the Federal District of Massachusetts, issued her decision in Students For Fair Admissions v. Harvard College in which the plaintiffs claimed that affirmative action preferences awarded to blacks and Hispanics amounted to illegal discrimination against Asians. It's a doozy, by which I mean it's both hard to swallow and hard to digest, but at least its bottom line is crystal clear: Harvard won; Asians, and others who oppose distributing benefits and burdens on the basis of race, lost.
I have now read all 130 pages (some of them more than once), but what follows is not a thorough analysis — that will have to wait —
but some preliminary comments on items and issues that stood out for me. Since this decision is surely headed for appeal, there will be time enough for the legal issues to be dissected.
Most readers are probably familiar with the issues in this case, but summaries can be found in earlier pieces I've written, "Harvard Says Asians Lack Courage, Kindness, Likability" and "Harvard Hoist on Its Own Petard?"
The most shocking data revealed in the course of the trial is that Asian applicants had the highest academic and extracurricular records but were ranked by Harvard admissions staff as having the lowest "personal" scores of all ethnic groups. As the plaintiffs argued in their memorandum in support of their motion for summary judgment, Harvard's defense of its personal and overall scoring "means Asian Americans have, among other things, a less 'positive personality,' 'others like to be around' them less, they have worse 'character traits' such as 'likability … helpfulness, courage, [and] kindness,' they are not 'attractive [people] to be with,' they are not 'widely respected,' and they have worse "human qualities."
"Harvard did not offer a competing regression model to show that no statistically significant relationship between Asian American identity and the personal rating exists," Judge Burroughs noted, obviously disappointed, "and the Court, therefore, concludes that the data demonstrate a statistically significant and negative relationship between Asian American identity and the personal rating assigned by Harvard admissions officers, holding constant any reasonable set of observable characteristics."
But any resulting burden on Asians, the court concluded, did not rise to the level of, well, discrimination.
[Has Harvard Lost Its Taste for Western Civilization?]
Battle of the Experts
The "statistical evidence" presented by both parties, Judge Burroughs noted, "is perhaps the most important evidence in reaching a resolution of this case." This evidence was presented by the competing expert witnesses, Berkeley economist David Card for Harvard and Duke economist Peter Arcidiacono for the plaintiffs, in the form of competing models of applicants and variables. Choosing between those models, the judge stated, was, therefore, "pivotal" to the outcome.
I discussed these differences in some detail here. Briefly, Prof. Arcidiacono limited his model to applicants who were competitive, excluding those who were clear rejects or who received substantial non-racial preferences (legacies, athletes, etc.) because, he argued, only the competitive applicants are affected by racial preferences.
Prof. Card's inclusion of these applicants in his model revealed, Prof. Arcidiacono argued, that Harvard believes "discrimination against certain racial groups and in favor of others is of no consequence unless Harvard actually discriminates against or in favor of every applicant within the affected racial/ethnic groups … that there is no penalty against Asian-American applicants unless Harvard imposes a penalty on every Asian-American applicant…This is an absurd proposition." [Arcidiacono Rebuttal Report, 17, 19]
Judge Burroughs accepted that "absurd proposition," in effect deciding the case largely on that basis, supported with all the predictable clichés about "holistic" and "one factor among many" and engineering a racially balanced class had nothing to do with racial balancing.
Bias v. Discrimination
Of necessity, because of currently controlling legal doctrine, SFFA had to argue that Harvard's discrimination against Asians was intentional. The strongest version of that argument, it is important to note, requires no showing of bias. "That is," as I argued here, Harvard "seeks to limit the number of Asians not primarily or maybe even at all out of bias on the part of Harvard officials or admissions officers (unlike the attitudes of those officials toward Jews early in the last century, when "holistic review" was invented for similar purposes and to identical effect) but because "too many" Asians would result in numbers of blacks and Hispanics below what their devotion to 'diversity' demands."
Thus much of Judge Burroughs' opinion was devoted to beating a dead horse, arguing again and again that Harvard was innocent of "bias" or "prejudice." A few examples:
"Even if there is an unwarranted disparity in the personal ratings . . . , there is no evidence of any discriminatory animus or conscious prejudice."
"SFFA did not present a single admissions file that reflected any discriminatory animus."
"[T]he Court concludes that while the admissions process may be imperfect, the statistical disparities between applicants from different racial groups on which SFFA's case rests are not the result of any racial animus or conscious prejudice."
"The use of race benefits certain racial and ethnic groups that would otherwise be underrepresented at Harvard and is therefore neither an illegitimate use of race nor reflective of racial prejudice."
"[T]here is no evidence of any racial animus whatsoever or intentional discrimination on the part of Harvard beyond its use of a race-conscious admissions policy."
[Harvard Law Professors Challenge Unfairness of Title IX]
Moreover, in what struck me as an unusual example of judicial deference, Judge Burroughs actually found compelling evidence of Harvard's lack of prejudice or bias in its officials' denials that they are prejudiced or biased.
"The testimony of the admissions officers that there was no discrimination against Asian American applicants with respect to the admissions process as a whole and the personal ratings, in particular, was consistent, unambiguous, and convincing."
"No admission officer who testified perceived Harvard to be engaged in discrimination against Asian Americans."
"Harvard's witnesses credibly testified that they did not use race in assigning personal ratings (or any of the profile ratings) and did not observe any improper discrimination in the admissions process."
"Any causal relationship between Asian American identity and the personal rating must, therefore, have been sufficiently subtle to go unnoticed by numerous considerate, diligent, and intelligent admissions officers who were immersed in the admissions process.
"Admissions officers are not supposed to, and do not intentionally, take a student's race directly into account when assigning ratings other than the overall rating."
"The reason for these lower scores is unclear, but they are not the result of intentional discrimination."
Well, as long as they say they are innocent….
Harvard's Discrimination Was Not Systemic, Undue, or Unjustified
As revealed by her repeated reliance on diversicrat buzz words and phrases such as "plus factors" and "tips," Judge Burroughs refused to apply terms like racial preference or discrimination to Harvard's determined attempt to produce a sufficiently "diverse" class. But occasionally, she came close, as when she did acknowledge that "[r]ace conscious admissions will always penalize to some extent the groups that are not being advantaged by the process."
[A Weak Attempt at Justifying Admissions Preferences]
Any resulting "relative burden on Asians," however, she concluded "is justified by the compelling interest in diversity and all the benefits that flow from a diverse college population." The only evidence of those "benefits" that I noticed (though I did not have access to all the exhibits) was the usual rhetorical fluff of the "diversity" defenders.
In addition to the "relative burden" on Asians, Judge Burroughs did recognize that Harvard did engage in what most people would regard as discrimination, but just not too much of it (emphasis added in examples):
"[T]he burden Harvard's race-conscious admissions policy places on Asian American applicants is not undue."
"Harvard's admissions program . . . does not seem to unduly burden Asian Americans despite the fact that some percentage of Asian American applicants have received lower personal ratings than white applicants who seem similarly situated.
"SFFA has not shown … any sort of systemic reliance on racial stereotypes."
"[C]omments on application files and Admissions Office correspondence do not suggest any pervasive bias against Asian Americans."
"As reflected by the data, Harvard does not systematically exclude Asian Americans, nor does SFFA claim that it does."
Judge Burroughs devoted a great deal of ink to denying that the deliberate racial balancing Harvard employed to achieve its desired level of diversity was racial balancing and that the obviously necessary but unspoken number of required blacks and Hispanics amounted to a quota. Those issues will no doubt be at the core of the upcoming appeal.
Unless this case reaches the Supreme Court and that court repeals or effectively cabins Grutter's legitimization of diversity-justified discrimination, it is hard to imagine racial balancing, which is supposedly illegal, ever being regarded as racial balancing, or quotas, which are supposedly illegal, ever being recognized as quotas.