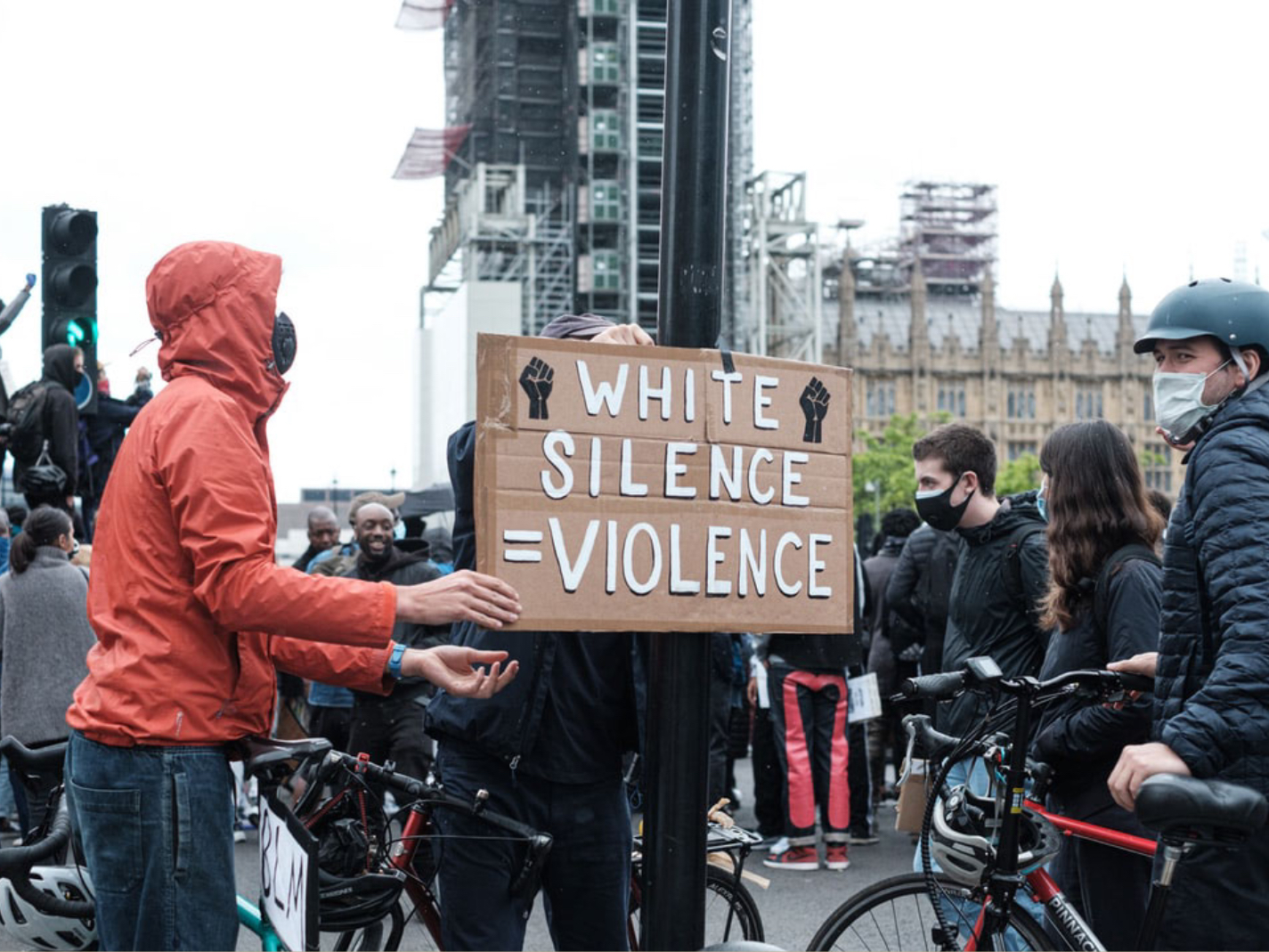 Editor's Note: This article is part of an ongoing symposium on white fragility and its related concepts. To view all of the essays in this series, click here.
---
It is a misrepresentation to argue that White Fragility by Robin DiAngelo represents all of the antiracism movement. However, it is a book that has topped the New York Times bestsellers list, and we ignore its influence at our own peril. The term "white fragility" has entered our common lexicon, and it may be the best-known expression of antiracism to the general public. An examination of the usefulness of white fragility as conceptualized by DiAngelo helps us evaluate its ability to deal with racial alienation—which I define as our inability to relate to each other and work out our problems together.
Institutional racial bias, or systematic racism, is a real phenomenon. There are institutional factors that work against people of color. A lot of ink has been spilled documenting the reality of this type of racial dysfunction and I do not want to cover old ground. Here, I will just point out a way it has personally affected me—residential segregation. When I was in high school, there were very few businesses who could hire me for a job in my predominately black neighborhood. To get a job, I had to catch a bus to go across town. It took me about 45 minutes to an hour to go one way to work. It was a barrier that those who did not live in an African-American neighborhood lacking economic resources did not have to face. Residential segregation, as a representation of institutional racism, did not make my success impossible, but it made it more difficult.
Naturally, this is not the only way institutional racial bias impacts people of color. We can talk about how it affects us in our educational systems and criminal justice administration, and how we receive health care or talk about other social institutions that perpetuate racial inequality. But often, European-Americans show little interest in investigating how systematic bias impacts people of color. If books like White Fragility help to bring awareness of such bias to majority group members, then it provides a valuable service. Only when whites become willing to deal with systematic biases will we be able to shape the type of society where racial alienation decreases.
But while White Fragility may resonate with some people, I fear that the very nature of DiAngelo's argument limits its potential. DiAngelo's basic thesis is that whites are socialized to have "a deeply internalized sense of superiority and entitlement." In essence, she communicates the message that all whites are racist. Not racist in the sense that they burn crosses, but rather complicit in the internalized racism in our society. Their denial of said racism is seen as evidence of the "white fragility" after which the book is titled. It is the stress they feel when their worldview, upon which they have built an understanding of society that serves them so well, is challenged. DiAngelo argues that we must break down defensiveness and the need of whites to assert their innocence of the charges of racism if we are to move away from a white-dominated society. To be sure, this is not a complete description of her reasoning, but summarizes key points that are relevant to the arguments I will make in this essay.
There are several empirical and philosophical problems with DiAngelo's approach. Rather than focus on all of them, I simply want to explore whether this is an approach well-suited for moral suasion, since without moral suasion we are left with forced compliance. If we assume that DiAngelo has goals that will reduce the racial tensions in our society, is her approach to achieving those goals likely to succeed? Research suggests not. If we want to engage in moral suasion then we know that we should seek to: identify where we agree with our interlocutor,  admit when he/she has made a good point, build rapport with him/her, and truly understand his/her arguments. Accomplishing these goals significantly increases our chance to convince others of our point of view.
The philosophy of White Fragility does none of this. Instead, white fragility has become a term used to stigmatize whites who do not line up with the "proper" racial attitudes that DiAngelo supports. I have no doubt that some whites go along with the demands of antiracists to avoid such stigma. But unless these "allies" develop deep and honest convictions about racially progressive ideas, then they are unlikely to be willing to work for those ideas when there is insufficient social pressure compelling them to support antiracism.
There is another path. For years I have promoted the concept of "mutual accountability." It is a model that came to me as I conducted research on multiracial churches and interracial marriages. From that research I began to argue that interracial contact, done correctly, is a vital element for producing positive racial change in our society. In fact, I do not see how we will adequately deal with racial alienation until we interact with each other in healthier ways. Positive interracial contact alone will not be sufficient–but until we, across the racial spectrum, are willing to work with each other on ideas that go beyond serving the interest of our own racial, and at times, political, tribe—then we will not make further progress in race relations. I call it mutual accountability because we are all accountable for promoting healthy interracial conversations.
I would argue that the best way to envision my model is as collaborative conversation. Collaborative conversation has been defined as "a purposeful, outcome-driven conversation aimed at building on each other's ideas." The idea works by finding solutions through listening. We must listen to the concerns of others and articulate our own concerns. While we have a natural inclination to get as much as we can from others, that can backfire on us. When we try to coerce others into giving in to us, we can make them so bitter that they will sabotage whatever we gain. It is probable that antiracism efforts motivate some whites to capitulate to the demands of activists. But it is also plausible that these efforts strengthen the resolve of other whites to resist any reforms that come under the banner of antiracism. A process of collaborative communication where we prioritize productive communication with each other helps to minimize that possibility and create more unity in our search for a solution to racial alienation.
Today much of our communication across racial and political boundaries consists of us attempting to force others to meet our expectations while we minimize any compromise on our part. But without that compromise we will fail to devise paths by which we can work with, instead of against, each other. However, I argue that learning how to interact with each other in ways where we use collaborative conversations to devise solutions will result in 'win-win' instead of 'win-lose' outcomes. So much of the approach of White Fragility, and much of what has been called antiracism, is based on ensuring that people of color win and whites lose. That is an understandable sentiment given the centuries of racial abuse from which people of color have suffered. But seeking out win-win solutions creates 'buy in' from most Americans. With that we can create stable, sustainable solutions rather than those that alienate large sections of the population.
If we did this, then I have little doubt that the 8 billion dollars a year we spend on diversity training would yield much more powerful dividends. But as of today, there is little evidence that diversity training reduces prejudice. However, research has indicated that collaborative styles of communication lead to less prejudice and more volitional compliance in the decisions that are made by the parties involved. Research has also shown that efforts based on including whites in the decision-making process lead to more hiring of people of color in managerial positions than forcing white managers into diversity programs. In other words, bringing others into conversation is more effective in creating real racial diversity than browbeating whites with accusations of fragility. In time, I hope we develop better diversity programs based on collaborative conversations rather than antiracism. Programs that teach people how to find interracial agreement are superior to programs that sow interracial discord.
I have written two books advancing an approach of mutual accountability. My first book, Beyond Racial Gridlock, is a Christian book where I make a theological as well as practical argument that the best way to deal with racial alienation is to recognize our tendency to put our own needs over others. In that book I argue that this can be overcome with an attitude of caring about the needs of others. The second book, Transcending Racial Barriers, is an scholarly treatment of this issue where I use academic theories of contact hypothesis and group interest theory to chart a path away from antiracism and toward mutual accountability. I am currently working on another book that updates these previous efforts.
Nonetheless, I do not want to be alone in my analysis of collaborative conversations. There are important questions that need to be answered. How do we facilitate conversations that are collaborative and do not reproduce power dynamics that favor whites over non-whites? How do we make certain that individuals feel comfortable speaking their mind when there may be dramatic social costs to being seen as a racist or a complainer? How do we ensure that the important issues are the ones we have conversations about? These and others are vital questions. I do not claim to have the answers for all of them. Some will have to be learned from trial and error. If we continue to ask those questions, then we have a chance to one day answer them. In time, I hope more will join me in considering how we can use collaborative conversations to discover win-win solutions to many of the racialized problems that trouble us. This, rather than an approach inspired by ideas within White Fragility, is the key to dealing with racial alienation in our society.
---