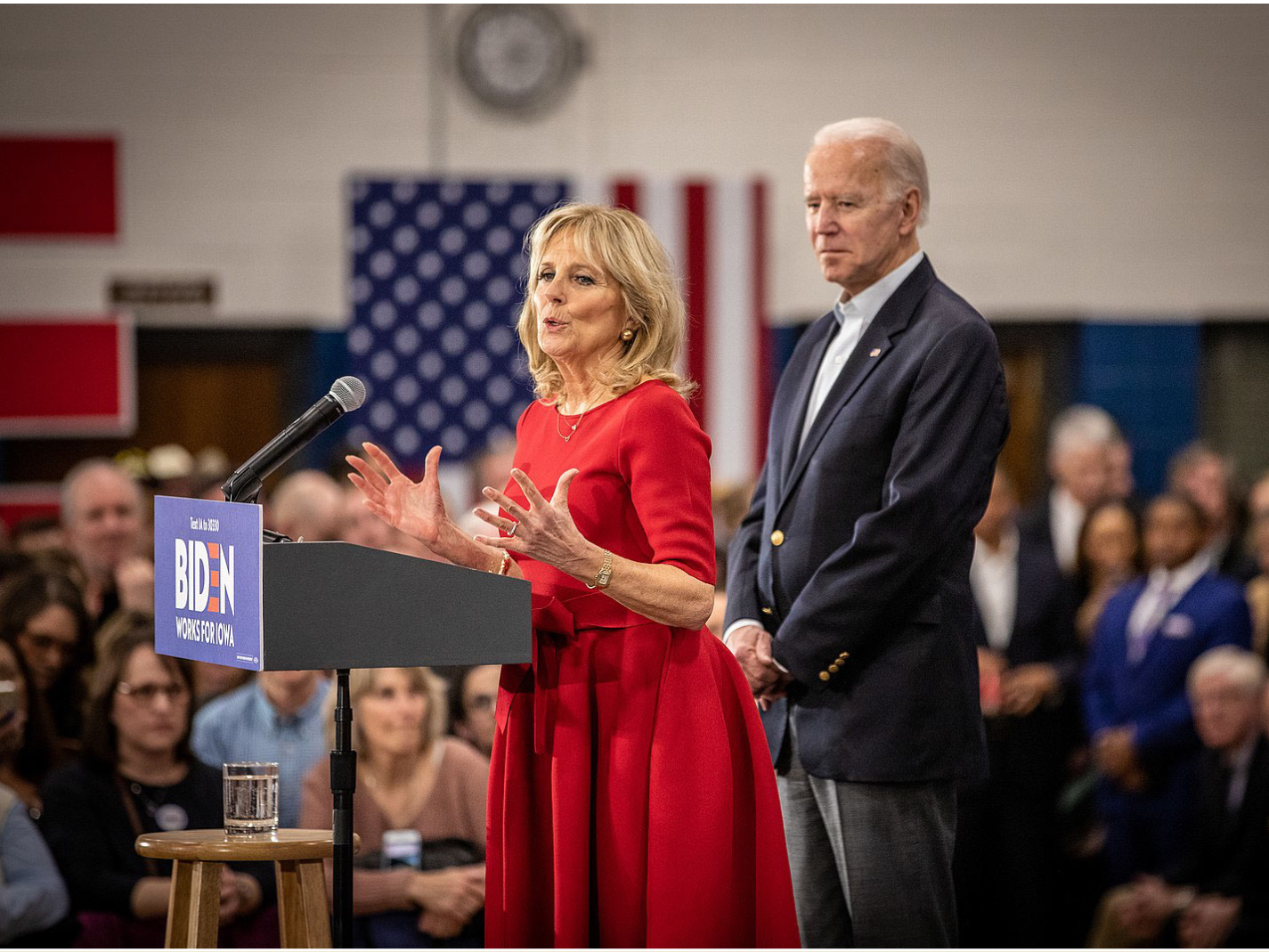 I am a lawyer with a "Juris Doctor" degree from Harvard Law School. But calling myself "Doctor" would be misleading, because I don't practice medicine. Indeed, it would be insufferably pompous. As law professor Eugene Volokh notes, lawyers don't call themselves "doctor," even though the word "doctor" is in their degree.
Jill Biden has an Ed.D degree that required even less study than becoming a lawyer, and no original research — indeed, it required less research than I conducted while at Harvard Law School.
Yet, Biden calls herself "Dr." And so does the liberal media — the same liberal media that ridiculed conservatives with doctorates for calling themselves "Dr." The conservative White House official Sebastian Gorka was mocked for calling himself "Dr." by TV host Samantha Bee, and the Washington Post questioned Gorka's doing so, because, it said,"mainstream news outlets generally refuse to attribute the 'Dr.' prefix to anyone who is not a medical doctor." "My feeling is if you can't heal the sick, we don't call you doctor," Bill Walsh, The Washington Post's copy chief, told the Los Angeles Times in 2009. The Post cited the "stylebook" of the "American Copy Editors Society" saying the same thing.
Jill Biden is clearly not a medical doctor, so she shouldn't be calling herself "doctor," either. Yet, when Joseph Epstein wrote an article in the Wall Street Journal taking issue with Jill Biden being called "Doctor," the response in the media was so hostile that Epstein's lecturer emeritus status was cancelled by Northwestern University. Responding to outraged readers, it said, "we do not agree with Mr. Epstein's opinion and believe the designation of doctor is well deserved by anyone who has earned a Ph.D., an Ed.D. or an M.D. Northwestern is firmly committed to equity, diversity and inclusion, and strongly disagrees with Mr. Epstein's misogynistic views."
Epstein's article enraged many journalists. As MediaIte notes, "Wall Street Journal higher education reporter Melissa Korn ripped into her own publication's opinion side on Saturday, following the WSJ running an op-ed critical of soon-to-be First Lady Dr. Jill Biden using "Dr." ahead of her name. Korn didn't hold back on her criticism, stating publicly that the op-ed was 'disgusting.'" The Wall Street Journal article also triggered a storm of denunciation on Twitter, where Hillary Clinton wrote, "Her name is Dr. Jill Biden. Get used to it."
The media's demand that Biden be called "Doctor" even though she doesn't have a medical degree isn't just inconsistent with its own past practice of not calling people "Doctor" unless they practice medicine.
It's also misleading, because many people wrongly think Biden is a medical doctor due to the media calling her "doctor." As Fox News notes,
Jill Biden's title was the subject of attention earlier this year when Whoopi Goldberg, a co-host of "The View," mistakenly believed Jill Biden was a medical doctor instead of an educator, with Goldberg even expressing hope that Jill Biden would become surgeon general in a Biden administration. "I'm hoping Dr. Jill becomes the surgeon general," Goldberg said on the air in March. "She's a hell of a doctor. She's an amazing doctor."
Calling Biden "Dr." makes even less sense than calling a lawyer like me "Dr." That's because Biden's "Ed.D" degree required less study (3-4 years part-time study) than a law degree (which requires three full years of study), according to one of the nation's leading law professors, Eugene Volokh. Biden's studies also did not require the equivalent of a dissertation, which is typically required for a doctorate.
So Biden's claim to be called "Dr." is far weaker than that of people like Sebastian Gorka, who completed a dissertation to get their PhD. (Remember, the media mocked the conservative Gorka for calling himself "Doctor Gorka").
As Professor Volokh explains,
at the University of Delaware, where Jill Biden got her Ed.D. in Educational Leadership, the Ed.D. appears much more like a J.D. (or perhaps a M.S. or M.A.) than like a Ph.D. The Ph.D. program is a full-time 4-5 year program; the Ed.D. program is a part-time 3-4 year program (though I should note that a master's degree is required for entry). Recall that a J.D. is generally 3 years full-time, though without at thesis; M.S.s and M.A.s tend to be 1½ to 2 years full-time, with a thesis. And while the hallmark of a Ph.D. is generally a dissertation that constitutes a substantial original work of scholarship—something that adds materially to the body of the discipline's theoretical knowledge—the Delaware Ed.D. does not require that…[Biden's thesis] isn't like the substantial original work of scholarship required for a dissertation in a typical Ph.D. program, nor was it apparently intended to be the equivalent of such a dissertation.
---
This article was originally published by Liberty Unyielding on December 14, 2020 and is crossposted here with permission
Image: Phil Roeder, Public Domain