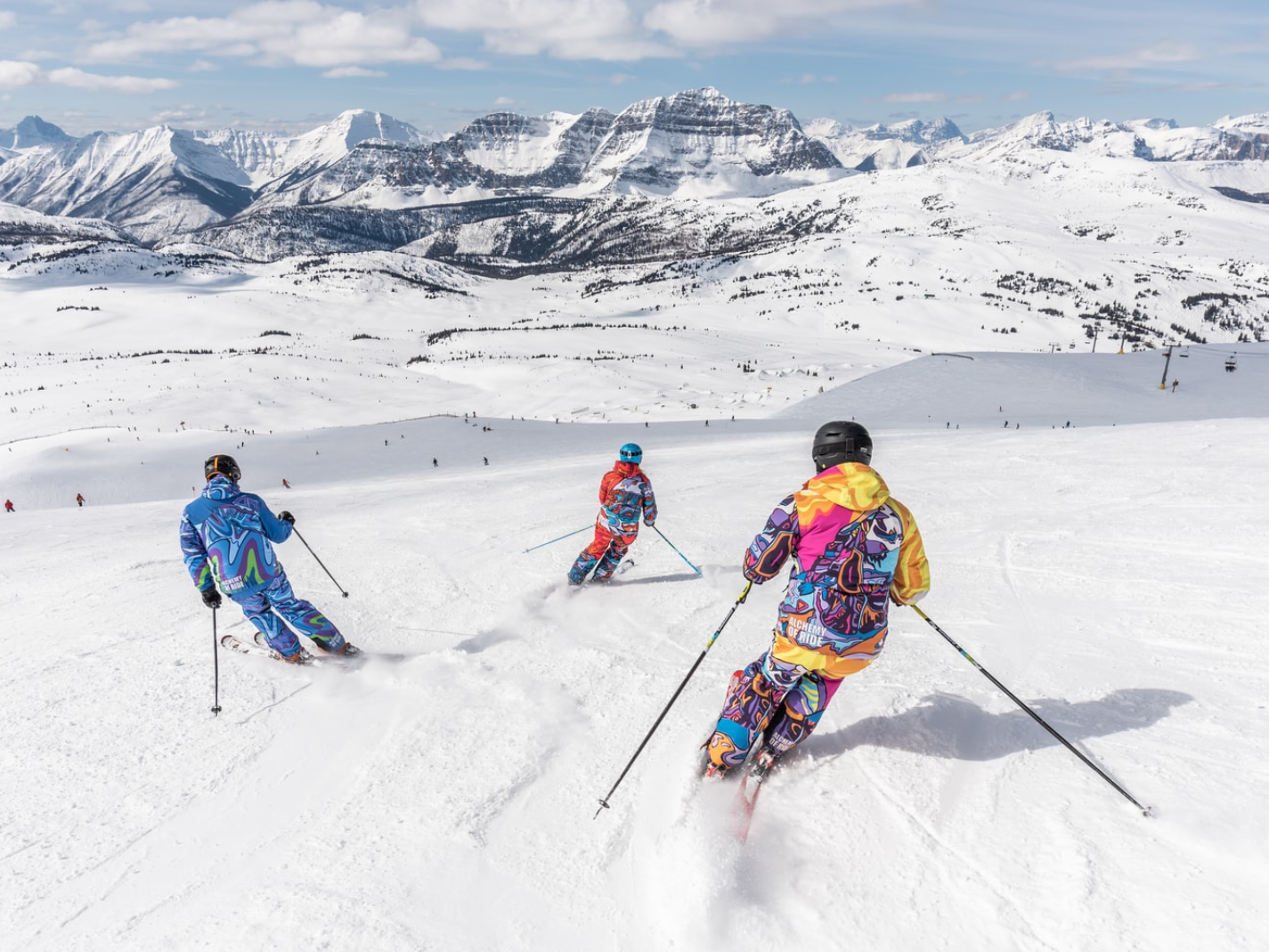 Introduction
Recent statistical research (such as Krymkowski's The Color of Culture) as well as the lived experience of Black and Brown people demonstrate that the "outdoors" are among the most racially exclusive spaces in Eurocentric nations. It is obvious, as Krymkowski notes, that the exclusion of BIPOCs from the outdoors is the result of systemic racism. But it is not enough to observe this exclusion; indeed, such observations, without specific calls for "what is to be done," contribute to the demoralization of BIPOC readers and the institutionalization of the racist superstructure. What is needed is truly anti-racist action to color these spaces. And any attempt to make outdoors activities inclusive must reckon with the most overtly racist of all those activities: skiing.1 This note attempts to draw attention to the challenge of creating an anti-racist ski culture and propose some ways to begin to change that culture.2
The Racist Culture of Skiing
Far from a "return to nature," skiing locates itself within a highly acculturated environment. It is a bastion of privilege. One must purchase a "ticket"—usually at a price well in excess of $100 per day—to enter a ski "area." Skiing requires highly specialized and expensive equipment and clothing. To be done safely, it also requires significant skill, which must be developed over many months or years of practice, all at considerable expense of time and money.
Clearly, it is a sport that has been designed for and is marketed to people who use it as a form of "conspicuous consumption," to signal to others their wealth and leisure. It is a status symbol. This is all the more the case in the age of social media, in which the privileged may vaunt their status to the entire world far beyond the mountain.3
As throughout Western culture, here too privilege and racism are inextricable. That racism is deeply embedded in skiing is perhaps not surprising, given that the modern sport originated in Austria, with its long and enduring history of racial prejudice. Further, it was introduced to the United States after WWII first in the West, in the upper Rocky Mountains, and then to privileged bastions in the Northeast, both places with deep hostility to BIPOCs.
But skiing's racist culture is not a matter of history alone; its current racism is obvious. One needs only look at the population who ski: it is almost entirely white and (on the West Coast) Asian (predominantly Chinese, Southeast Asian, and Indian). Covert "color-blind" racists may argue that BIPOCs have equal opportunity to buy lift tickets or learn to ski. But the numbers don't lie. Nothing close to an equitable outcome of skiers exists in ski areas.
The same is the case for the personnel who manage and operate ski areas. Ski instructors project an image of white authority and serve as racial gatekeepers to the sport. "Ski patrol" are the enforcers of white normativity on the slopes, and (though such statistics are carefully hidden from public inspection) it would be unsurprising to discover that they patrol disproportionally any "others" who dare enter this white enclave. Perhaps the most visible representatives of white privilege in ski areas are, ironically, the lift operators and attendants. Far from being an exploited underclass, it is well-known that this cadre is drawn largely from the scions of wealthy white families—also known as "trust-fund babies"—who combine this seasonal work with easy access to skiing. Indeed, it is not uncommon for such attendants to salve the inherent guilt of their privilege by participating in white-dominated "protests" on behalf of BIPOCs during the summer months.
Simply put, skiing is literally a zone of White Supremacy. Likewise, despite skiers' claim that their sport is inherently dangerous, skiing is in fact a highly protective bubble for White Fragility.
Many barriers exist to protect this zone from the incursion of others who might challenge skiing's racist normativity. I have already mentioned the substantial expense and training required for skiing. In addition to these practices, the very language of skiing embeds racist consciousness, thereby aggrandizing white skiers and deterring Black or Brown would-be participants in the sport.
Most obviously, skiing requires snow, which skiers celebrate as "the white stuff"—this, despite the long-standing recognition among indigenous people that snow may have a great variety of colors. Clearly, skiers' language is an attempt to partition the very ground of their sport away from perspectives of color. They literally "Make Snow White Again."
Conversely, ski areas assign color and shape terminology to ski slopes based on perceived difficulty. Unsurprisingly, while easy or moderate slopes are described as "green circles" and "blue squares," the most threatening terrain is designated as "black diamonds." Indeed, many skiers simply refer to such slopes as "the blacks." For most skiers, "the blacks" are objects of terror, a positionality that rewrites onto nature, and thereby reinforces, broader cultural stereotypes.
One might object here that expert skiers seek out the "black diamond" trails and give them great preference over other runs. But preference does not imply an anti-racist attitude. Quite to the contrary. Experienced skiers seek to "own," that is, dominate the "blacks." They want to "shred" or "rip up" these slopes. One may detect here an attitude not only of domination but also of a sexually aggressive nature. Inscribed as "black," these physical spaces—these black bodies—become the authorized targets of white aggression.
Anti-Racist Skiing
While racism is deeply embedded in skiing, there are ways to begin to bring about an anti-racist ski culture.
First, skiers must be reminded that the very land they traverse was violently expropriated from its indigenous inhabitants. To this end, ski areas need to go beyond simply removing biased terminology (such as "Squaw" Valley). They should require Land Oaths from each skier before admitting that person onto a lift. Professions of the injustice of ski area appropriation of native land should also be displayed prominently in lodges, in cafeterias, and on summits. Some portion of ski area profits should also be redirected to the tribal councils or authorities of peoples whose heritage has been thus stolen from them.
In addition to righting this historical injustice to indigenous peoples, there is also the historical exclusion of Black people from skiing. This exclusion requires present-day reparations. The most practical form that reparations could take would be enhanced inclusion of Black skiers. For example, ski areas should institute Black-only ski days—perhaps on weekends, when Black working families would be most able to participate. Following the example of other private institutions seeking to increase inclusion (such as colleges and universities), ski areas should offer financial aid or reduced prices to Black individuals who want to learn to ski. Since conditions are often best for skiing at the beginning of the day, reparations could also include opening mountains to Black-only skiing for the first two or three hours of each day. Finally, one of the greatest aggravations for skiers are lift-lines, which at popular mountains often involve waits of 20 or 30 minutes or longer. A fitting instance of corrective justice would be to create Black-only lines that right the historical imbalance by allowing Black skiers to move, literally, to the front of the line.
One might reply that most of these reparative actions will still leave many Black skiers subject to the microaggresive behaviors of white skiers who continue to vaunt their believed superiority through conspicuous displays of skill or speed. Black-only ski days or even creating Black-only ski mountains would reduce some of the opportunities for such harm. At the same time, there should be a conscious, perhaps federally managed effort to retrain ski patrol as an anti-racist institution—a Bias-Response Team. A ski-based Bias-Response Team could remind white skiers to show respect to others and avoid microaggresive behaviors. This Bias-Response Patrol would also have the authority to expel white skiers who continue to promote skiing's historic white supremacy through word or deed. From being a tool of repression, ski patrol as bias-response could instead emerge as a potent force for anti-racism on the slopes.
Others might observe that, given the nature of ski apparel—particularly in the COVID era when skiers wear masks, it can be difficult to identify a skier's race, as aggressor or victim of aggression, or for purposes of reparative redress. For this reason, another step toward an anti-racist ski culture would be inviting Black skiers to wear apparel, such as vests or armbands or helmet patches, that affirm their identity to all onlookers: Black Skier.
Of course, all anti-racist efforts are predicated upon changing language, in this case, the language of skiing, and monitoring and enforcing such changes.4 Most obviously, skiers need to re-color snow, acknowledging its many shades and scrupulously avoiding the unnatural, unscientific, and overtly racist reference to it as "white." Doing so will actually enhance the poetry of ski culture, as skiers can embrace the rainbow of possibilities for describing snow (depending on the light and other conditions) as everything from blue, to gray, green, even orange or black. (Of course, skiers should avoid microaggressive "jokes" about "yellow" snow.)
Likewise, ski areas must immediately rethink the racially prejudiced coloring of ski slopes. Here there is a disagreement of opinion about how best to proceed in an anti-racist direction. Some would take the so-called colorblind approach of simply assigning numbers to slopes based on perceived difficulty, from 1 as easiest to 3 as most difficult. However, this approach privileges numeracy and ordinality, which are established forms of covert racism and exclusion. Others would retain the current color-system, but renorm "black" as the most respected and most highly honored trails. However, while there is inherent attraction in reappropriating racist terminology, there is the inherent danger that the racist subtext remains legible beneath the palimpsest. For these reasons, the preferred anti-racist approach is simply to remove all such designations from trails. Doing so annihilates the possibility of racist norming; it has the additional benefit of denying skiers the means of classifying others by their perceived superior or inferior abilities. A trail is just a trail, and skiers will be allowed to ski whichever trails they wish, without pride or shame. To be sure, removing these racially charged "difficulty" designations may cause some confusion, and some skiers may find themselves wandering onto trails that outstrip their abilities. But everyone knows that skiing is a demanding activity, and some discomfort or even danger is well-worth neutralizing this element of systemic racism.
Other obvious inclusive practices for ski areas would be recruiting more Black ski instructors and managers. In particular, areas should make every effort to recruit more Black lift operators. As noted, this is in fact a highly privileged position within ski culture. To have more Black people opening and closing gondola doors or holding chairs at the ready for their bottoms would send a powerful anti-racist message to white skiers.
---
1 Within ski-culture, people make distinctions between skiers and "riders" (i.e., snowboarders). From an anti-racist perspective, these are distinctions without a difference. Both skiers and riders are implicated in the racism of the sport and will be referred to here with the term "skiers."
2 My focus on anti-racism does not imply inattention to intersectional issues in skiing. I will touch upon the ongoing affront that skiing poses to the heritage of First Peoples. A whole literature could be devoted to the environmental harm caused by the deforesting and water and energy consumption required to create ski areas and cover them with artificial snow. Finally, there is much work to be done to make this sport a safe place, for example, for Fat athletes—who face immediate prejudice on lifts and in gondolas—as well as trans-women skiers, who are routinely discriminated against in competitions, due to the unscientific prejudice that they have an unfair advantage in muscle- and body-mass compared to their cis-gender competitors.
3 I leave aside the phenomenon of "backcountry" skiing, which has greatly grown in popularity during the Coronavirus pandemic. One might object that this form of skiing does not require lift tickets and is less social and more "natural." But this is false. Backcountry skiing requires even more equipment, skill, training, and leisure; it often involves hiring a guide at considerable expense; and practitioners almost always post their exploits via social media to establish their status. Further, it depends upon a social network to identify suitable skiing grounds and it often appropriates public lands—without public benefit—to pursue its exploits. There has to date been no accounting for the environmental damage caused by backcountry skiing and the transportation required to pursue it.
4 This note focuses on English, though there is obviously much work to be done in making other languages anti-racist too. The most obvious example, in this context, is the French word for snow, which I will not reproduce here due to its flagrant allusion to the "N-word." No doubt replacing it with, say, the German Schnee, would by itself make ski areas in Francophone countries far more welcoming to Black skiers.
---