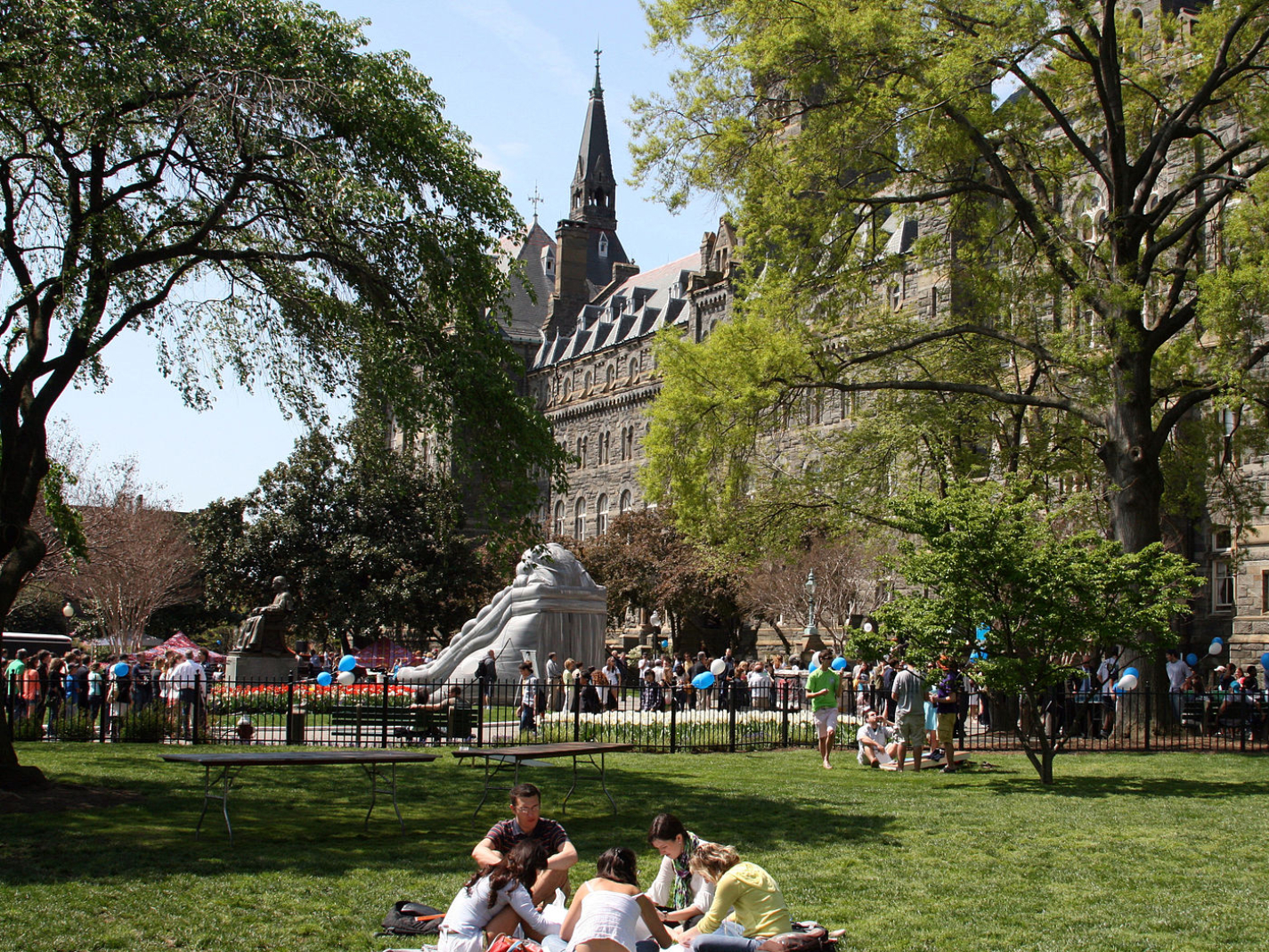 The specter of Madame Defarge, the blood-thirsty chronicler of severed heads in the French Revolution, hangs heavy over American universities. She just made an appearance at Georgetown Law School. Nowadays, heads don't fall into baskets, but heads do roll, and careers, reputations, and personal lives are torn asunder by marauding woke progressives. Where can the beheaded turn for help?
Three years ago, I resigned as a trustee (emeritus) at the University of Pennsylvania and as an Overseer of its law school. I quit because Amy Wax, a tenured law professor, lost her first-year teaching privileges after observing that her black students performed poorly—mostly in the bottom half of the class—over many years. Ted Ruger, Dean of Penn Law School, was quick to condemn her but still has not produced any evidence to prove Wax wrong. He brooks no questioning of Penn's diversity agenda.
Fast forward to today. Top-tier Georgetown Law School summarily fired Sandra Sellers, an adjunct professor, for commenting to her colleague David Batson about the academic performance of black students. Georgetown also suspended Batson pending further investigation. Evoking a Maoist struggle session, students called for his public apology for not condemning the purportedly racist statement of his colleague, and he quickly offered his resignation.
What was Sellers' crime, which Georgetown dean William Treanor labeled "reprehensible" and "abhorrent"? She noticed the same pattern that Amy Wax had seen, something that would concern any decent professor or administrator, namely: why does a specific group of students underperform? An incompetent admissions department? Poor academic support? The glib virtue-signaling of lambasting and firing the professor for her concern is academic malfeasance overdue for a reckoning. And that reckoning would only be for the academic benefit of the very students that the feckless "anti-racist" deans claim they are protecting.
Professor Wax's comments occurred on a podcast with Glenn Loury, a black professor of economics at Brown University, who himself opposes affirmative action. In this latest event, however, comments made in what appears to be a private conversation, fortuitously recorded at the end of an online class, are the basis for the firing and suspension.
Academic social justice warriors are expanding their tools and methods to catch and punish those who deviate in any way, even inadvertently, from their shibboleths and orthodoxies. On July 4, last year—note the irony of the date—hundreds of Princeton faculty signed onto a letter to Princeton's president with demands that included, "Constitute a committee composed entirely of faculty that would oversee the investigation and discipline of racist behaviors, incidents, research, and publication on the part of faculty." One wonders when woke students, faculty, and administrators will adopt even more Stasi-like techniques as they snoop on their colleagues and turn them in for ritual denunciation and punishment.
Like the Orwellian Ministry of Love, where dissenters are tortured psychologically until they endorse and believe in Big Brother's regime, campus repression is working. Sellers' scaffold speech was, "Regardless of my intent, I have done irreparable harm, and I am truly sorry for this." Batson lamented that he had not responded more directly to her. Sellers did no harm: the harm was done by the woke who terrorize the campus into silence and break the spirit of professors, diminishing their roles as teachers and mentors.
I am sad to note that since June of 2018, when I left the Penn board in protest, there is no public record of any trustee, anywhere, resigning in protest over the treatment of students or faculty at American universities. If our leaders do not speak up, there's little chance for those mistreated to vindicate their rights, and the need for help seems more urgent by the day. Donors need to close their wallets, trustees need to fire administrators who show their contempt for freedom of speech and due process, and if that is not possible, they should take their expertise and their philanthropy somewhere else.
The absence of leadership is one of the most disturbing elements in the struggle to restore honesty and integrity to academic communities. Canceling faculty like Professor Wax and Professor Sellers, who "notice," ask questions, and seek answers for sub-optimal student performance, is the real campus crime. There are too many historical examples of what happens when fine people fail to respond to repression. We have not yet reached the point where individuals fear for their physical safety; that they cling so fearfully to their status and employment is a sad sign of how much repression is already afoot in the place where fearless pursuit of truth should be a cause for honor, not shame and exile.
---
Image: Lucas Cantor, Wikimedia Commons, Creative Commons Attribution 2.0 Generic license, cropped.