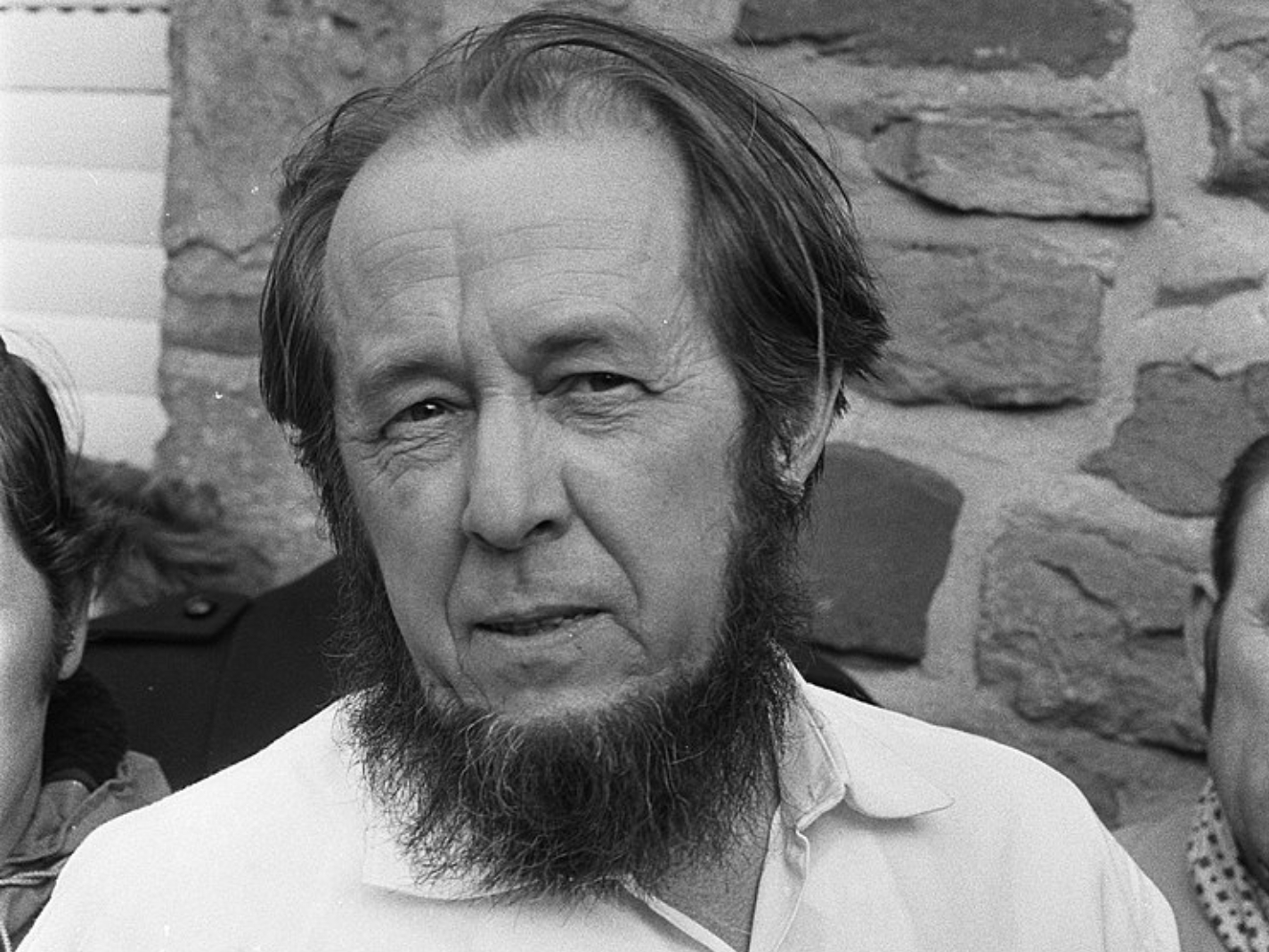 In February 1974, on the day of his last arrest by the Soviet government, Aleksandr Solzhenitsyn released the text of what was to be his final essay written in his homeland for twenty years, "Live Not By Lies." The next day, he was stripped of his citizenship, deported from the Soviet Union to West Germany, and lived in exile for the next two decades. In this essay, he warned his fellow countrymen against the dangers of being passively complicit in the narrative told by the Soviet leadership. By the 1970s, the dream of a socialist utopia that had fueled the 1917 Revolution had been long since replaced by the reality of failed five-year plans, gulags, and a totalitarian regime that ruthlessly crushed any dissent.
However, the biggest lie of all was that the people were powerless to change it. Even though there were many who could plainly see the failures of communism in Soviet Russia, they were afraid to speak up. They were convinced that the government's control was so complete and unassailable that, even if they did speak out, nothing could be changed. They would needlessly risk their reputations, their careers, and perhaps even their very lives in a futile effort to challenge a foregone conclusion. So, they contented themselves with whispered conversations in out-of-the-way places where ultimately no one would take notice of what was said. They congratulated themselves on knowing the truth, but they excused their inaction by repeating the mantra: "it won't make any difference."
Many of us who have been part of academia over the last decade and even before can certainly empathize with our 1970s Soviet counterparts. We too live in a world where it seems an all-powerful bureaucracy has crafted the narrative of an achievable social utopia where there is no injustice and no racism, and where everyone achieves the same outcomes regardless of circumstance or choice. All we have to do is embrace the ideology of "anti-racism" and commit ourselves to the complete destruction of our academic institutions as they now exist, thereby eliminating "systemic racism." After that, all problems will be solved and all inequities will cease. We will emerge into the dawn of a new age, a better age where the evils of the present are but a bitter memory that will fade over time.
Already, some of us see the truth. In order for some to advance, others will have to sacrifice. In order for some to excel, others will be held back. But we are told that the present sufferings are simply a momentary inconvenience that must be endured. The greater good, the general will, or whatever it is called, can only be achieved through pain. As Dr. Ibram X. Kendi writes on page 19 of his book, "How to Be an Antiracist," "The only remedy for past discrimination is present discrimination. The only remedy for present discrimination is future discrimination." Evidently, progress is a zero-sum game, and the only way for the oppressed to move forward is to become the oppressors. Antiquated notions like academic freedom, diversity of thought, and individual conscience need to take a backseat in order for the students' paradise to be born. We must all espouse the party line, and even silence is considered insufficient to prove loyalty. Silence equals violence, and dissent in any form must be crushed before it can spread and undermine the holy work in which we are engaged. We see our colleagues who dare to speak out against this orthodoxy maligned, marginalized, and in some cases, even expelled from our ranks. All the while, we say to ourselves very quietly: "it will make no difference if I speak out."
This is precisely the situation which Solzhenitsyn addressed in his essay. He, himself, was suffering the consequences of challenging the narrative. He had spent years in a Soviet gulag. He was being stripped of his citizenship and exiled from the nation of his birth, a nation he had fought for in WWII, a nation in which he had once believed. And he saw the hundreds, possibly thousands, of people who could see the lie for what it was remain silent as he paid the price for telling the truth. Yet even then, he encouraged those same people to find a way to resist. The struggle was far from over, and while he knew that not everyone had the strength to be a martyr, everyone can refuse to live the lie. He wrote that lies were like parasites which can only survive so long as they can attach themselves to a host. Just as no ethical person would ever willingly carry and spread a virus to their fellow human beings, no person of conscience needs to willingly promote the lies that will ultimately destroy our institutions and undermine our society. Simply refuse to repeat the lies.
In whatever circumstance in which we find ourselves, whether it is in the classroom or a meeting or in private conversations with friends and colleagues, we can choose not to repeat the lies. We can say we don't agree. We can deprive the parasite of its host, and if enough of us do that, it will die. No bureaucracy or ideology can long survive without adherents. Of course, there will always be the true believers and those that are willing to collaborate for the sake of career, success, or simply survival, but they have always been the minority. If the majority refuses to cooperate in spreading the narrative, then the narrative ceases to have the power to control.
Solzhenitsyn understood this and beseeched his fellow countrymen to do the bare minimum to extract the parasite from its host. It took another two decades, but in 1994, he had his citizenship restored and was allowed to return to his homeland after the fall of the Soviet Union. Those of us who can see the truth know that modern "anti-racism" is merely a racialized version of the old Marxist doctrine of "haves" and "have nots." We see that it seeks to sow dissension and chaos by pitting us one against another according to our perceived grievances and give power to an autocratic elite in return for the promise of a future utopia. We have an ethical and academic obligation to refuse to spread the lie. Not all of us can be Solzhenitsyn, but we can all refuse to participate in the dismantling of what we know is right.
---
Image: Fotograaf Onbekend / Anefo, Wikimedia Commons, Creative Commons CC0 1.0 Universal Public Domain Dedication.