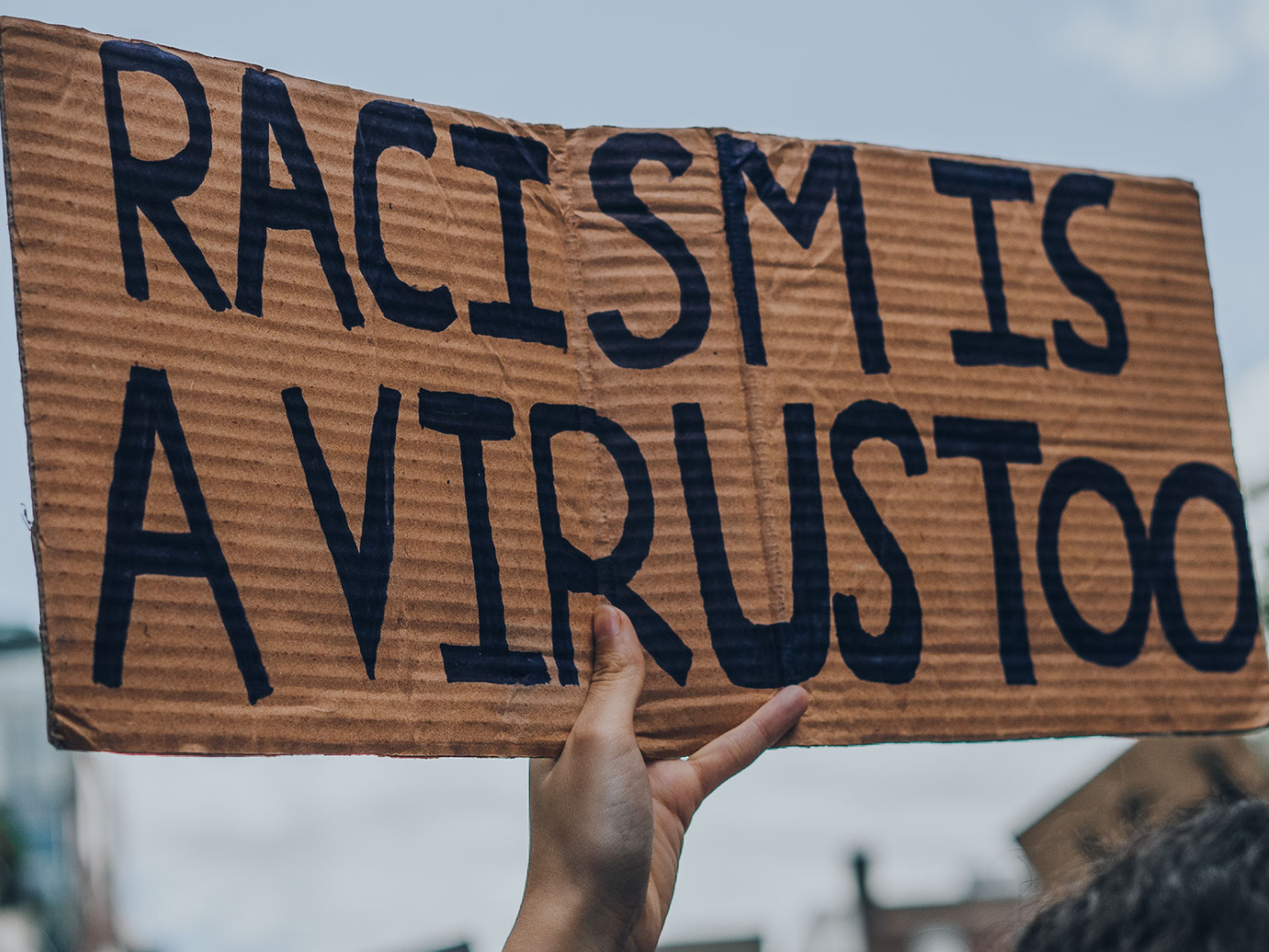 Editor's Note: This essay was written by an emeritus professor who wishes to remain anonymous.
---
Many in America are focused on the threat posed by small numbers of performative violent extremists (e.g., Antifa and the Proud Boys) and from far-out conspiracy theorists with little real influence (e.g., QAnon). However, a truly existential threat to our liberal constitutional order has been largely flying under the radar and embedding itself in our educational, cultural, business, and governmental institutions. This threat is an ideological assault on our core foundational values and on the legitimacy of our institutions. In this essay, I document the ideology underlying the assault, including its Marxist origins, and demonstrate how the ideology's internal logic will lead to a dystopian future unless it is stopped. Finally, I suggest a strategy that could reverse the ideology's heretofore inexorable advance.
A virtue, perhaps the only virtue, of the best-selling book White Fragility by Robin DiAngelo is that it lays out in largely jargon-free language the ideology that underlies wokeism, intersectionality, critical race theory, anti-racism, social justice, and other related quasi-religious enthusiasms that have conquered the academy and that are sweeping through our other public institutions. For brevity's sake, I refer to this broad amalgamation of ideas as White Fragility ideology or dogma throughout this essay. A careful reading of this book reveals the following tenets of that dogma:
Ideals of color blindness—regarding individuals as individuals rather than as members of a race—and meritocracy are racist ideologies that serve to advance and maintain white supremacy and privilege. (pp. 10, 11, 22, 41, 89)
Only whites can be racist. (pp. 22, 83, 136)
The objectives of white racism are to make whites feel superior to blacks and to oppress and exploit them. (pp. 96, 113, 112, 149, 91)
Racism may be unconscious and hidden, but it is deeply rooted in our institutions. Our institutions were designed to perpetuate white supremacy. Racism is the bedrock of our society. (pp. 19, 21, 24, 28, 29, 59, 73, 95, 125, 129, 153)
It is not possible for whites to free themselves of racism. (pp. 69, 83, 5, 58)
All inequality between whites and people of color must be due to racism; there is no other possible explanation. (pp. 16-17, 43-44)
Anyone who challenges these tenets does so because of his racism. Views that are contrary to these tenets should not be aired or tolerated. (p. 127)
To read the selected quotes from White Fragility, click here.
The fundamental claim of White Fragility ideology is that income, wealth, academic, and other outcome gaps are solely the result of white supremacy and can only be eradicated through "anti-racist" measures—that is, by addressing white supremacy, white privilege, and white racism. The behavior of individuals in groups experiencing negative outcomes is never admitted as a possible driver of disparate outcomes.
The inconvenient truth that this ideology explicitly denies is that when groups of people who have been brought up in somewhat different cultures, even within the same country, are compared, outcomes such as income and academic attainments may be different even in the absence of any discrimination. Thomas Sowell has written eloquently on this issue in many of his books. What happens when the White Fragility dogma that all differences in outcomes are due to white racism collides with this cold reality?
If one believes (as is asserted in White Fragility) that all inequality between whites and blacks is due to racism, then racism is a very evil thing indeed and must be eradicated. The mildest action that might be taken to attempt to accomplish this goal is the voluntary re-education of whites. However, according to White Fragility dogma, whites benefit enormously from white racism. Whites obtain their sense of self-worth from racism and exploit blacks to maintain their comforts, even though whites are generally completely unaware that they are doing this. It follows that, given the benefits whites receive from racism, their denial of their own racism, and the discomfort associated with re-education, it is unlikely that many whites would voluntarily submit to re-education. Moreover, even if whites were to voluntarily submit to re-education, according to White Fragility dogma, it is not possible for whites to free themselves of racism. The author, Robin DiAngelo, who is white, makes her living trying to re-educate whites and works very hard at trying to eliminate her own self-confessed racism, but admits that she is still not free of racism.
Nevertheless, suppose that all whites are voluntarily or mandatorily re-educated, but income and other inequalities persist. For example, suppose that mass re-education of whites has little or no effect on the disparate out-of-wedlock birth rate between blacks (currently above 70%) and whites (currently below 30%). [See Appendix A.] According to the tenets of White Fragility, any observed difference in outcomes between whites and blacks is due to white racism. If re-educating whites doesn't work to eliminate this disparate outcome, the next logical step would be to replace whites who are in positions of power with blacks and other persons of color. Suppose that after doing this, disparate outcomes persist—for example, the black out-of-wedlock birth rate is still well above the white out-of-wedlock birth rate.
If disparate outcomes still persist even after replacing whites in all positions of power, then the institutions themselves must be destroyed. After all, White Fragility dogma tells us that our current institutions were expressly designed to perpetuate white racism and that white racism is deeply rooted, but hidden, in our institutions. Suppose that all of our political, cultural, community, and religious institutions were swept away and replaced by institutions designed and run by blacks and other persons of color. And suppose that disparate outcomes persist—for example, the black out-of-wedlock birth rate is still well above the white out-of-wedlock birth rate. What then?
To recap, we imagine that whites have been mandatorily re-educated, whites have been removed from power, and America's historical institutions "steeped in systemic racism" have been swept aside. And yet disparate outcomes persist. In this case, White Fragility dogma would still insist that white racism is at the bottom of disparate outcomes.
What then? If one still clings to White Fragility dogma, the only obvious way to ensure that all racial inequalities are eliminated is to remove whites one way or the other from the community. At that point, racial inequalities (at least between whites and blacks) would be impossible.
We are already partway down this path. It is a fact that in 2018, about 14% of the U.S. population was black, but about 29% of the persons killed by police were black. (It is also true, but irrelevant in White Fragility dogma, that 28% of those persons arrested by the police and 39% of those arrested and charged with a violent crime were black.) [See Appendix B.] According to White Fragility dogma, there can be only one explanation for the disproportionate killings of blacks by police—white racism. Most rank-and-file police in big-city police departments have already undergone mandatory racial sensitivity training. That hasn't worked; blacks continue to be killed in disproportionate numbers by the police. White police chiefs have been replaced by black police chiefs in many major cities, including Minneapolis, Seattle, Detroit, Portland, and Baltimore. That hasn't worked; blacks continue to be killed by the police in such cities in high-profile incidents recorded on smartphones. In a perhaps inadvertent admission that putting blacks in charge of the police departments hasn't worked, many of these black chiefs of police have been sacked in the aftermath of the George Floyd killing. So White Fragility dogma's next logical step must be to destroy the inherently racist institutions of law enforcement—i.e., defund the police. In White Fragility dogma, police departments, like all other institutions, were designed to perpetuate white supremacy and are therefore rotten to the core and must be swept away.
Ignoring nuances on the radical left, White Fragility ideology is an off-shoot of postmodern neo-Marxism. Classical Marxism focuses on class struggle between an oppressor class and a victim class. In capitalism, the oppressors are the capitalist bourgeoisie and the victims are the proletariat. The oppressors design society's institutions to perpetuate their dominance. When the oppressed majority gather enough class consciousness, they overthrow the existing system. The oppressors are removed from power and the existing institutions swept away. When this revolution inevitably does not result in utopia, the problem is assumed to be the residual malign influence of the displaced oppressor class who then must be re-educated and/or liquidated. In the 20th century, this resulted in over 100 million deaths.
In neo-Marxism, the simple division of humanity into two classes—the proletariat and the capitalist bourgeoisie—is replaced by intersectional identity. Intersectionality is determined by race, gender, sexual identity, gender identification, etc., which together determine a hierarchy of oppressor and victim groups. In the current identity matrix, the ultimate oppressor is the white, heterosexual, cisgender male. (White Fragility largely focuses on only one dimension of intersectionality—race.) In this analysis, individuals lack free will and agency. Whether an individual is an oppressor or a victim is solely determined by that person's intersectionality identity relative to another person's intersectional identity. Whites oppress blacks, white males oppress white females, heterosexuals oppress homosexuals, and so on. Society's institutions are designed by the oppressors to maintain their supremacy. To eliminate oppression of one group by another, it is necessary to remove the oppressors from power and destroy the existing institutions. If that does not usher in a victim-less utopia, presumably more radical measures are necessary. If intersectional neo-Marxists attain power and follow the historical pattern set by classical Marxists, these more radical measures would include liquidating the oppressors. Indeed, by the logic of intersectionality, oppression will only end when there remain in society no genetic or cultural differences between identifiable groups of people that can lead to differing outcomes. How can this happen? We can look forward to a dystopia in which humans are all cloned from a single male or female ancestral source (to eliminate any genetic inequality) and everyone is brought up by the state in identical communal facilities following rigid, identical protocols (to eliminate any cultural causes of inequality).
Robin DiAngelo does not lay out the dystopian consequences of her ideology in White Fragility. However, this is where White Fragility and similar ideologies logically lead if important inequalities between groups are in fact due to cultural or genetic differences, but White Fragility dogma holds that all inequality is due to oppression. This ideology is ultimately totalitarian, profoundly radical, deeply racist and divisive, and holds out no hope for a better tomorrow. There may be a tendency to believe that this ideology is so farcical that it should not be taken seriously. This would be a very serious mistake; this ideology has already conquered much of higher education and is embedding itself in virtually all of our other public institutions. How can it be defeated?
If the ideology underlying anodyne slogans like "diversity and inclusion," "racial equity," "social equity," "social justice," and "Black Lives Matter" were laid bare, I believe most Americans would be repelled. If I am correct, then the best way to defeat it is to make the next national election as much as possible a simple up or down referendum on the ideology. While some Democrats emphatically reject the ideology and are in the vanguard of the fight against it, the simple fact is that the ideology and its slogans have been embraced by much of the party's elite all the way up to the White House. (Many of those who embrace the slogans probably have little awareness of the ideology they are advancing; every generation has its "useful idiots.") Americans must make it quite clear in overwhelming numbers that they do not share this divisive and bleak vision of America. To that end, the Republican Party should campaign on the very simple platform "For a Color-Blind America." The keynote speech for this campaign would also be very simple:
This is the way the elites in the Democratic Party see you.
If you are white or Asian, you are an oppressor.
If you are male, you are an oppressor.
If you are heterosexual, you are an oppressor.
If you are black or brown, you are a victim.
If you are female, you are a victim.
If you are gay, you are a victim.
… No, you are not.
You are an American.
---
Appendices
Appendix A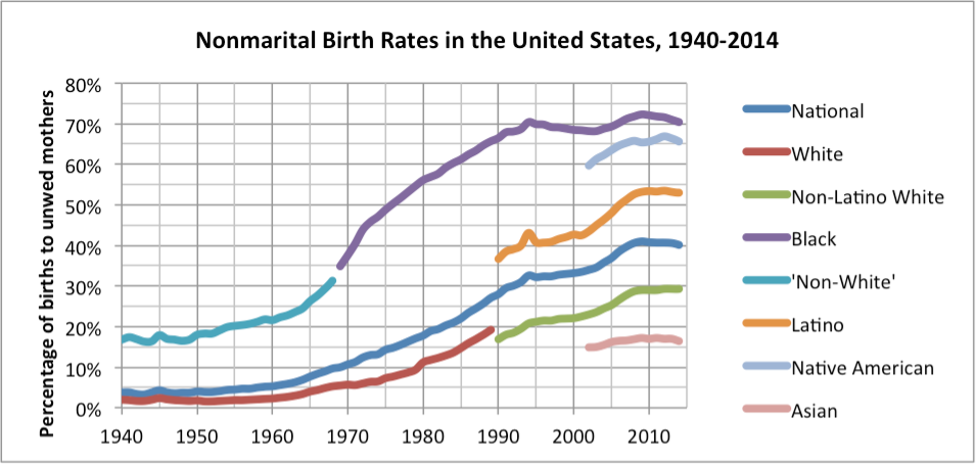 Out of wedlock birth rates by race in the United States from 1940-2014. Rate for African Americans is the purple line. Data is from the National Vital Statistics System Reports published by the CDC National Center for Health Statistics. Note: Prior to 1969, African American illegitimacy was included along with other minority groups as "Non-White.
See the excellent article https://en.wikipedia.org/wiki/African-American_family_structure which contains this graph.
Appendix B

*Arrests by Race and Ethnicity, 2018, FBI Table 43A: https://www.statista.com/statistics/585152/people-shot-to-death-by-us-police-by-race/
^Derived from the MPV database: https://mappingpoliceviolence.org/
---
Image: Rolande PG, Public Domain