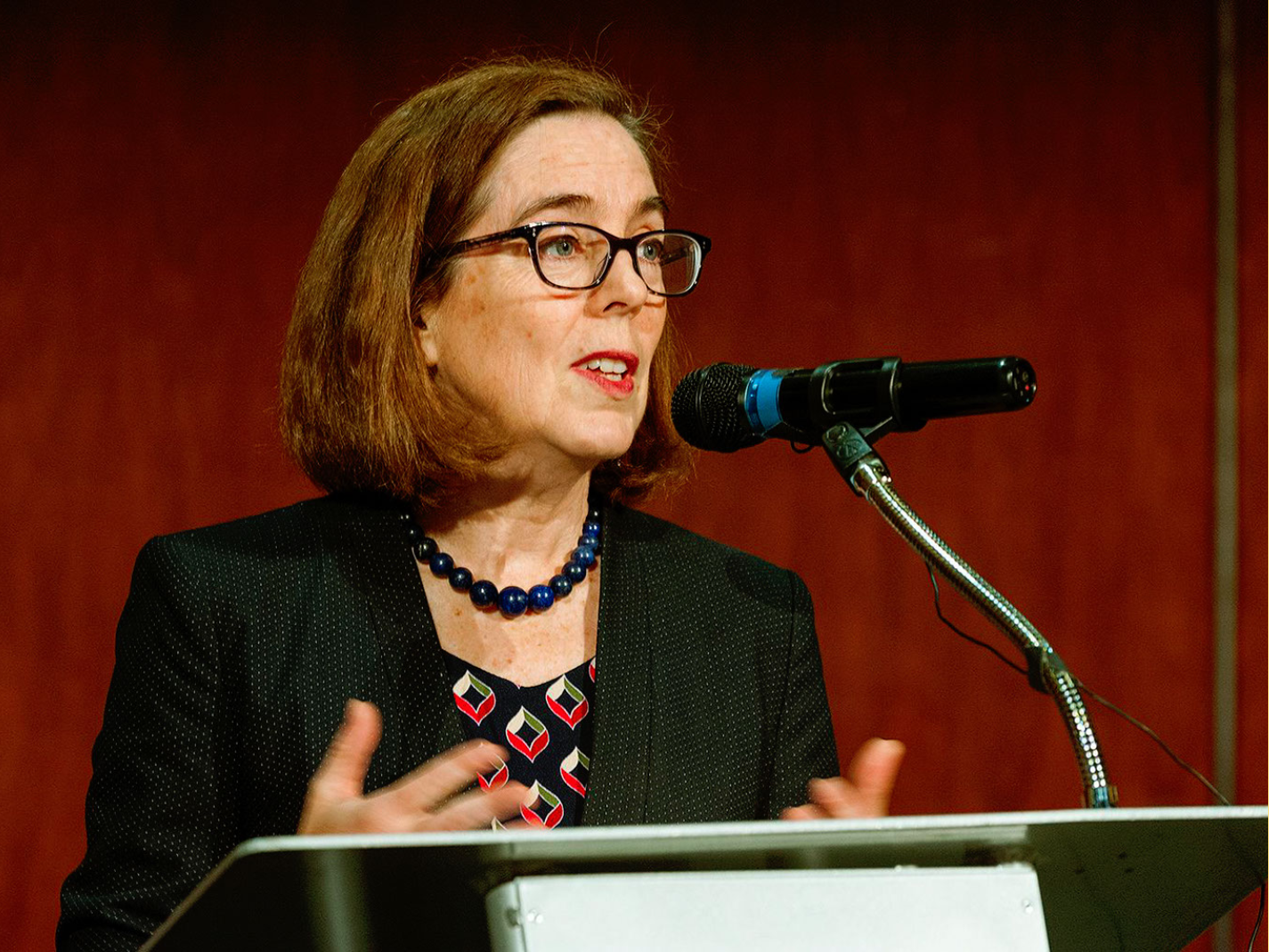 The progressive state of Oregon is getting rid of reading, writing, and math requirements for high-school graduation, in the name of helping "Latinx" and minority students. As Jazz Shaw notes, it's doing this "based on allegations of racism." The "governor's deputy communications director said that dropping the requirements 'will benefit Oregon's Black, Latino, Latina, Latinx, Indigenous, Asian, Pacific Islander, Tribal, and students of color.'"
"This is a choice to have everyone equally ignorant instead of unequally educated," says journalist Brit Hume. It reflects "the bigotry of no expectations" for minority children, laments Andrew Sullivan. By contrast, progressives who want to abolish these basic standards say doing so promotes racial "equity."
The Oregonian reports:
For the next five years, an Oregon high school diploma will be no guarantee that the student who earned it can read, write or do math at a high school level.
Gov. Kate Brown had demurred earlier this summer regarding whether she supported the plan passed by the Legislature to drop the requirement that students demonstrate they have achieved those essential skills. But on July 14, the governor signed Senate Bill 744 into law.
Through a spokesperson, the governor declined again Friday to comment on the law and why she supported suspending the proficiency requirements.
As Shaw points out, it's now common for progressive local governments to abolish standards if minorities supposedly can't
meet them:
We've seen this in so many liberal school systems by this point that it's almost becoming routine. They weren't getting enough minority students who were able to pass the proficiency exams. So rather than putting in the work to bring those students up to speed, they simply dropped the requirement for everyone, essentially turning their diplomas into participation trophies.
Oregon's law passed over Republican opposition: "Democrats in the legislature overwhelmingly supported ending the longtime proficiency requirement, while Republicans criticized it as a lowering of academic standards," notes the Oregonian. The elimination of these standards is likely to reduce academic achievement. As the Oregonian points out, "The requirement that students demonstrate freshman- to sophomore-level skills in reading, writing and, particularly, math led many high schools to create workshop-style courses to help students strengthen their skills and create evidence of mastery. Most of those courses have been discontinued since the skills requirement was paused during the pandemic before lawmakers killed it entirely."
However foolish it may have been, Oregon's decision to eliminate standards was consistent with critical race theory. Since minorities meet these graduation standards at a lower rate than whites, they need to be discarded, according to critical race theorists, even if these standards measured useful skills.
The most famous critical-race theorist is Ibram Kendi. His book How to Be an Antiracist, is a "comprehensive introduction to critical race theory," notes the leading progressive media organ Slate.  Kendi's views are celebrated in the Washington Post and the New York Times. The Times touts Kendi's axiom that "When I see racial disparities, I see racism."
If blacks and Hispanics meet Oregon's standards at a lower rate than whites and Asians, that is proof of "racism" to Kendi, who teaches that every unequal outcome – economic, educational, social — that can be measured is the product of racism. He argues that the "use of standardized tests to measure aptitude and intelligence is one of the most effective racist policies every devised to degrade Black minds and legally exclude Black bodies."
Kendi is wrong to claim that unequal racial outcomes are all due to racism. Many obviously are not. For example, Latinos live three years longer than whites, on average, even though doctors don't discriminate in their favor. Asians make more money than whites, on average, even though Japanese and Chinese Americans used to face massive discrimination. And while blacks make less money than whites, on average, immigrants from some African countries like Ghana and Nigeria typically make more money than whites do.
Unequal racial outcomes exist everywhere in society and the world, usually for reasons unrelated to racism, as the black economist Thomas Sowell chronicles in his book Discrimination and Disparities.
Oregon's academic standards led to schools teaching students skills that are useful in our economy. But that may not matter to leading critical race theorists. They want to abolish the capitalist system, not sustain it. "To love capitalism is to end up loving racism," writes Kendi in How to Be an Antiracist.
---
Editor's Note: This article was originally published by Liberty Unyielding on August 10, 2021 and is crossposted here with permission.
Image: Oregon Department of Transportation, Wikimedia Commons, Creative Commons Attribution 2.0 Generic license, cropped.