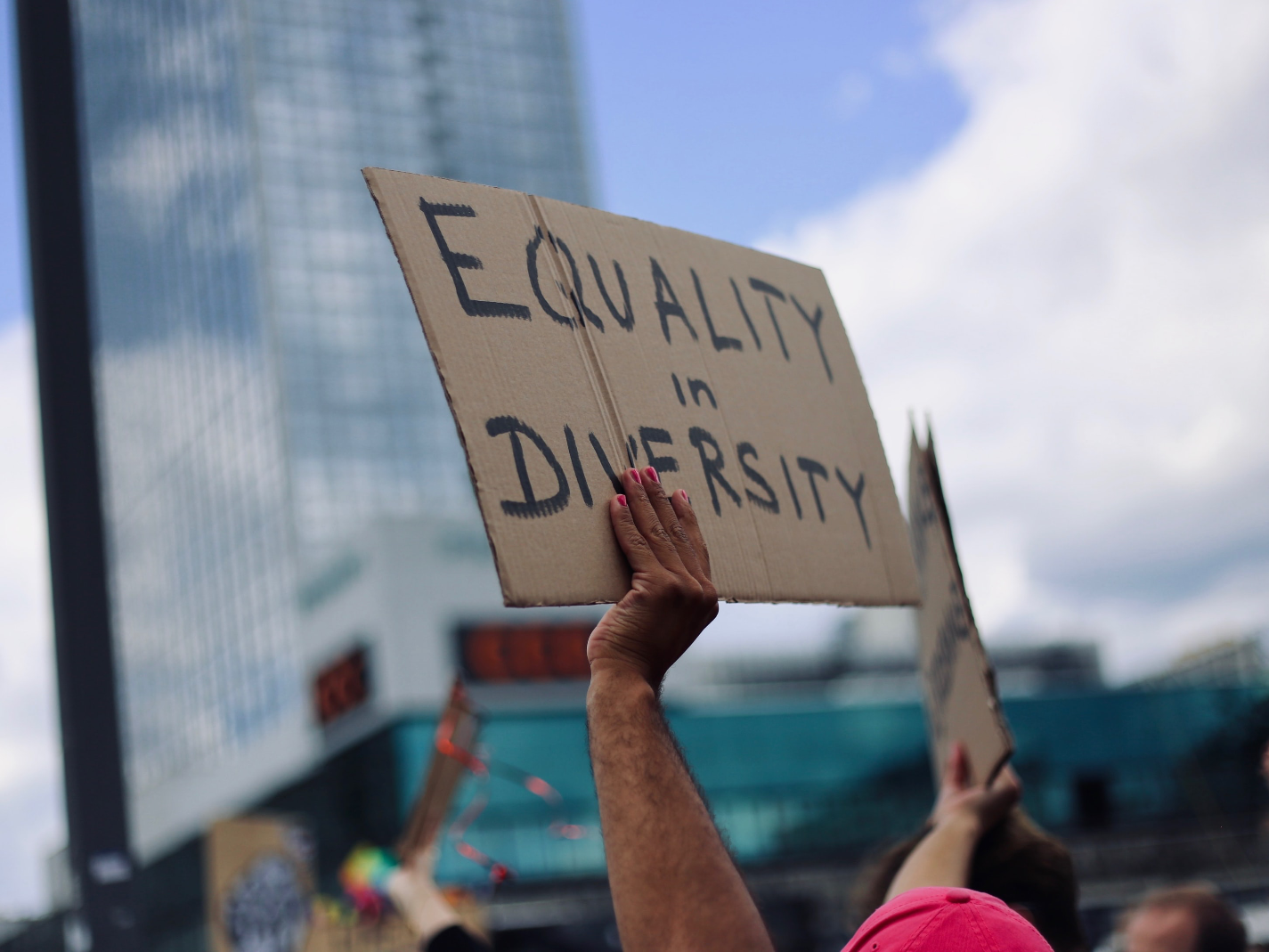 Why is it that the more we do to promote diversity the greater the racial acrimony? It is as if a misguided patient took a medicine that only worsened his illness. This paradox is especially visible in higher education, and one can only wonder if a robust intellectual life can survive the seemingly endless quest to "make things better."
What drives this paradox? Let me offer some possible, generalizable explanations for this burgeoning anger among both blacks and whites (for convenience, the term "white" here includes Asians). All in all, it's hard to imagine a better arrangement to stir the pot of racial resentment.
How Racial Preferences Multiply Belief in Racial Discrimination
Imagine a hypothetical world of 20 youngsters applying to an exclusive college. Half are white and half are black. The college will accept five based only on test scores but will reserve one spot for a black applicant. Assume the following theoretical test score distribution:
White: 99, 97, 95, 93, 91, 89, 87, 85, 83, 81
Black: 83, 81, 79, 77, 75, 73, 71, 69, 67, 65
Here the top four whites (who average 96) will be admitted along with a single black who scored 83. How many whites have lost their admission to the top school? The correct answer, of course, is one—the youngster who scored 91 who was "replaced" by the black who scored 83. But how many whites mistakenly believe themselves to be victims of discrimination? The answer is 4, those who scored above the highest scoring black, though none of these youngers were in fact replaced by a minority applicant. In sum, given unequal academic records, racial preferences inherently multiply feelings of unfairness apart from the actual unfairness.
The magnitude of perceived unfairness is an empirical matter depending on the distribution of scores and selection criteria, but some ill-feeling is inevitable given that more than one white will out-score the lowest scoring admitted blacks. Conceivably, this multiplier helps explain why universities seek to abolish tests like the SAT. Murkiness ("holistic admissions") may calm irate applicants and their parents—the equivalent of fast-food restaurants refusing to label accurately concoctions such as "Chicken Nuggets" made from byproducts and filler.
Generating perceived unfairness hardly stops with elite schools. Having been rejected by Harvard, those whites scoring in the high eighties on our distribution will apply to a first-rate, but less prestigious, school like Michigan State University. The process then repeats itself—a white with an 89 might be admitted to MSU, but if not, and if instead a black applicant with an 81 is accepted in his place, you'll have one more youngster believing himself "cheated" by racial preferences. Nor will the process end except for schools admitting all applicants. Now, nearly every white student applying to college, whether elite or third tier, might feel that he lost out in his quest for a more prestigious school due to a less qualified black taking his place. Admitting just a handful of underqualified blacks can create grievances on an industrial scale.
Even a slight boost to affirmative action, such as we see today, will multiply perceived unfairness. Given a normal distribution of test scores among whites, admitting top-scoring blacks will only anger a few whites. But, as less qualified blacks are increasingly admitted, the number of aggrieved whites necessarily expands. In our hypothetical example, if a black with an 81 were admitted, every white in our sample would feel victimized. Yet, of course, only a single admission slot has been taken by a black.
[Related: "What is Merit and What is Not?"]
Moreover, the finer the statistical graduation in the admissions policy, the greater the likelihood of perceived malfeasance. The SAT, with its finely calibrated range of 400 to 1,600, is practically designed for encouraging resentment—it's no fun to miss the cut at Harvard by an almost statistically meaningless 2-3 points to advance racial justice.
A white Harvard applicant with a 1,200 on the SAT may not feel especially aggrieved by losing out to a black achieving a 1,400 (still a low score for Harvard admission). But, for those "on the bubble," failing to make Harvard's cut despite an otherwise excellent score of 1,480 may be harder to accept. This outcome, moreover, was not a tie-breaker decision by Harvard; it was a strong thumb on the scale, and admission to the still-excellent Michigan State will unlikely compensate (for actual data on SAT scores by race, see here). And while there will surely be whites with perfect SAT scores rejected by Harvard, they are far, far outnumbered by those whites with scores in the high-1,400s (in 2015, 2,200 blacks scored 700 or above on the SAT math section compared to 100,800 whites and Asians). If we added up all those who "just missed out" on an elite education thanks to just a tiny handful of blacks who benefited from racial preferences, we would have a small army of those who might feel cheated.
How Affirmative Action Promotes an Intellectual Caste System
If university admissions administrators used race only as a tiebreaker (the original 1978 Bakke intent), then the race-related intellectual divide on campus would be minimal. In this case, blacks would have lower average test scores, but only slightly. In practice, they would be nearly indistinguishable from countless less-than-brilliant white classmates, even at elite schools. Most blacks would struggle in advanced physics, but so would most whites. Campus life would resemble the earlier pre-preference era when middle-of-the-road whites ("preppies") from wealthy families gravitated to undemanding majors for "Gentleman's Cs." And since at least some blacks would not owe their admission to the tiebreaker rule, tough classes would include blacks who performed well.  
But what if, perhaps under the guise of creating a critical mass necessary to help struggling black students feel more comfortable, administrators rejected the tiebreaker principle in favor of equity, so that an increasing number of less qualified blacks are admitted? Assuming class size was not substantially increased, fewer middling whites would be admitted. The inevitable outcome would be a wider academic gap, and this would create a race-based caste system. Conceivably, nearly all whites would be at the 1% of the IQ distribution, while the mean IQ of their black classmates might be, say, at the 75th percentile.
How might blacks at Harvard and other elite schools react to being so grossly over-matched intellectually—a campus where the smartest black cannot match the dumbest white? Work extra hard to narrow the gap? Or, as per Teddy Kennedy, hire somebody to take your Spanish exam? Hardly, since a chasm of this width is unlikely to be closed by burning the midnight oil or cheating.
This intellectual gap is a recipe for almost daily humiliation for blacks, who will be, on average, the most challenged students in every class—the equivalent of "dumb jocks" at many sports-oriented universities. Ironically, adding ever more remedial programs and other measures to help struggling blacks only makes this intellectual gap more public.
Race-based intellectual castes would hardly be limited to elite schools. As a corollary of the mis-match principle, where underqualified blacks are unwisely put in schools where they gravitate to the bottom, race-based castes would be ubiquitous across higher ed. So much for the alleged benefits of "diversity." Ironically, no such color-coded social order would exist at strict merit-based schools like Cal Tech.
[Related: "Bending the Knee for Diversity, Inclusion, and Equity"]
The predictable outcome for many blacks would include demands for separatism as a form of therapy and, in many instances, demands for actual mental health counseling. The message of racial intellectual inferiority, though never expressed openly, would be inescapable, and a cynic might suggest admitting lots of underqualified whites to make uneasy blacks feel better about themselves. And if these "experts" decided that even more preferences were the cure for black anger, campuses would soon resemble the Jim Crow South with skin color, yet again, as the badge of inferiority. Recall Brown v. Board of Education (1954), when the feeling of racial inferiority among blacks played a key role in ending state-mandated racial segregation.
Consequences
It's hard to imagine a better arrangement than racial preferences to generate anger among both whites and blacks. As our hypothetical examples suggest, these feeling may be exaggerated, but they are undoubtedly real to those familiar with data on preferences.
It's hardly accidental, then, that gaming the system has increasingly grown popular in college admissions. The parallel is tax fraud—if people believe that everybody cheats, only a fool would be honest.
Why not falsify race/ethnicity on one's application to "even things up"? In fact, according to one report, more than a third of all white students lie about their race on college applications. Applicants may rely on the booming college admissions consulting business—who knows what iffy tactics are in their bag of tricks? Parents might lie about their residences as colleges try to avoid illegal racial preferences by admitting students from "bad" schools to manufacture the numbers. Rich parents know that donations can help, but as the recent Varsity Blues scandal indicates, this tactic has now been taken to a whole new level.
Imagine the unspoken taboo thoughts of those white students who believe they were victimized by racial preferences upon hearing speeches about "diversity." How can they square their own experiences with claims that the thumb on the scale will (somehow) ensure racial progress? Should these youngsters think of themselves as social justice kamikazes who had to settle for second-choice schools to advance some noble purpose?
Universities have already been denounced for transforming education into indoctrination—this roiling of racial strife will only further undermine the academy's legitimacy. More have realized that a college degree, even from a top school, may be overrated. Millions of ordinary Americans may tire of funding universities that spew forth crackpot ideas, suppress free speech, and obsess over race in admissions.
Why do schools pursue a strategy that almost guarantees ever more racial rancor? Is there some less-than-obvious educational payoff? Are college presidents just responding to political pressure? Do ideologues honestly believe that anger is the price to pay for so-called racial progress? It's hard to know, but perhaps those running our top schools are just fools.
---
Image: Amy Elting, Public Domain