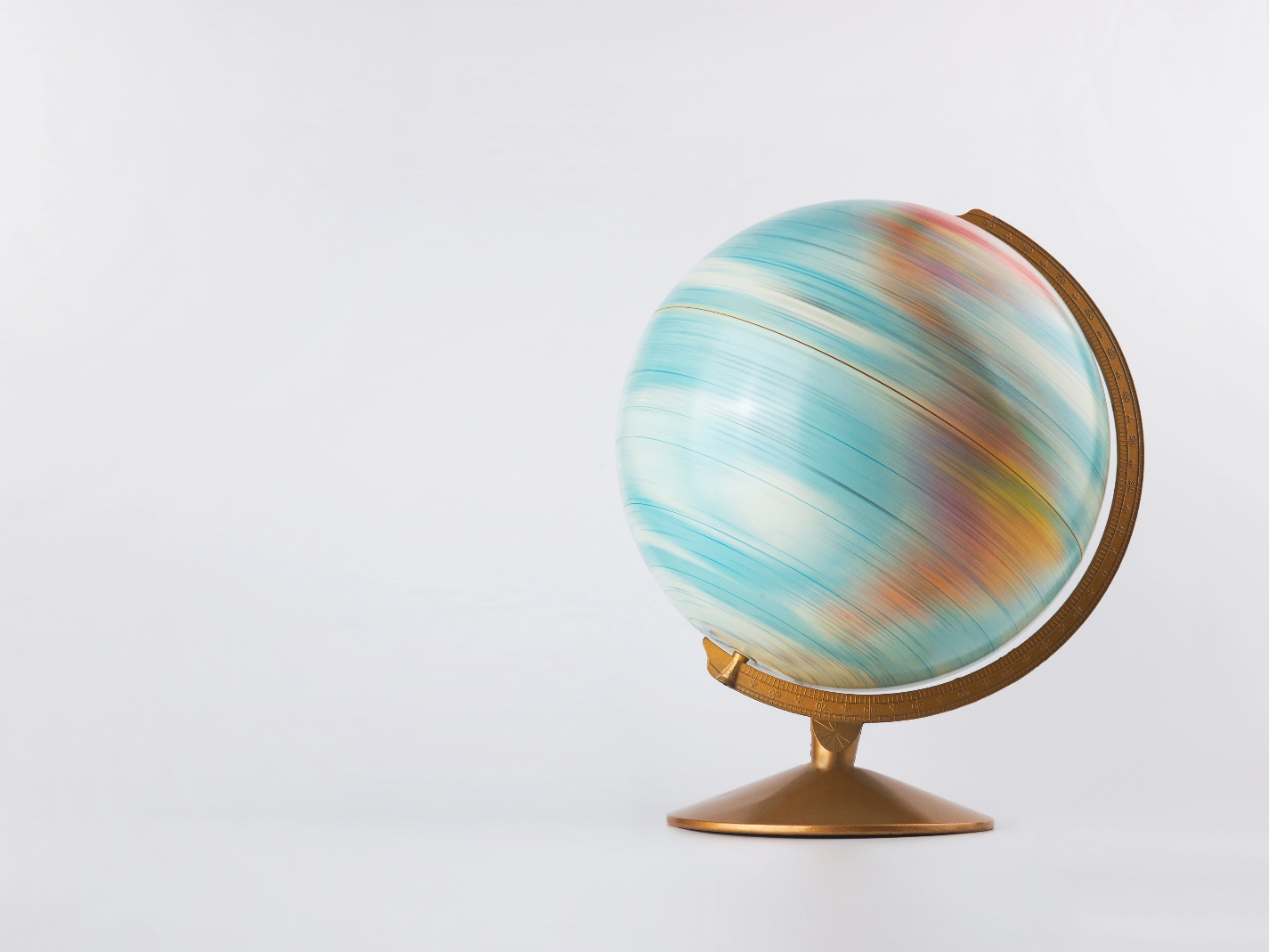 When James Taranto edited the Best of the Web Today feature on the Wall Street Journal Opinion page, there was a recurring trope: "Everything seemingly is spinning out of control." This featured hysterical reactions to ordinary things, such as a new Heinz ketchup recipe "shaking up" fans of the condiment.
It seems now that we have to take Taranto's trope seriously, if the latest wrinkle in the climate crisis narrative is to be believed. Climate change is altering the spin "of the entire planet," according to The Byte's Noor Al-Sibai. Of course it's "mostly our fault," says Popular Mechanics. Maybe everything really is spinning out of control?
Well, not quite. Our spinning Earth is being used to spin a phony climate crisis narrative.
This story begins with a scientific instrument: the Jet Propulsion Laboratory's GRACE mission. GRACE comprises two satellites orbiting in tandem. As the satellites pass over Earth's surface, they measure subtle variations in gravitational pull. For example, the gravity over mountains differs from the gravity over oceans. The GRACE satellites enable scientists to map the planet's surface with unprecedented accuracy and to discern dynamic properties such as the exact location of the so-called rotational north pole (RNP)—the physical point around which the Earth spins.1
We have long known that the RNP is not fixed but wanders over time—true polar wander, as it's called. This comes about because the distribution of mass on the Earth's surface also wanders with time: continents move, mountains are pushed up, sea levels vary. Over a ten-million-year period from seventy to eighty million years ago, for example, the RNP wandered widely over northern Siberia, Scandinavia, and North America, ranging as far south as what is now Washington State. This was also a time of vigorous tectonic activity, the movements of magma that push continents around or fuel volcanic eruptions. At other times, polar wander has slowed to a near standstill, as it did about 150 million years ago, when tectonic activity was at a low ebb.
Prior to GRACE, the location of the RNP had to be inferred from small variations in residual magnetism in iron-rich rocks. This method can track changes in the RNP over very long periods of time and over very long distances. GRACE enabled geologists to follow true polar wander at much finer scales of time—month-to-month, rather than millions-of-years-to-millions-of-years—and distance—centimeters rather than hundreds of kilometers. That's how remarkable an instrument GRACE is.
Now, back to the Earth seemingly spinning out of control. Two years ago, a group of Chinese and Danish scientists used GRACE data to analyze how changes over the past decade in what they called terrestrial water storage—water stored in glaciers and icecaps, mostly—could be inferred from the location of the RNP. They concluded that the translocation of water mass from ice (at elevations higher than sea level) to oceans shifted the RNP at a rate of about ten centimeters (about four inches) per year. This year, a group of Korean and American scientists refined this analysis, breaking down terrestrial water storage into finer components—water stored in ice, lakes, and reservoirs, as well as groundwater. They found that water pumped from the ground to feed agriculture and provide drinking water could account for about forty percent of the observed polar wander (amounting to about four centimeters, or about 1½ inches, per year).
As science, these two studies were a tour de force, warming the cockles of a data nerd's heart like my own. The authors were also admirably modest in their conclusions. The Chinese researchers presented their findings as a potential tool to help reconstruct ancient climates. The authors of both papers presented their data as another set of measurements that could help dissect the complexities of an ever-changing climate. Neither set of authors went beyond those cautious statements.
Enter the "science press," which infused these modest findings with ginned-up climate hysteria.
The Guardian kicked things off by telling readers that, according to the 2021 paper, the "massive melting of glaciers has tilted the planet's rotation, showing the impact of human activities." Note the scary language, which I have italicized. The publication added that the papers are evidence for the "climate crisis" caused by "the marked acceleration of carbon dioxide emissions and sea level rise, the destruction of wildlife and the transformation of land by farming, deforestation and development." Neither of the papers said any of those things—The Guardian just filled them in.
Science Alert asserted that "[climate] has shifted the axis of the Earth." Not to be pedantic, but it was the translocation of water, not climate, that shifted the axis. Climate may have contributed, but glaciers and icecaps come and go for a variety of reasons, including geothermal flux from the Earth's hot interior, which appears to be driving ice melting at Antarctica's Ross Ice Shelf. Popular Mechanics, which I've already cited, upped the ante by stating that the Earth's axis has "secretly shifted." The New York Times filled in the conspiratorial details: "Something was messing with Earth's axis. The answer has to do with us." Talk about a conspiracy theory!
Following the 2023 paper, another wave of climate hysteria articles piled anew onto the story of the Earth's wandering axis.
New Scientist added an interesting twist. In response to variations in measurements between the papers, a professor from Virginia Tech assured us that the "precise number doesn't matter really"—an odd thing for a professor of science to say. All that matters, apparently, is what climate change is doing to the planet, never mind that the data may have other explanations. I'll remember this for the next data set I analyze.
Science magazine chirped its own subtle dig, informing us that "massive" pumping of groundwater has tilted the Earth's axis. If that wasn't sufficiently alarmist, then The Byte (whom we've already met) breathlessly stated that our groundwater use was "whopping": 2.1 trillion tons from groundwater into the oceans between 1993 and 2010, which "even caused sea levels to rise" [emphasis mine]. Science Alert jumped in with some climate change folk wisdom: "working towards mitigating human-influenced effects on climate is a long game. The sooner started, the better." OK, let's get right on that.
CNN added a dash of guilt and self-loathing, decrying humans' "unquenchable thirst for groundwater," which has "sucked so much liquid . . . that it's affecting Earth's tilt." It closed with a sobering reflection on "unintended global consequences." Scientific American chimed in to blame "rampant groundwater pumping" for changing the tilt of Earth's axis. Again, note the scary language.
There is a narrative at work here, of course. Foolish, stupid, selfish humanity is destroying the planet in unprecedented ways and at unprecedented rates. These parasites (read, "you other people") must be restrained, forcibly if necessary, to save the planet. So, stop growing food, stop using water for drink and sanitation, stay in one place, and restrain your lifestyle, or everything will seemingly spin out of control.
How detached from the actual science this is. How convenient is the narrative for one sector of our society that will gain at the expense of others. And how flimsy the justification, all for a change in the location of the north pole that could fit into a game of hopscotch.
---
1 The RNP is distinct from the magnetic north pole (MNP), toward which a compass needle points.
---
Editor's Note: This piece is part of a new Minding the Campus article series called Minding the Sciences, wherein we are renewing our focus on the sciences given the many threats it faces in modern academia. Click here to learn more.
Image: Adobe Stock