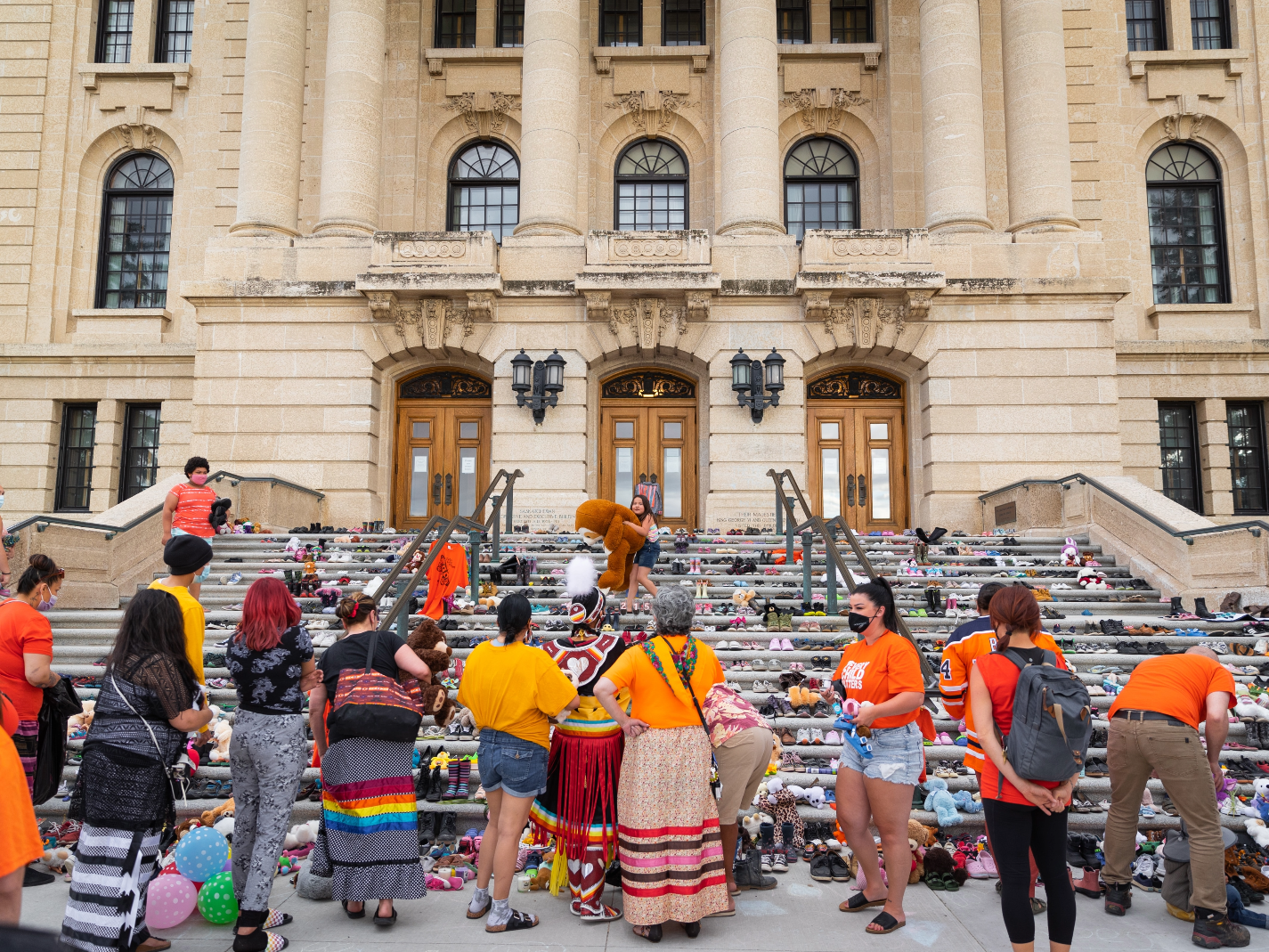 On May 27, 2021, an announcement was made that would create shockwaves around the world.
This was the press release of the Tk'emlúps te Secwépemc (formerly the Kamloops Indian Band) in British Columbia, Canada, revealing "the confirmation of the remains of 215 children who were students of the Kamloops Indian Residential School [KIRS]."
As a result of this announcement, The New York Times blared out the headline, "Horrible History: Mass Grave of Indigenous Children Reported in Canada," and for five months flags were also flown at half-mast on government buildings. Presidents of Canadian universities even made "Statements on the remains of Indigenous children found," encouraging their employees to help Indigenous students through the grieving process.
In the several months that followed, carefully controlled communications by the Tk'emlúps te Secwépemc reinforced the belief that 215 children had been buried clandestinely in KIRS' apple orchard, presumably by the priests and nuns who worked at the school.
When the Royal Canadian Mounted Police opened an investigation into the matter, they were accused of being "heavy-handed" by Murray Sinclair, the former head of the Truth and Reconciliation Commission, and control over any further inquiries was turned over to the Tk'emlúps te Secwépemc.
In July, a presentation was made by the ground penetrating radar (GPR) expert Sarah Beaulieu admitting that her GPR findings actually consisted of "possible burials" or "targets of interest." Although the Tk'emlúps te Secwépemc, an indigenous government within the Shuswap Nation Tribal Council, promised that the report would be released to the public, it reversed course and has since kept the details secret. The Tk'emlúps te Secwépemc's lawyer even strongly advised the Simon Fraser University archaeology department "not to respond to any queries from the public regarding the search for unmarked graves in Kamloops."
In spite of Beaulieu's reference to "possible burials," this did not stop Rosanne Casimir, the leader of the Tk'emlúps te Secwépemc, from putting forward two "emergency resolutions" at the Assembly of First Nations about the discovery of a "mass grave" at Kamloops, and linking this to "genocide" that required intervention from the International Criminal Court. Casimir repeated this stance in September at the B.C. Assembly of First Nations, when she stated that "215 unmarked mass graves of children were located utilizing ground-penetrating radar."
The gravity of these allegations led Canada's most renowned investigative journalism program, the Canadian Broadcasting Corporation, to produce the documentary, The Fifth Estate. In this program, Rosanne Casimir stated that it was important for KIRS to be "looked at as a crime scene with that many children … that are in unmarked graves." Numerous allegations were made, such as Audrey Baptiste remembering that, when she was ten years old, she "saw the lifeless bodies of four boys hanging" in a barn. The program also spoke to a former chief of the Tk'emlúps te Secwépemc, Manny Jules, who stated that a committee of family heads had made a "decision to exhume" after coming to terms with "the reality of the grisly discovery."
To date, however, no excavations have been undertaken.
This is surprising since one would expect an allegation about a "crime scene" of 215 clandestine burials to spur immediate action to hold the perpetrators accountable for such a "grisly discovery." But despite all the recriminations, few journalists, politicians, or academics have noticed that not one parent has claimed that their child never came home from KIRS. If no such child has been identified, who would constitute the 215 'remains' buried in the KIRS' apple orchard?
In spite of the lack of evidence in the Tk'emlúps te Secwépemc case, the lurid references to the 215 bodies of children, some as young as three years old, soon spawned more allegations in Canada. The most sensational was the announcement that 751 unmarked graves had been "discovered" at Cowessess (the former home of the Marieval Indian Residential School). This resulted in the famous photo of Prime Minister Justin Trudeau kneeling with his head bowed, holding a teddy bear. The "unmarked graves," however, actually turned out to be a community cemetery, where the grave markers had deteriorated. While this had been well known in the community for years, it did not stop the chief, Cadmus Delorme, from distorting this reality and stating that the site would be treated "like a crime scene."
With respect to the other insinuations of clandestine burials, there have been a number of alleged sites so far—none of which have found remains of indigenous children (in the case of the Shubenacadie Residential School, remains were found, but these were those of Irish immigrants buried long before the building of the school). One of the most recent excavations was at the Our Lady of Seven Sorrows Catholic Church, which sits on the former Pine Creek Residential School Site in Manitoba. Although former students claimed that bodies were buried in the church's basement, the 14 anomalies detected by GPR turned out not to be graves.
In spite of this confusion between previously-marked graves in cemeteries and clandestine burials, and the fact that nothing sinister has been revealed by GPR, the hysteria in Canada soon began spreading to other countries.
In the United States, for example, nearly every article that discusses graves at Residential Indian Schools mentions the Kamloops case as the reason to investigate whether in the U.S. there were clandestine burials of children too. A government report on Residential Schools, prompted by the discoveries in Canada, was produced in 2022 at the bequest of Deb Haaland, the U.S. Secretary of State. The Bureau of Indian Affairs' assistant secretary Bryan Newland submitted his report in May 2022. In this report, he noted that the U.S. had 408 Indian Residential Boarding Schools across 37 states that were operating from 1819 to 1969. His research further noted that there were likely 53 burial sites with 33 marked grave sites, six unmarked grave sites, and 14 combined marked and unmarked grave sites. All of these, however, are from cemeteries with documented deaths. Nineteen of the schools accounted for over 500 deaths but estimates, with no reasonable method of determination, of 40,000 deaths are common in media stories.
Although the death of a child is always sad, this does not necessarily mean that children were murdered or that genocide occurred. To put children's deaths into archaeological and historical perspective, at just one Californian site (CA-Ala-329), 37 percent (127 out of 345) of pre-European contact remains belonged to children. The same site contained 34 children's remains out of 108 (31 percent) dated to the last period—which encompassed 300 years from about 1500 AD to 1800 AD.
Children dying was a common fact of life for much of prehistory and history—even fairly recent history.
Early school directors, such as Walter Runke from Utah's Panguitch Boarding School, noted that Native American children seemed to be inherently susceptible to diseases, such as tuberculosis. Journalists, such as Courtney Tanner of the Salt Lake Tribune, write that tuberculosis is not heritable, but greater immunity to these diseases has been found to be inheritable. However, in regard to Indian Residential Schools, even in Newland's report, there is an admission that schools got better over time and fewer children fell ill or died.
At the Genoa Indian School located in Nebraska, researchers have noted that 86 children died at the Genoa school, but archaeologists, such as Dave Williams, believe the actual number is likely far higher. He based this estimate on other residential schools in the U.S. and Canada coupled with the 50 years that the school was open. Additionally, James Nash, who attended the school, believes that two classmates' deaths were covered up. And thus, Williams and his team began to use GPR to try to find the undocumented graves, leading to the discovery of ground anomalies.
However, excavations of these locations of interest have found no bodies.
At Holy Rosary Mission (now known as the Red Cloud Indian School) in South Dakota, it was also reported that multiple GPR anomalies were discovered. An excavation found the anomalies related to building products and animal activity. Some animal bones were also discovered, but no murdered children.
If all of these claims about murders and clandestine burials in the U.S. and Canada have been unfounded, how have they received so much attention?
Part of this is due to the insistence that survivor's stories be believed—stories that have not been found to be valid. Such tales include babies being thrown into the boiler at the Muscowequan Indian Residential School, children being kidnapped by Queen Elizabeth at KIRS, or white crosses in an unfinished basement of a church at Holy Rosary Mission.
Spooky images of long-abandoned buildings, photos of serious-faced students, and tales of abuses, such as haircutting and corporal punishment—commonplace in all Residential Indian Schools—ensure the reader will believe these places were bound to contain the ghostly evidence of murdered children. Yet, survivor tales, like oral histories more generally, are often inconsistent with one another, can be altered to conform to stories told by other survivors, and, thus, evolve in the telling. Such narratives are akin to scary campfire horror stories—interesting as modern folklore, but not something to be taken as factual.
The most significant source of misleading information, however, has come from the reporting of GPR discoveries. Articles, such as those published in the New York Times, NBC, and the CBC, have strongly led readers to conclude that hundreds, perhaps even thousands, of children were killed—perhaps even murdered—and buried secretly.
The media has irresponsibly failed to report on the inability of GPR to detect details. GPR, which has been used in forensic anthropology and archaeology for years, can be an extremely useful tool, especially to help avoid the destruction of materials during excavation. In forensic cases, where bodies are in shallow graves, often less than three feet (or one meter) deep, GPR has led to the discovery and excavation of recently murdered victims. GPR has also been used to map out historic cemeteries.
Yet, GPR is beset by problems of accuracy, and environmental noise can hinder successful discoveries.
GPR is best used on level sites with few surface obstructions. Roots, rocks, and pipes can lead to false positives. GPR discerns subsoil disturbances, but it does not have the ability to define a precise burial outline or body detail. Experimental research has even demonstrated that GPR images can be altered by the moisture in the soil.
But, it is not just clutter from trees, rocks, and soil changes that affect GPR acuity. Even depth is an important factor. GPR resolution deteriorates as one searches for deeper burials. GPR rarely enables the identification of skeletal remains—often only soil disturbance of a natural sort is found. GPR cannot validate the presence of human remains; this can only be done through excavation. And, even in the best environments, GPR images are not visually intuitive. And, thus, before coming to conclusions about buried—and murdered—children in Kamloops or any other Indian Residential School, excavation—not GPR—is needed to provide the evidence.
Researchers know of these limitations and yet they continue to perpetuate the myth that GPR images confirm the presence of buried children, rather than just provide possible places to excavate. We must ask ourselves why these anthropologists are not eager to excavate and substantiate their claims further. Why, especially, have excavations not taken place in Kamloops, ground zero of the current hysteria? And why do indigenous leaders appear to be disappointed, not relieved, when excavations turn up no remains?
The answer to these questions is revealed by listening to the old adage: follow the money. After the Kamloops discovery, a long list of demands was drawn up, including funds for "supportive infrastructure" and "reconciliation progress" reporting. Further discoveries resulted in the dispersal of $321 million for "unmarked graves" searches and associated contracts.
This, however, is only the tip of the iceberg and distracts us from considering the main prize—claims about the discovery of thousands of clandestine burials are used as evidence for the existence of genocide. This is part of the long game of indigenous neo-tribal elites and their lawyer-brokers to divert transfers from governments, churches, universities, and other institutions as reparations for supposed crimes against humanity. Also known as the machinations of the Aboriginal Industry, this self-serving group of lawyers and consultants siphon away billions of dollars from much-needed services in isolated and deprived indigenous communities.
The influence of the Aboriginal Industry in creating the unmarked graves hysteria has been reinforced by a reactionary position that is sweeping our institutions in Canada and the United States—a stance pejoratively referred to as "wokeism." In wokeism, identity politics becomes totalitarian—all beliefs of oppressed identities must be affirmed. A prominent one of these in Canada is the "residential school genocide survivor" identity. As a result, no one in Canada can challenge the claim that the residential schools are genocidal, and there are even proposals to make "denial" of these unsubstantiated claims a criminal offense. Even without such a law, skepticism of the genocide and clandestine mass burial narrative is disingenuously compared to denying the Holocaust. As the American Anthropological Association put it, "skepticism is violence."
Wokeism has been made possible by the assault on science and reason in universities, and the resulting claims that oppressed groups, like indigenous people, have a special "way of knowing." It is claimed that pretending to believe this will somehow empower indigenous people and assist them in their aspirations for self-determination. As a result, the obviously false claim of indigenous neo-tribal elites and their "allies" that there are "215 murdered children" at KIRS doesn't seem to matter. But the oppressed need to know the truth just like everyone else. To condescendingly deny the truth prevents critical analysis of the claims grievance-grifters make to increase their wealth and power at the expense of the genuinely marginalized.
---
Photo by Tandem X Visuals on Unsplash