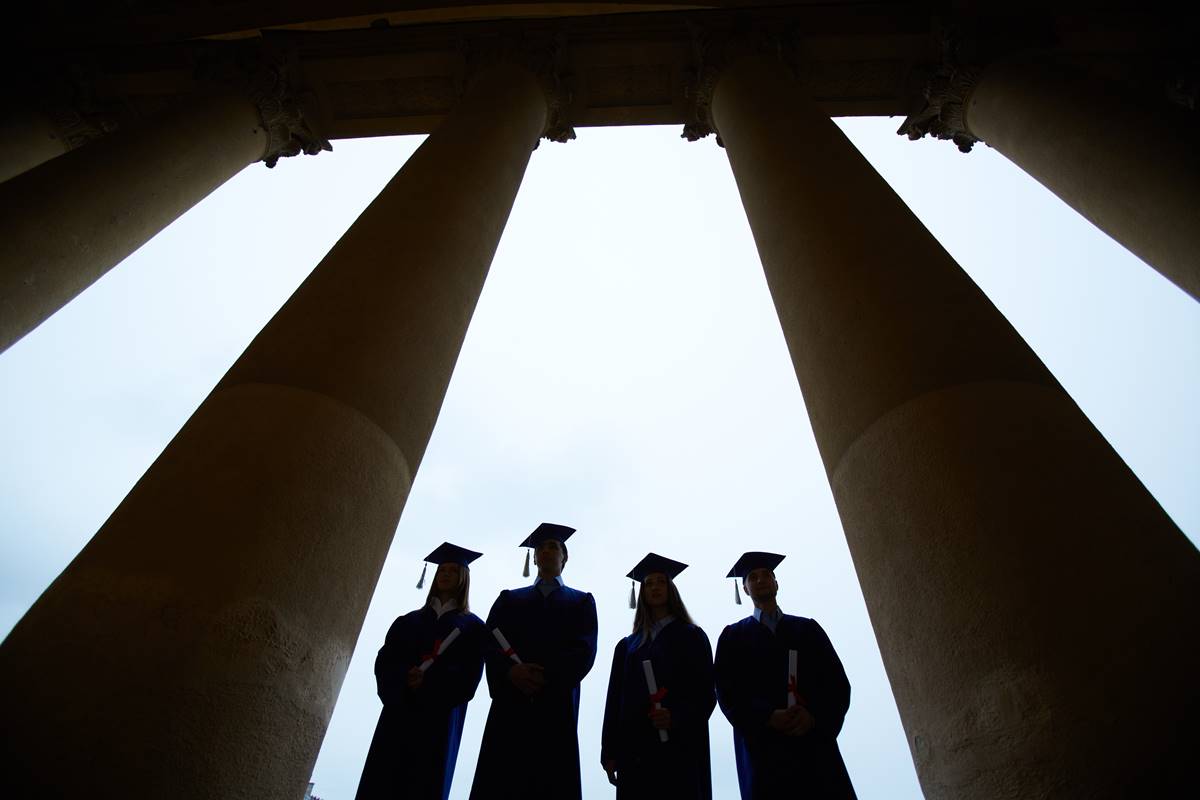 Dear Students
Two factors have come together to inspire me to write this letter to you. First, it has been my privilege to promote cross-campus entrepreneurship on college and university campuses, and I have met some amazing young people with great entrepreneurial ideas who want their lives to count for something significant. I also have met many students who have no interest in entrepreneurship because they have a negative perception of business. It is mainly to them that I write this letter.
The second factor is that the world is hungry for what we often take for granted. I have been invited to visit countries around the world to speak with leaders on how to promote entrepreneurship as a way to create opportunity and hope for their young people. These leaders clearly understand that entrepreneurs create the net new jobs by bringing innovative products and services to customers.
The most recent example is a meeting I attended, convened by Her Highness Sheikka Mozad of Qatar, that focused on how to create economic opportunity for young people in the Middle East and Northern Africa. Knowing that hopelessness makes the world a more dangerous place, she has committed $100 million to developing economic opportunity. I sat at a table with people from such countries as Syria, Tunisia, and Morocco and heard their leaders make plans to provide entrepreneurship education. A young Syrian entrepreneur who founded an animation company talked about following his dreams and the thrill of being economically independent through his own efforts. And, in Indonesia, I met a young man who has a doughnut business and is bringing in more money than anyone in his family has ever seen. The common thread in all of this is the belief that entrepreneurship is a powerful avenue for prosperity for an individual, a region, or a country.

I experience the hunger in the world for the privilege of creating jobs through entrepreneurship, and then I return to the United States, where I see something that troubles me.
Some students and professors reject business as a morally responsible way to spend one's life. The issue I have is not that some people would rather work in the public sector (government) or the social sector (nonprofit work), but that they assign a higher moral calling to these two sectors than to the private sector (business).
As a college student, you are attempting to gain the knowledge, skills, networks, and inspiration to live a happy, productive, and meaningful life. I like to think of each of you as one unit of creative potential. Looking at it this way means that faculty members are more than dispensers of knowledge. They are guides along your journey, teaching the subjects, passing along beliefs and biases, hopefully inspiring you, and challenging you, to consider the types of people you will become.
Some professors attempt to influence you toward those biases. Some think dismissively of business, for instance, as if society would be better off without it, or they assign pernicious motivations to those who lead businesses. Throughout history, social experiments to this end have failed. Every day, these professors use and benefit from the products and services of business: Google, bookstores, clothing, transportation, and the local coffee shop. They fail to differentiate between business leaders and dismiss the whole sector as greedy, uncaring, and destructive. Yet, even with much evidence of greed and wrongdoing in the public and social sectors, that same categorical condemnation is not present.
In fact, you can make a vital contribution in any of the three sectors, because all three are needed for a society to function well. (If just one sector is weak or absent, the result is usually a failed state. Think of the former communist states that tried doing away with private business, or the chaotic warlord states without effective government.)
More to the point, in each sector there are models of virtue and there are scoundrels. Goodness has nothing to do with the sector. Where goodness lies is in the heart of the individual, and the choices that matter are the moral choices made in conducting the work.
Consider the following examples. Mother Teresa became a symbol of charity to millions around the world, winning the Nobel Peace Prize in 1979. She offered great comfort and help to those in need, starting in the slums of Calcutta, and then expanded to other countries. If we asked the question, "Where does goodness lie?" it was in the heart of Mother Teresa, whose work falls within the social sector in a religious order. Yet, one can conversely cite examples of abuse in the church or of greedy evangelists taking money from the poor.
Have you heard of Julius Walls, Jr.? Mr. Walls is CEO of Greyston Bakery, a $6.5 million for-profit enterprise in Yonkers, New York. Greyston bakes gourmet pastries for the New York City market and supplies brownie bits and other baked items for Ben & Jerry's ice cream worldwide. Greyston delivers high-quality goods while maintaining its policy of hiring and promoting the very people who have the hardest time finding good work. Nearly the whole workforce, including supervisors, consists of men and women who once were either in prison, addicted to drugs, on public assistance, or homeless. Some even go on to start their own businesses with help from Greyston, which also has a foundation for community development in Yonkers. The goodness here lies in Mr. Walls and in his colleagues. They work in the private sector.
On the other hand, there is the Enron Corporation, named by Fortune magazine for six consecutive years as "America's Most Innovative Company," and at the height of its glory employed around 22,000 people claiming revenues at the triple billion dollar level. It now stands as a leading example of corporate corruption. Those who orchestrated the fraud once were masters of the universe who not only broke the law, but destroyed many lives in the process. Where does goodness lie? Not in the hearts of the Enron employees who knowingly led this private sector deceit.
Likewise, there have been many news stories about horrendous wrongdoings in the social and public sectors. Nonprofits of all kinds have been found to be neglecting or defrauding the people they were meant to serve. This headline in the San Francisco Chronicle on May 13, 2007, demonstrates this point: "The Teachers Who Cheat: Some help students during standards test—or fix answers later—and California's safeguards may leave more breaches unreported." There have been similar stories around the country. The St. Petersburg Times wrote: "A former United Way executive pleaded guilty Thursday to stealing nearly $1.9 million to buy expensive show horses in what is believed to be the biggest embezzlement case in the agency's history." Sadly, it is all too easy to cite examples of corruption in the public sector as well, such as the recent Jack Abramoff lobbying scandal. All three sectors are equally open to corruption or virtue.
For every example of misconduct, one can counter with many more stories of courage and sacrifice, of moral people living out their lives in the private, public, and social sectors. These few brief stories illustrate the error in condemning a segment of society rather than the individuals acting within that segment. It illustrates the faulty thinking that accompanies raising one sector over others as somehow morally elevated.
Ewing Kauffman, our founder, understood that it was erroneous to think of social good as distinct from the contribution of business. He was not thinking in terms of social responsibility of the corporation but of the actual purpose of business. He believed that the purpose is to bring society a product or service, and that an individual running a business ought to treat employees with respect, pay them fairly, engage in responsible business practices, and give to the community. He thought that creating jobs was his greatest social contribution—even greater than the
$2.5 billion foundation bearing his name. He said that if a person has a good job, and is invested in by the corporation, then that person's family rarely will need social services. That family will pay taxes, send their children to college, and be engaged citizens. Goodness was in the heart of Ewing Kauffman, a businessman.
Morality, ethics, and the ability to make the world a better place are not the domain of any one sector. It is individuals, and how they conduct themselves in the world, that matter. As you complete your college work, I hope you will take at least one course in entrepreneurship to learn how to translate your creative ideas into enterprises that create value for society. I hope you remember the many young people around the world who seek the opportunities afforded by entrepreneurship. And, I hope your story is told one day as an example of how you placed opportunity and choice in the hands of others. I hope people know through your actions that you used your unit of potential for good—whether in the private, public, or social sector.
With Sincerest Best Wishes,
Judith Cone