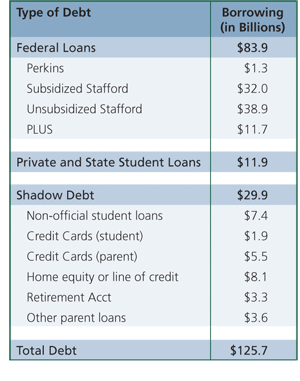 News that student loan debt, at $830 billion, exceeded credit card debt for the first time has sparked renewed interest in the financing of college and its implications for students. Largely ignored in the discussion, however, is the shadow debt, which consists of unorthodox methods of borrowing for college, including home equity loans and lines of credit, retirement account loans, credit card debt, and run-of-the-mill bank loans. Because these borrowing instruments often have many alternative uses, we have to rely on surveys to determine how much of the total amount borrowed in each category is devoted to paying for college. The most comprehensive such survey is conducted by Sallie Mae and Gallup. Their findings indicate that shadow debt adds just under $30 billion to the annual borrowing for higher education (see this link for more details on the calculation). As shown in the table below, when this is added to the $96 billion in college specific loans, we can conclude that Americans borrow roughly $126 billion a year to pay for college.
Of course, there are a number of caveats to this number. To begin with, this is at best a back of the envelope calculation, and better data would allow for a more accurate picture to be painted. In addition, some of this may not be borrowing in the normal sense of the term. For instance, some well off families may pay for tuition on a credit card to receive the rewards associated with their card, and then pay off the balance immediately. There is also the fact that some of the education borrowing is not used solely for education. I knew people who used student loan money to purchase a car, or a big screen TV, and even breast implants. At the same time, not counted are informal loans from family and friends. Thus, $126 billion is the best estimate we have for the amount of money that Americans borrow for college.
Enough Blame to Go Around?
This heavy debt load is causing much suffering, and whenever there is suffering, it is tempting to blame it on some easily vilified scapegoat. The for-profits seem to be serving that function these days, and while they are by no means blameless, there is plenty of blame to spread around.
First up are students and parents. While earlier generations that paid only a few hundred dollars a semester can perhaps be forgiven for continuing to believe that college is a nearly risk-free decision financially, today's students do not have that luxury. Exploding tuition and the related horror stories about crushing debt loads appear regularly in the media. Yet students and parents largely ignore these warnings. The views that more (formal) education is almost always a good thing and that the loans needed to finance it are "good debt" since it is an investment are both widespread and contribute to the problem. While true to an extent, these views can be and are being carried too far by some, blinding some individuals to the dangers of debt.
The government also shares blame for the high debt load. Part of the problem is that the government seems to be encouraging too many students with little prospect of graduating to borrow money to attend college. As Professor X lamented , "we are not comfortable limiting anyone's options. Telling someone that college is not for him seems harsh and classist and British, as though we were sentencing him to a life in the coal mines. I sympathize with this stance; I subscribe to the American ideal. Unfortunately, it is with me and my red pen that that ideal crashes and burns." The abysmal graduation rate at many colleges indicates that either too many students with poor prospects of graduating are being encouraged to enroll, or that colleges are not very good at teaching struggling students. Either way, the students that fail or drop out must still repay what they borrowed, but without the higher earning power that college graduates typically enjoy.
Moreover, the federal financial aid programs are not well structured. One particularly problematic culprit is loose lending standards. Figures from the Department of Education reveal that 35% of dependent students from families making $100,000 or more received Federal Stafford loans, and 16% received the subsidized variety (where the government pays the interest while the student is in school). Subsidizing the well-off in this manner is questionable on egalitarian grounds, even more so when there is reason to believe (as my own and other research indicates) that this is likely to lead to higher tuition and reduced affordability.
But by far the largest share of blame for the tsunami of debt falls on the colleges themselves. As Robert Martin argues, "higher education finance is a black hole that cannot be filled." Colleges have nonetheless attempted to fill the hole with student borrowing. Such greed, when filtered through a well-functioning market, need not be a cause for concern as the market channels it into useful and productive activities. Unfortunately, the higher education sector cannot be characterized as a well functioning market. The lack of adequate measures of outputs or outcomes is primarily responsible for this, but there are other contributing factors including the non-profit or public status of most institutions, the principal agent problem, and peer effects.
What Are Wake Forest and Yale Doing?
One consequence of the dysfunctional market for higher education is that we end up in an arms race that yields misspending on a massive scale. The resources devoted to administration, athletics, new buildings, and low payoff research is simply staggering. The most recent example comes from Jay P. Greene, Brian Kisida and Jonathan Mills, who report that "Wake Forest, Yale, MIT, Harvard, and Dartmouth spend more solely on administration per student than the average university spends on everything per student. The nearly $75,000 at Wake Forest and the nearly $60,000 at Yale per student spent on administration must buy some truly excellent administration." All of this money must come from somewhere, and as state budgets continue to be squeezed by the economic turmoil, colleges will increasingly turn to students, and the students will increasingly turn to debt.
The human cost of such massive debt is incalculable. While many, such as myself, are managing to repay our borrowing without too much pain in terms of loss of career choice and/or a lower standard of living, many others are not so lucky. When debt loads are high, borrowers are forced to accept a lower standard of living, and often feel they cannot choose a less lucrative but more enjoyable career. Some are forced to put off marriage and children, move back in with their parents, and otherwise delay the traditional milestones of adulthood. But even these folks are viewed as lucky by the few who simply do not and never will make enough money to repay their loans. These unfortunate few have even had hope taken away from them.
If we as a country continue down this road, the future for tomorrow's graduates is not promising.
We can catch a glimpse of that future by looking at the current state of law school and humanities Ph.D programs. There are a plethora of new blogs and writers exposing the mismatch between the cost of attending law school and the number of jobs available that pay well enough to allow graduates to repay their debt. Similarly, the plight of English Ph.Ds has been documented for years. Both of these fields suffer from a mismatch between the number of students hoping for a career in the field and the number of jobs available that pay high enough to allow students to repay their debt. Since that mismatch explains much difficulty in repaying debt, we can take comfort that it is not more widespread. But a labor market mismatch is not the only method to realize difficulty repaying debt. If the debt load of students in general continues to grow, their experiences with debt repayment will increasingly mimic those of disgruntled lawyers and English doctorates.
Is There Hope?
Is there any hope that we can lighten the debt load on students? Perhaps as time goes on, for whatever reasons, it will always cost more and more to provide a college education, and that cost will be increasingly borne by students. If that is the case, then maybe we are stuck with ever increasing debt loads.
This is very unlikely. Baumol's cost disease does apply to higher education, but it explains very little of the cost explosion. Bob Samuels recently calculated that given current class size and staffing patterns, "the total average annual instructional cost per student is $1,456." It should be emphasized that this figure was not arrived at by assuming cuts to current instructional spending. Rather, it represents what colleges currently spend on instruction. Similarly, Vance Fried has estimated that a first rate education could be provided with per student instructional costs of just $2,366.
Since these figures are only instructional spending, they don't account for other valid spending – colleges do need some administrators, and some buildings in which to hold classes. But there are other sources of revenue as well. Current levels of state appropriations are generally sufficient to cover all necessary non-instructional costs, including capital requirements. As Samuels summarized, "public universities charge on average $7,000 per student and they get another $8,000 per student from the state, but in reality, it only cost about a tenth of this amount to teach each student."
Perhaps the best way to put these figures into perspective is to realize that the $1,456 per student that colleges actually spend on instruction implies that the $126 billion that Americans borrow would cover the instructional costs for 86.3 million students. Using the higher figure of $2,366 for instructional costs, Americans' borrowing would still cover the instructional costs for 53.3 million students. And yet we only send 18.7 million students to college (and many of these are part time students). Alternatively, the entire instructional cost of the 18.7 million students we do send to college could be covered with between $27 and $44 billion dollars, even when counting part time students as full time.
This finding is both reassuring and depressing. It is reassuring because it indicates that such high debt loads are not inevitable. In fact, just a few decades ago, there was no student loan bubble, because the cost to the student and cost of provision were much more closely aligned. The current high debt loads are an artifact of peculiar circumstances that allowed the cost of college for students to deviate very far from the cost of providing a college education. If costs for students declined to where they should be, there would be no need for students to take out so much debt. Just as we now consider housing pre-2007 a bubble because of the deviation of housing prices from their fundamentals (such as price to rent ratios and price to income ratios), we will consider the deviation in the cost of provision and the cost to students of college to be a student debt bubble.
However, these findings are depressing as well because they indicate that the forces that resulted in the cost of college for students being so much higher than the cost of providing a college education are both widespread and systematic, implying that they will be very hard to overcome. In my opinion, the primary force leading to divergence is the striving for prestige / the educational arms race, which is in turn attributable to the lack of measures of output of colleges in terms of value added learning of their students. If that is the case, we will not see convergence between the cost of providing a college education and the cost to students until there are reliable measures of the outputs of colleges. While there are a number of attempts to create such measures, in the near future, there is little likelihood that they will succeed and achieve prominence, which means that the student loan bubble will continue to inflate.
———————————————-
Andrew Gillen is the Research Director of the Center for College Affordability and Productivity.