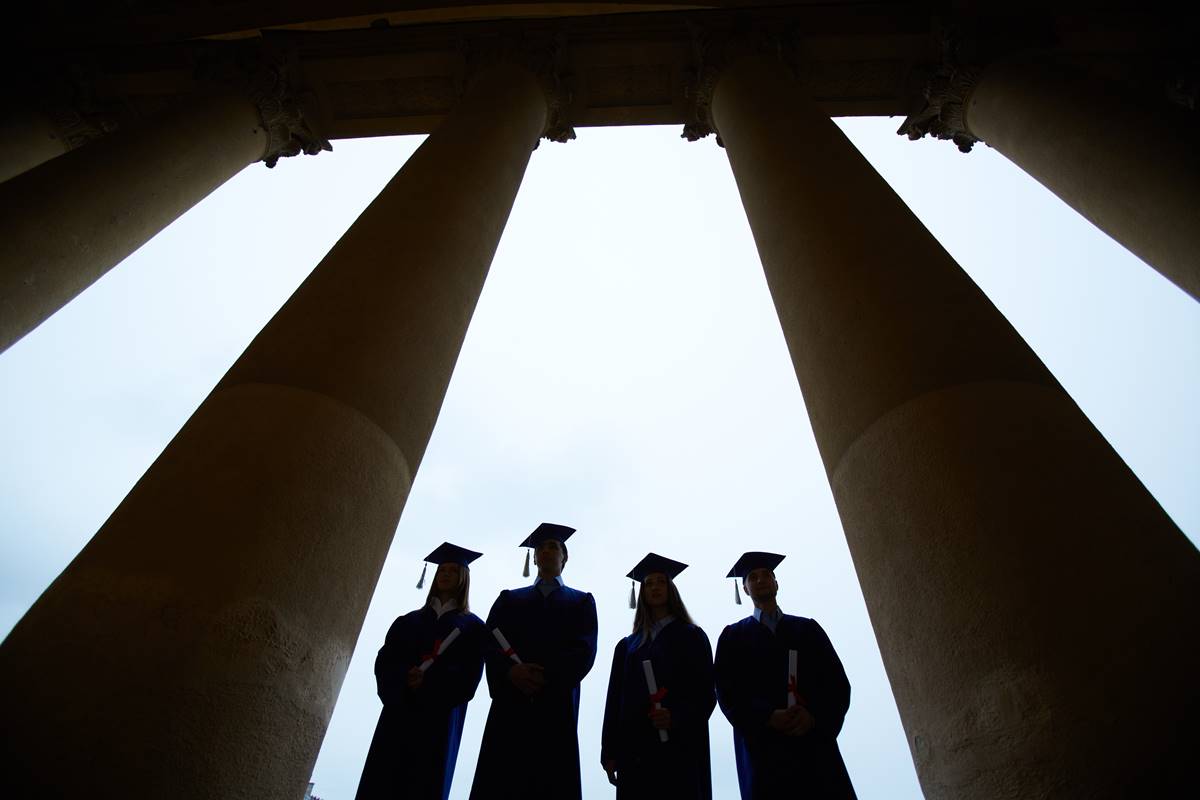 Judged by the recent avalanche of autopsy-like books, American higher education appears troubled. Alleged evil-doers abound, but one culprit escapes unnoticed–the horrific sartorial habits of many of today's professors. Don't laugh. As Oscar Wilde brilliantly observed, only shallow people do not judge by appearances. Indeed, I would argue that much of what plagues today's academy can be traced to an almost total collapse of sartorial standards. When I began my professorial career in 1969 the tweed sport coat and tie was more or less standard. Today, with all too few exceptions, "academic casual," even jeans and tee-shirts is de rigueur. This slide has not been kind to life of the mind.
Many of the academy's ills are traceable to diminished professorial authority. We often feel like "I don't get any respect" Rodney Dangerfield: students day dream, ignore assignments, barely show up, cheat, gossip during class, and send text messages among other contemptuous behaviors. And not even entertaining lectures, grade inflation and dumbed-down syllabi seem able to restore the loss of respect.
To appreciate the connection between respect for authority and outward appearances, consider the one setting obsessed with maintaining authority –courts. Judges always dress the part though sartorial details vary. Severe black robes are standard while some wear special hats, even wigs and all sit high above the court proceedings. To drive home respect, judges are addressed with "your honor" or "may it please the court" and lawyers must ask permission to "approach to the court" for private conservation. Discussions are all judge-controlled and disrespect is punishable by contempt of court. All rise when the judge enters and nobody would dare catch up on e-mails during a trial. This is the physical aspect of respect for rule of law. Professors should be so lucky.
Other knowledge-based professions similarly understand the need to draw a sharp line between the expert and the client, the erudite and the ignorant. You can always spot top trial lawyers—sharply-tailored dark suits, flashy cuff-links, elegant ties, expensive leather attaché cases, real fountain pens, costly Swiss watches, perfect haircuts, and all the other "superficial" details that announce, "I am successful, very successful so you better listen to what I tell you!" Even doctors in a profession hardly famous for its Beau Brummels still wear ties and, when not in white, suits and decent sport coats.
The justification is obvious: who would heed a lawyer, financial advisor or doctor who showed up in dirty jeans, a frayed sport shirt, filthy running shoes etc. etc., who carried his professional papers in a nylon backpack?  Not even a department dominated by radical egalitarians would hire a job applicant who arrived as if he was on the way to the beach. This would be insulting, a sign of disinterest in the job, and these egalitarians would be right.
At a minimum, dressing well informs students that one is serious about classroom responsibilities. If I can spend an extra hour before class matching ties and shirts, checking for stains, polishing my wingtips, combing my hair and all the rest, you can certainly pay attention.
Now consider a student who arrives for the first day of class and sees a professor who resembles a 1960s hippy-like graduate student (Levis, rumpled un-tucked shirt etc.) and if male, scraggly facial hair wearing a baseball cap and if female, tacky "folk" jewelry and a permanent bad hair day? It could be worse—the political billboard tee-shirt to remind today's uninformed youngsters that "Bush Lied and People Died." It makes no difference that this instructor may have a doctorate from Harvard and is being fast tracked to an endowed chair. Cultural conditioning is inescapable and ubiquitous: respect is given to those who dress the part and when they refuse, deference is not forthcoming. Professors should not look like janitors or stand-up comics. A sky-high tuition bill only adds insult to injury—$40,000 or more in tuition to hear superannuated hippies?
Dressing up also improves lecturing. Imagine teaching a constitutional law dressed only in a loincloth or a lime green Leisure Suit?  Can't be done. A dark suit, white shirt and matching tie would, however, help. It is for this reason that elite prep schools, including those recruiting poor inner-city African-Americans insist on well-tailored navy blazers, gray wool dress trousers and a properly knotted tie (and instructors here likewise must dress appropriately). Dressing up is a cheap antidote to rowdiness. My son attended a WASPy prep school and his behavior immediately improved—"hard to be disruptive when wearing a tie," he explained.
Professors, like plain clothes detectives, might be given a clothing allowance at upscale stores but only for business attire. And a monthly stipend for regular decent haircuts, straight razor shaves, trips to the beauty parlor, even wardrobe counseling. Yes, a few impassioned "solidarity with the oppressed toilers" egalitarians will object but their resistance is easily overcome. Just tell them that if they really want a revolution, they are more likely to succeed when preaching the Marxist gospel in a Brooks Brothers suit, white French cuff shirt, a clean silk tie, and laced dress shoes. In other words, look like a successful banker and the students will listen.