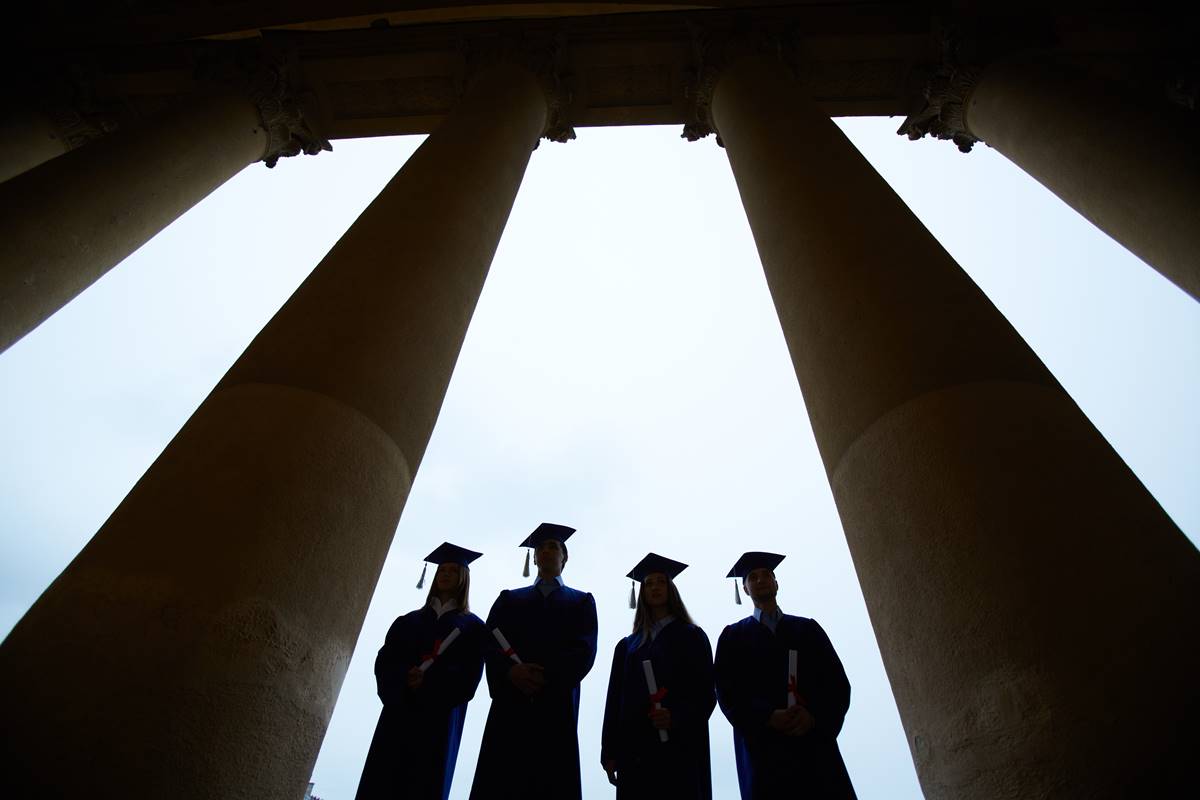 From reading news stories about multimillion-dollar gifts to universities, it's easy to get the impression that the donors are mostly rich people with pronounced ideological agendas–or else they wouldn't open their wallets so readily. In April 2010, for example, the billionaire-financier George Soros, known for his funding of progressive causes and his efforts to defeat George W. Bush in 2004, pledged $10 million to Oxford University. The gift will set up an institute at Oxford aimed at steering university economists away from support for free markets and deregulation, and in the direction of heavier government intervention in financial markets. Soros's gift came via the Institute for New Economic Thinking, a $50 million foundation he created in 2009 to fund similar projects at universities.
At the opposite end of the political spectrum are the many gifts to colleges and universities from the banker John Allison, with stipulations that the recipients incorporate Ayn Rand's free-market ideals into their curriculums. One of the largest controversies over a conservative gift was the famous Bass debacle at Yale. Billionaire-financier, Lee Bass, who had graduated from Yale in 1979, gave $20 million to his alma mater in 1991 to create a program (including seven endowed professorships) for the study of Western civilization. Amid complaints from professors hostile to the idea of focusing on the West, as well as charges that Bass was interfering with Yale's academic autonomy by trying to retain veto power over the hiring of the program's professors, Yale returned the $20 million in 1995.
Does the record show that most college and university donors are inspired by politics or ideology? The picture appears to be more subtle and complex. The Manhattan Institute's Center for the American University surveyed 1,353 substantial gifts to U.S. institutions of higher learning from 2003 to 2010 collected in the Foundation Directory Online's data base and interviewed development and public-relations officers at several elite private and public research universities that are typical beneficiaries of large gifts. Their donors tend to be self-made billionaires and multimillionaires, but few are eager to propagate their views at institutions of higher learning. Most large gifts to universities are apolitical, the Center for the American University found. Science and medicine accounted for the largest category of targeted donations. Campus building projects and student scholarships also ranked high for wealthy donors and their family foundations.
Yet is was equally clear that many large gifts surveyed by the Center ended up funding projects and programs that, if not overtly left-tilting, displayed a liberal drift. The funding of environmental, "sustainable," and "green" projects—conforming to current fashions in liberal causes–accounted for some of the largest gifts. Even some of the health and science gifts display a certain trendiness in subject-matter. Neuroscience and brain research are hot, as is the search for an AIDS vaccine. Among donor-funded scholarships, those earmarked for minority-group students accounted for 20 percent of the total, suggesting donors' willingness to subsidize ethnic preferences, another liberal cause.
Despite this persistent tilt, donors seem to be primarily motivated, not by political concerns, but by sentimental loyalty, often to their alma mater but sometimes just to the idea of higher education. They remember the old campus with fondness, recall a favorite professor, or feel grateful for a scholarship they themselves might have received as undergraduates. Successful businessmen are most likely too busy to read National Review, and heavily publicized liberal causes, such as AIDS, global warming, and a Bono-esque hands-across-the-sea approach to the Third World appeal to many would-be donors. In this respect donors' interests also often to fit well with the prevailing liberal ethos of most of the universities that receive their gifts, along with the professors and administrators who work there. It is thus usually not difficult for university fundraisers, who can spend decades cultivating wealthy alumni and other potential benefactors, to steer them ever so gently toward projects just as high—or perhaps even higher—on the universities' wish lists as on the donors' own.
Another reason for the gentle leftward tilt of gifts to universities: Development officers and other campus fundraisers do everything they can to ensure not only that another Bass debacle never occurs (the cautionary tale of Lee Bass and the lost $20 million seems to be part of the Fundraising 101 curriculum at development-officer training school), but that gifts are made with as few restrictions as can be wangled from the donor concerning their ultimate purpose.
"Certainly a university is not going to improve relations with its donors by promising something that we're not able to deliver," said Holly Sargent, now the executive director of the Rhodes Trust but for many years the dean for strategy and external relations for Harvard's Kennedy School of Government. Sargent advises universities and donors alike "to make certain in crafting the original gift agreement that all possible questions are fleshed out."
John McCall, associate vice president for development at the University of Texas-Austin (whose recent large gifts have included $30 million from the Bill and Melinda Gates Foundation for a campus computer center and $50 million from the Michael and Susan Dell Foundation for a pediatric research center named after the Dells), explained in a telephone interview how the process of securing unrestricted or minimally restricted gifts works. "We try to build up a long-term relationship with the donor, so that the donor understands there are no strings attached," McCall said. "We've counseled them over the course of time." To illustrate the pitfalls of restricted gifts, McCall mentioned a 1960 gift to UT-Austin designed to fund $250 scholarships to needy students: a substantial sum fifty years ago, pocket change today. "We had to resort to the legal process to combine some of those scholarships," he said. "We're a lot better now in terms of counseling."
Here is a textbook example of how the process of what McCall called "counseling" works: In January, 85-year-old Meyer Luskin and his wife, Renee, gave $100 million to their alma mater, the University of California-Los Angeles. It was the second largest gift in UCLA's history, topped only by the $200 million that the recording-industry mogul David Geffen gave in 2002 for medical research. Meyer Luskin had been an impoverished commuter student to whom UCLA had awarded a $30 scholarship that helped him to pay his fees the semester before he graduated in 1949. After obtaining an M.B.A. from Stanford's business school, Luskin took over leadership of a mom-and-pop company that recycled stale bakery products into animal feed and grew it into a multi-state operation: Scope Industries, which grosses $110 million a year. About half of the Luskins' gift was earmarked for UCLA's School of Public Affairs and the other half for an on-campus hotel and conference center. Why did the Luskins do it? "Education is the foundation of a good life," Meyer Luskin told the Los Angeles Times. "More money should go into teaching people the techniques of helping each other and living together and figuring out how society works best. The School of Public Affairs will do that."
Also, despite entrepreneurial talents stereotypically associated with Republicans, Luskin leans Democratic in politics, having contributed to the campaigns of Barack Obama and California Sen. Barbara Boxer. The beneficiary of the Luskins' gift, UCLA's School of Public Affairs, specializes in environmental issues, social-welfare policy, and urban planning—liberal topics all. On the faculty is the former Massachusetts governor and Democratic Party presidential contender Michael Dukakis. The Luskins have been donating to UCLA for decades, and in 2008 they had given $5 million to the School of Public Affairs to establish the Luskin Center for Innovation, whose research focuses on "climate change," "green chemistry," "smart water systems," and other fashionable warming projects. Yet much of the money that the Luskins have donated to UCLA over the years has borne no discernible ideological stamp: undergraduate scholarships, graduate-student fellowships, the funding of a children's clinic jointly operated by UCLA and Los Angeles's Orthopaedic Hospital.
The couple's recent mega-donation was the result of a long-term courtship dance between the Luskins with their strong affective ties to their alma mater (Renee Luskin graduated from UCLA in 1953 and had met her future husband on campus), and the university's administrators and development officers, who had very specific ideas about how they could use the Luskins' money. UCLA spokesman Phil Hampton while declining to discuss the specifics of the university's contacts with the Luskins, outlined a template of donor-cultivation at UCLA that he described as "an ongoing conversation," in which our development officers tried to match donors' interests," Hampton explained." There came a discussion about the needs of the School of Public Affairs and the need for a conference center. For the Luskins the right decision was to make a larger gift, and for us it was a matter of explaining, 'You might support these ways to make that happen.'"
Hampton's description of the choreography of major gifts to universities was generic. Fundraising officials and spokesmen at Harvard, Stanford, the University of Michigan, and the University of Texas-Austin offered similar descriptions in e-mail and telephone interviews. Furthermore, nearly all were aware of the Lee Bass controversy at Yale, which served them as a classic example of how not to manage donor relations. On March 18 UCLA rewarded the Luskins with what might be called the development-office equivalent of the Congressional Medal of Honor: UCLA's Schools of Public Affairs is now the Meyer and Renee Luskin School of Public Affairs. The pomp-filled renaming ceremony featured appearances by Michael and Kitty Dukakis, and UCLA Chancellor Gene Block, plus a speech by Los Angeles's Mayor Antonio Villaraigosa.
Nonetheless, it is hard not to see that UCLA fared quite well in the Luskin transaction. Not only will UCLA's public affairs school receive about $50 million from the Luskins, but the money represents that development officer's dream: a virtually unrestricted gift that can be used for research, faculty salaries, scholarships, fellowships, whatever. Furthermore, the other $50 million of the Luskins' gift represented a donor-relations coup for UCLA. The conference center that the $50 million will help fund has been a long-term brainchild of UCLA administrative vice chancellor Sam Morabito. It consists of a six-story, 295,000-square-foot complex that will include 282 hotel-style guest rooms and will replace a much-loved but money-losing campus faculty club of far more modest size. The ambitious conference center being launched at a time when UCLA, as a branch of the University of California public system faces a $96 million cut in public funding by the nearly bankrupt state of California, has generated months of controversy among various constituencies. These include professors attached to the existing faculty club, "green" activists concerned about landscaping to be eliminated on a campus already crowded with concrete, traffic-phobic neighbors in the exclusive Bel-Air district that abuts UCLA, and UCLA students themselves, already irate about a 32 percent tuition hike designed to cover loss of state funding. The Luskins appear to have no second thoughts about writing a check for a luxury construction project not only objected to by many of Meyer Luskin's fellow liberals, but also obviously tangential to a university's educational mission. A blog maintained by the fundraiser-consulting firm called the gift transaction a "model" for universities wishing to "leverage the value of the long-term relationship."
Less than three weeks after the Luskins' donation became public, UCLA announced a gift twice the size of theirs–$200 million, the size of Geffen's gift—from the 93-year-old Las Vegas casino mogul Kirk Kerkorian. An Armenian immigrant who had grown up in California's rural San Joaquin Valley, Kerkorian had far fewer formal ties to the UCLA than the Luskins, since he had never gotten past the eighth grade in school. Still, Kerkorian's Beverly Hills-based Lincy Foundation,, which will close down after this last mega-donation, had previously given $70 million to UCLA over the decades, and according to UCLA, he was happy with the way that UCLA had used his gifts. He and UCLA thus had that "long-term relationship" that the JCA consultants advise cultivating. Even better for UCLA, half of Kerkorian's gift (which will be poured into a new entity called the Dream Fund to be administered by UCLA), is almost completely unrestricted, to be used for medical research and scholarships at UCLA's discretion (the other half is loosely earmarked for charitable causes in Los Angeles County).
In early March, not long after UCLA announced Kerkorian's gift, the University of Southern California announced its own $200 million gift—the largest in USC's history—from 67-year-old David Dornsife, a USC alumnus and steel-fabrication magnate, and his wife, Dana. The Dornsifes' gift—again almost entirely unrestricted–will go to USC's College of Letters, Arts, and Sciences, to which the Dornsifes had made large donations in years past for neuroscience research. Except for a cash prize to seniors whose scholarly work "tackles societal problems," in the words of a Los Angeles Times article, the college's faculty and administrators get to spend the money any way they please. In a Los Angeles Times interview Dana Dornsife said the broad range of spending discretion "allows students to put more tools in their tool box and address some of the major issues in the world today." One of the key incentives for the Dornsifes' latest gift, "encouraged" by UCLA officials in a series of discussions with the couple, was having the undergraduate college named after themselves– the USC Dana and David Dornsife College of Letters, Arts and Sciences.
And as the Luskin and Dornsife gifts indicate (along with those of Gates and Dell), having one's name attached to a project, building, or program is irresistible flattery. When New York real estate developer Stephen M. Ross donated $100 million in 2004 to the business school at his alma mater, the University of Michigan—the largest gift in Michigan's history—the business school promptly renamed itself after him. Of the largest single gift in the history of any university, the $600 million that Intel Corp. founder Gordon Moore, his wife, Betty, and their foundation gave in 2001 to Caltech (where Gordon Moore had received a doctorate in chemistry in 1954), $300 million went to the Gordon and Betty Moore Matching Program that helps fund a range of scientific research at Caltech.
The Center for the American University's gifts survey supports what news stories tell us about the interests of university donors. Although "development"—completely unrestricted gifts plus campus building projects such as classrooms, dormitories, and student centers—accounted for the largest single category of gifts (more than 250), Medicine and science combined accounted for the most gifts overall (about 400). Medicine and science also accounted for 30 percent of all donor-endowed chairs (37 percent if you include engineering), and 14 percent of scholarship gifts. Among policy-oriented gifts, which accounted for only 4 percent of total giving, health policy (such projects as clean water for underdeveloped countries and training doctors to serve poor rural communities) accounted for the biggest fraction, 20 percent. The humanities, by contrast, accounted for only 5 percent of gifts, economics just 2 percent, and religion and the arts 1 percent apiece.
The Center for the American University survey examined in some detail large gifts to the eight Ivy League universities plus Caltech, Stanford, Michigan, Duke, MIT, the University of Chicago, the University of California at Berkeley, and the University of Wisconsin-Madison. It showed a similarly outsized focus on medicine, scientific research, trendy "green" and global-oriented projects, and the inevitable buildings named after donors. The most intriguing example of the last category is the gift of undisclosed size made in 2004 by New York Mayor Michael Bloomberg, a onetime investment banker who is believed to be the tenth richest man in America. Although Bloomberg is not a Princeton alumnus (he holds degrees from Johns Hopkins and Harvard), his daughter Emma graduated from Princeton in 2001, and $36 million out of her father's gift paid for a new Princeton dormitory bearing her name. In likely gratitude for the donation, Princeton invited Michael Bloomberg to speak at the university's commencement ceremony this May.
Medicine and medical research accounted for some of the largest gifts, the Center found. The gifts, from wealthy individuals or their charitable foundations, included: $100 million to MIT in 2007 for a cancer-research center given by MIT alumnus (and prostate-cancer survivor) David H. Koch, majority owner along with his brother, Charles, of Koch Industries and currently a villain to the left for his financial support of libertarian causes; $100 million in 2009 from Intersystems CEO Phillip T. Ragon and his wife, Susan, jointly to Harvard, MIT, and the Massachusetts General Hospital for AIDS research (Ragon had visited South Africa and been overwhelmed by the disease's devastation there); another $100 million in 2007 to Brown University's medical school from convenience-store magnate Warren Alpert, who died two months after making the gift (Alpert in 1993 had donated $20 million to Harvard's medical school); yet another $100 million, to Cornell University's medical school in 2002 (the largest gift in Cornell's history at the time) from then-Citigroup chairman Sanford Weill, and his wife, Joan, resulting in the name "Weill" being attached to the school; and $50 million in 2008 from Jerome Fisher, founder of the Nine West shoe company, and his wife, Anne, for a biomedical research center at the University of Pennsylvania
Scientific research, especially currently fashionable biotech and brain research, also appealed to donors. Examples of large brain-research gifts to universities by individuals or their foundations included: $250 million for brain and cognitive research to MIT in 2002 from the foundation established by investor Jeffrey Picower and his wife, Susan (Jeffrey Picower, who died in August 2009, was implicated as a primary beneficiary of Bernard Madoff's Ponzi scheme, and the Picower Foundation abruptly shut down in December 2008); $200 million in 2006 to Columbia University to fund mind and brain research from Dawn M. Greene, widow of New York real estate investor Jerome Greene, who graduated from Columbia College and Columbia Law School during the 1920s; a $300 million gift to Cornell from the Weills to fund biological research (that donation now sets the record for Cornell's largest gift); $30 million to Princeton in 2007 from the heirs of aviation-industry pioneer James S. McDonnell to establish a neuroscience center.
Wealthy donors also like to fund student scholarships, CAU's research indicates. The most dramatic of such gifts—and a rare large gift directed to the humanities and arts–was the $100 million to Yale from an anonymous donor in 2005 that allows graduate students to attend Yale's School of Music entirely for free, including a stipend to cover their living expenses during the two-year program. The Yale gift was just one of many huge gifts targeted for strictly for student aid: $400 million in 2007 to Columbia from the recently deceased media entrepreneur and Columbia alumnus John Kluge; $175 for scholarships to low-income students at the University of Wisconsin-Madison from John Morgridge, a Wisconsin alumnus who formerly headed Cisco Systems, and his wife, Tashia; $100 million to Harvard from retired banker David Rockefeller to finance studies-abroad plans; $100 million to Brown in 2004 from Grey Goose vodka inventor Sidney Frank, who graduated from Brown in 1942; $100 million from an anonymous donor to the University of Chicago that would replace student loans with grants; $10 million in 2006 to fund scholarships at the University of Pennsylvania's law school from Robert Toll, CEO of the Horsham, Pa.-based Toll Brothers, builders of luxury homes.
Finally, the Center's survey indicated, wealthy donors gravitate—like the Luskins, like the Dornsifes—toward broad projects that they believe will be "helping" the world. Right now that seems to mean globalism and green. Yale received $50 million in 2009 from former pharmaceutical CEO John Jackson, a 1967 Yale graduate, and his wife, Susan, to establish the Jackson Institute for Global Affairs, which trains students for diplomatic and NGO careers. Real-estate executive Richard Blum gave UC-Berkeley $15 million in gifts and pledges in 2006 to establish a center for the study of developing economies. Jerry Yang, co-founder of Yahoo, and his wife, Akiko Yamazaki, pledged $75 million to Stanford in 2007 to pay for a building to serve as a campus hub for environmental studies. In 2008 Princeton received $100 million from New York financier Gerhard Andlinger to study global warming. And in 2004 Duke University, as part of the largest gift in Duke's history, received $70 million from medical-device billionaire Peter Nichols, a 1964 graduate of Duke, and his wife, Ginny. The purpose: To "extend the reach and impact" of Duke's Nicholas School of the Environment and Earth Sciences," as a Duke press release stated. Environment-oriented giving is on the rise. The Chronicle of Philanthropy noted that four of the outsized gifts on its "Philanthropy 50" list for the year 2010 went to universities for clean-energy research, including $80 million to Cornell from David R. Atkinson, and his wife Patricia, to establish the David R. Atkinson Center for a Sustainable Future.
All of this adds up to a kind of brain-slice of the wealthy-donor mind. Philanthropically-minded rich people open their checkbooks readily for institutions of higher learning, especially (although not necessarily) if they can call the institution their alma mater. The Chronicle of Philanthropy noted, for example, that nearly half of the 65 philanthropic gifts of $5 million or more made in 2010 went to colleges and universities. Indeed, as gift-giving, including gifts to higher education, has generally declined over the past few years because of the recession, universities have captured an ever-increasing share of large gifts Major donors favor projects that appear to produce benefits that can be readily measured: brand-new buildings ("Renovations aren't as exciting to donors—it's kind of like redoing your kitchen," said Michigan's Judy Malcolm); scholarships; medicine and health, especially children's and Third World health; high-profile science such as biotechnology or neuroscience; and liberal-trending causes such as global understanding and the environment. In the humanities and arts there's not so much donor interest—unless an arts project has a tangible aspect: those music scholarships at Yale, for example, or the $50 million that Peter and Helen Bing (Peter Bing's father was the New York real estate developer Leo Bing) donated in 2006 to Stanford, the Bings' alma mater, to build a campus concert hall. In other words, few billionaires want to fund "male gaze" analyses of David Foster Wallace's footnotes—or even Shakespeare research. It goes without saying that many donors find the prospect of having a university building, academic program, scholarship, or school named after themselves irresistible.
The American Council of Trustees and Alumni recently published the second edition of its "The Intelligent Donor's Guide to College Giving." It is exactly that, filled with savvy tips for potential gift-givers, especially conservatives fearing that their millions may end up sluiced by clever administrators and development officers into liberal-ideology programs supporting the opposite of what they believe in. "Do not let others talk you out of doing what you want to do with your money," the guide warns, citing the debacle of the Bass gift to Yale. "Many donors like to give to buildings, but they don't know what's going on inside them," said ACTA president Anne Neal in a telephone interview. As an admonitory parable the ACTA guide points to a $35 million gift in 1961 to Princeton from the family foundation of a Princeton alumnus, Charles Robertson, that, according to Robertson's heirs, was hijacked over the decades by Princeton administrators for their own purposes (in 2007 Princeton settled a lawsuit by agreeing to pay the heirs about $100 million).
Certainly there are givers to universities who are grossly disappointed by the way their alma maters use their gifts–like this one, described in the ACTA guide: "One donor who funded a chair in Western civilization was shocked to learn that the holder was 'deconstructing' Western civilization." Such donors should rightfully be wary, and the ACTA guide is for them an excellent set of warnings on avoiding the downstream channeling of their money to professorial ideologies that would make them blanche. But the evidence—the news stories and the Center for the American University's research—suggests that most large donors are perfectly satisfied with the results of their gifts, either because they have targeted them in ideologically neutral directions, or because they genuinely share the liberal ideologies of the administrators of the programs they support. It would be difficult to argue, for example, that the Atkinsons object to the research being conducted at the David R. Atkinson Center for a Sustainable Future at Cornell. Furthermore, the donors' perennial dance partners, the university's development officers and high officials, seem equally determined to avoid Bass-like catastrophes in the future–$20 million is quite a bit of money. Look for longer such waltzes in the future.