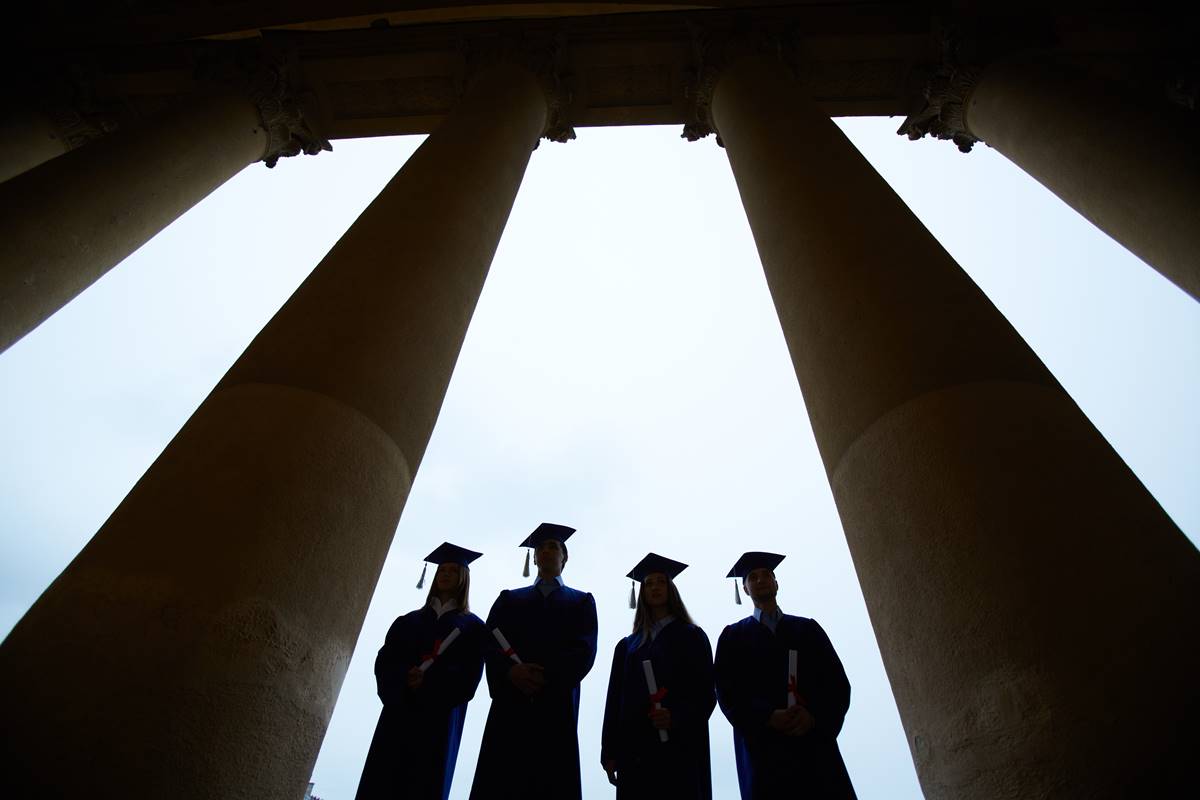 Ever heard of the New Faculty Majority? That's a euphemism of sorts, but an accurate one, for adjuncts and other non-tenure-track teachers who now account for 70 percent of all college instructors. The group is three years old and met for a premiere "summit" in Washington, DC. on January 28th in conjunction with the annual meeting of the Association of American Colleges and Universities.
From the tenor of most of the summit's presentations, the group seems to have decided that the villain behind their failure to obtain respectable academic jobs is capitalism. Neo-Marxist phrases filled the air: "wage theft," "neoliberal agenda," "corporate America," "under assault from the right," "privatization of the production of knowledge," and "marketization of the university." I thought: if I had a dollar for each such phrase, I could endow a tenured chair for myself in the Ivy League, plus another chair with a dollar for every Dickensian plaint about minimum-wage-paid non-tenured instructors going on welfare, living out of their vans, limping to their classes with holes in their shoes, and committing suicide.
Still, this self-described academic proletariat had a point–although it was a point that took me a while to ford my way through the "Grapes of Wrath" logorrhea to see. (It helped that the NFM's sole Republican board member, Matthew Williams, was able to advocate for the non-tenured without invoking Karl Marx, the Occupy movement, or anti-globalization guru Naomi Klein.)
Dreaming of a Professor, but Getting an Adjunct
The point–and it is a powerful one–was this: Undergraduate students, their parents, and the taxpayers who subsidize public education spend large sums of money on what they imagine to be a high-quality academic experience for young people. They imagine the distinguished tenured professors whose achievements grace the university's website forming intimate and memorable mentoring relationships with their undergraduate students via small classes and one-on-one discussions. Instead, what those students often get, at least for the first two years and sometimes for all four, are behemoth classes taught, sometimes indifferently, by poorly paid, minimally supervised, time-harassed, and even burned-out "contingent" faculty whose connections with university life are so tenuous that students complain they never see their teachers outside of the classroom.
At community colleges, for example, only 19 percent of faculty are on the tenure track; the rest are drop-ins. One of the most crucial college courses, freshman composition, designed to prepare students to hone research skills and present cogent scholarly arguments, is on nearly every campus the sole domain of non-tenured part-timers making a couple thousand dollars a class–if they're lucky. Tenured professors typically eschew freshman comp, stay away from large lecture courses unless they can buffer themselves with armies of graduate assistants, and in general try to teach as little as they can get away with, preferably in small graduate seminars. Universities prefer to spend their money on campus amenities and armies of administrators rather than on faculty salaries, particularly at the lower level. So students can essentially be cheated out of critical years of education that they, their parents, or state taxpayers are paying large sums for.
"No one is monitoring what's happening in the classrooms," said Williams, who holds a Master's in Public Administration and who taught communications part time for three years at the University of Akron. "I was never evaluated. My syllabus was never read by anyone except my students."
As the NFM presenters were eager to point out, the vast majority of non-tenured instructors, despite the doctoral degrees that most of them hold, are part-time "adjuncts" working for as little as $1,400 per three-credit-hour course taught (do the math and you'll see that even if they manage to cram five classes per semester into their schedules–an unusually high teaching load for an adjunct–$14,000 a year doesn't buy a lot of groceries). On top of their wretched pay, adjuncts lack the most rudimentary job security, because most are hired on an as-needed basis a few days before the semester begins. And on top of that, because college administrators want to keep adjunct faculty at arm's length as part-timers–and thus get out of paying for their health insurance and other full-time employee benefits–few institutions permit adjuncts to teach more than two classes per semester. In order to earn something resembling a living wage, many adjuncts cobble together two or three teaching gigs on multiple campuses and spend much of their working day driving from part-time job to part-time job in the kind of car that you can afford when your income is $14,000 a year. Few campuses provide offices for adjunct faculty–or even parking spaces, computer access, or cubbies for storing their books. Adjuncts almost never get invited to departmental social events. Indeed, it's common for the tenure-track professors in a given department not even to know the adjuncts' names. As Betsy Smith, who teaches English as a second language part time at Cape Cod Community College, put it: "It's matter of respect. They never refer to me as 'my colleague.'"
Still, as I sat through the NFM summit in an audience of about a hundred of the angry untenured, I couldn't help thinking: Isn't all this misery self-inflicted? No one is holding a gun to the heads of these underemployed folks with their hyper-developed brains, strings of advanced degrees, and 20-year-old automobiles. Colleges pay adjuncts $1,400 a class (on the wealthier campuses the rate is more like $3,500 or $4,000 a class, still way under the average $55,000 annual starting salary for a brand-new assistant professor on the tenure track teaching three classes a semester)…because they can. In today's academic market, at least in the humanities, there are at least two, and sometimes four holders of brand-new doctorates for every tenure-track opening. So there seems to be no end to the line of the over-educated who are willing to endure any indignity in order to keep a toehold in college teaching, even of the most marginal kind. "I put 10 years of my life into getting my Ph.D., and I don't want to give it up" was a response I heard more than once when I asked several adjuncts at the summit why they didn't just stop adjuncting and do something that would afford them a decent lifestyle.
Many of the summit panels consisted essentially of consciousness-raising, 1960s style. Clare Goldstene, a lecturer in the history department at American University, complained that lack of tenure made leftist faculty timid about expressing their views. "It dims the potent voice of progressive exchange," she said. Deepak Bhargava, executive director of the Center for Community Change, a Washington-based advocacy group for "communities of color," declared that there was a right-wing "effort afoot to roll back the 20th century: the New Deal, civil rights, voting rights, welcoming to immigrants." He urged non-tenured instructors to form coalitions with day laborers, domestic workers, "demonized" public-school teachers' unions, and a bunch of foreign students who entered the U.S. last summer on work-study visas and found themselves shuttled off by a labor contractor into night-shift work packing chocolate for a Hershey business partner. "Those were slave-like conditions, not unlike the conditions you work under," Bhargava told the adjuncts.
Perhaps the most incendiary of all was Joe Berry, author of "Reclaiming the Ivory Tower: Organizing Adjuncts to Change Higher Education" and also the American Association of University Professors representative at Rutgers (the AAUP, the American Federation of Teachers, and the National Education Association are all competing among the non-tenured for union members). "This is a rich country, there's plenty of money," Berry declared. "It's just in the wrong pockets." In order to pay adjuncts better, Berry suggested a variety of redistributive measures at the federal level: a more progressive tax structure, cutbacks on military spending, and curtailing America's "barbarous rate of incarceration." Debra Leigh Scott, an adjunct professor in English at Temple University and the Community College of Philadelphia, narrated lugubrious tales of adjuncts she knew who signed up for food stamps, sold their eggs, reused their teabags because they had to buy cat food that week, and attended faculty dinners at restaurants where they couldn't afford the wine. One adjunct shot his wife, set fire to their house, and then shot himself because the two had lost their jobs, their house was in foreclosure, and his wife had cancer. (Scott's blog, The Homeless Adjunct, contains many more such woeful stories.) "My daughter is a corporate attorney because she doesn't want to live on the edge of poverty the way I do," Scott said.
'They Don't Care about Their Students'
Scott's daughter struck me as having the right idea. So did Stanley Katz, director of Princeton's Center for Arts and Cultural policy Studies. Katz, who received his doctorate from Princeton in 1961 and has spent his entire career teaching at elite universities, including Princeton, warned the assembled non-tenured that it was "naïve" for them to think, for example, that they could ever be accepted as equals by the research-focused–and status-obsessed–tenured professors who teach at their institutions. (One of the AAUP's goals is for adjuncts to have access to the tenure track based upon their teaching records.) "Most of my colleagues care only about research. Why should they care about you? They don't care about their own students."
Another reality check came from Valerie Hardcastle, dean of arts and sciences at the University of Cincinnati, a drop-in from the university administrators' meeting. "There's an 850-pound gorilla in this room that's never been discussed and never mentioned: the overproduction of Ph.D.'s. I say: You're a smart person with a Ph.D.–why are you doing this to yourself? I don't hire adjunct faculty in math because they won't work under those conditions. And I don't hire adjunct faculty in Spanish because they won't work under those conditions. But we have a plethora of English Ph.D.'s–and every year the English department comes to me and wants to expand the Ph.D. program.
Yes, it might have been provocative for the NFM summit to have focused, not on the immiseration of adjunct faculty, but on other factors: the faculty vanity, the desire to teach small classes of eager graduate students rather than large classes of disengaged undergrads, and the greed for cheap labor that has led English and departments to persist in operating doctoral programs whose chief yield is the impoverished and radicalized lifelong adjuncts. And while my advice to would-be adjunct professors is still "Just say no," I emerged with a better understanding of why their perhaps futile quest for better working conditions has some merit: By systematically underpaying and mistreating the non-tenured faculty who bear the burden of basic education, colleges are systematically cheating their own students. As Maria Maisto, president of the NFM, told me in an interview after the conference, "It's not just a market issue. The same entities control the supply and the demand."