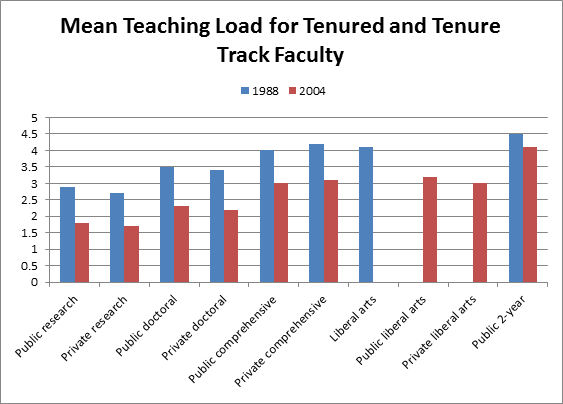 David C. Levy's Washington Post article, "Do college professors work hard enough?" set off quite the firestorm. His basic point was that we currently "pay for teaching time of nine to fifteen hours per week for 30 weeks," but that
If the higher education community were to adjust its schedules and semester structure so that teaching faculty clocked a 40-hour week (roughly 20 hours of class time and equal time spent on grading, preparation and related duties) for 11 months, the enhanced efficiency could be the equivalent of a dramatic budget increase…
I'd like to add two thoughts to the ongoing commentary.
First, in spite of criticism he's received, Levy got the big picture correct. Many of his critics seemed to assume that their own personal experience, which always involved working long hours, shows that Levy was wrong. The problem with arguing from anecdote is that there is always an anecdote showing the opposite. Here's one from Sherman E. Silverman
[W]hy do I agree with David C. Levy's opinion…? With my reputation established, in the last few years of my tenure (with the exception of Wednesday afternoons when I conducted my two-hour lab), I was home by 1 p.m. And I wasn't alone. A number of other faculty members did not work an eight-hour day…

With anecdotes on both sides, it's best to rely on the data, and the data support Levy. The figure below shows mean teaching loads for tenured and tenure track faculty per term by type of college in 1988 and 2004 (data from DAS).
Teaching loads have fallen across the board. Tenured and
tenure track faculty at comprehensive and liberal arts colleges taught about 1
course less per term in 2004 than in 1988, and faculty at community colleges
taught almost half a course less.
Since higher education somehow managed to function back in
1988, this means that Levy is correct in asserting that teaching loads can be
increased without wrecking higher education, and that doing so would save
money. (Whether they can be increased by as much as he recommends, to 5, is
debatable but not dismissible out of hand.)
This brings up my second point, that the response to Levy
from college professors was inappropriate. To be clear, some faculty managed to
disagree in a respectful and reasoned manner (e.g.
Marybeth Gasman).
But others did not. These are a few of the responses from
tenured faculty that are supposedly trained to think critically, approach
issues with an open mind, and argue with evidence and logic:
One
wonders if David C. Levy came by his ignorance naturally, or whether it's a
state of mind that he has cultivated carefully over the years…
I'll
allow it's possible that the man is either a moron, or is ignorant of the basic
structure of the profession. The other (more likely) possibility is that he's
simply lying…
[R]elies
on speculation and cherry-picked support but taps into ignorance and prejudice…
[L]et's
call Levy's argument what it is: bullshit.
When they aren't attacking his intelligence and integrity,
or otherwise using juvenile arguments, the critics raise objections that make
one wonder whether they even read the piece. For instance, the critics like to
point out that many teachers are now low-cost adjuncts. I'm not sure how this
is supposed to counter Levy's argument that full time professors should teach
more.
The bottom line is that Levy made a reasonable argument that
is supported by the limited data that is available. That he was then subjected
to such vitriol is shameful.
—————-
Andrew Gillen is the Senior
Researcher for the American Council of Trustees and Alumni (ACTA), a higher
education non-profit dedicated to academic excellence.