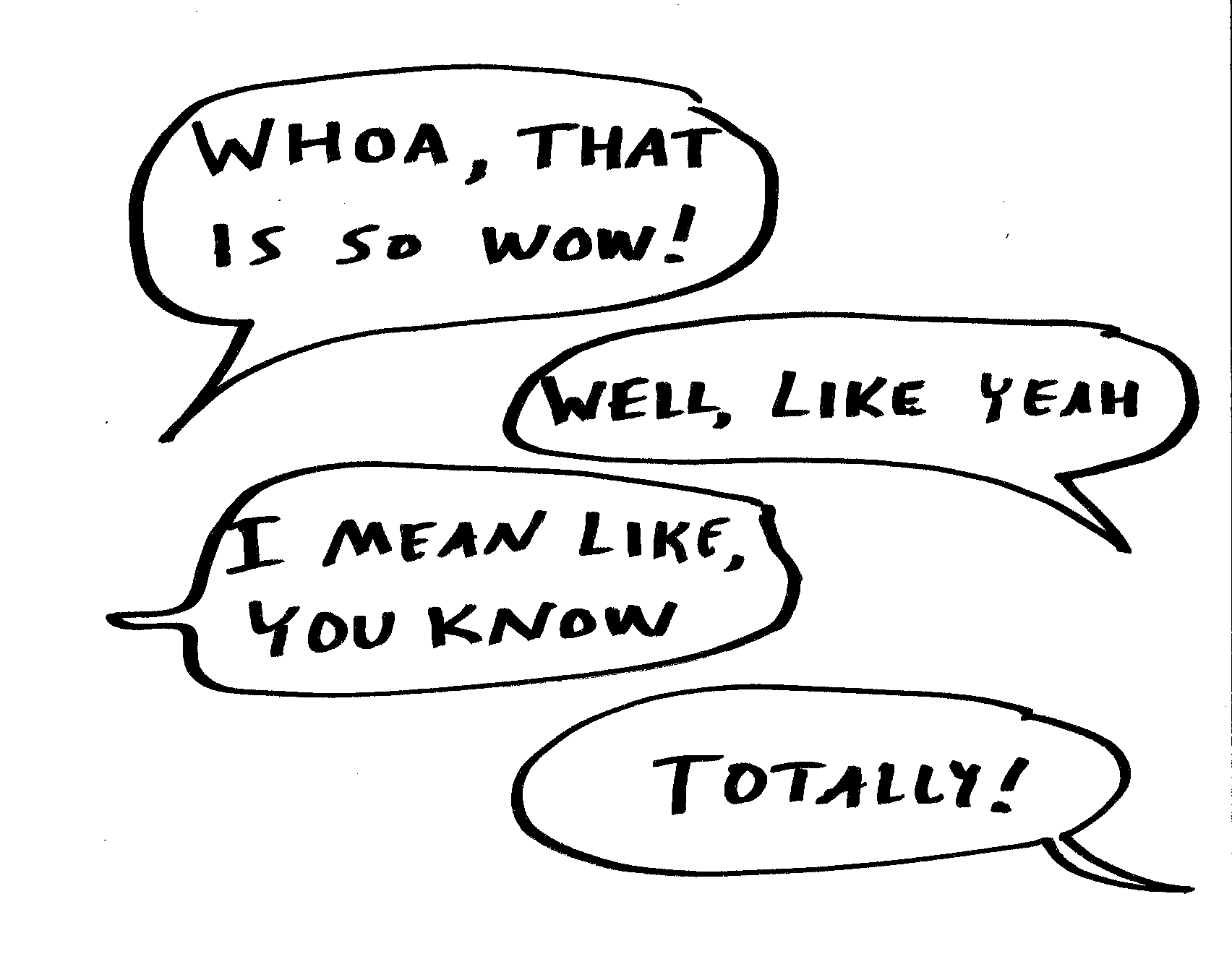 In the mid-1980s, American English was overwhelmed by a linguistic mutation that transferred the burden of verbal communication fraom speaker to listener. Because it sidestepped the need for vocabulary and clarity, and because its shapeless syntax shielded speakers from the risk of saying something insensitive or incorrect, this new mode of expression won rapid acceptance, jumping from campus jargon to national discourse with astonishing speed. It was, like, you know, like, whoa. I mean, I'm like omigod! It was, hello, you know, totally amazing, and stuff.
Nouns Are Kinda like Verbs
This deliberate descent into verbal bedlam first came to my attention when I was interviewing intern candidates for Mayor Edward I. Koch's speechwriting office in New York City. Until the mid-'80s I had no trouble finding talented students from colleges such as Columbia, NYU, Pace University, and the senior colleges of New York's City University system. Suddenly, however, it became difficult to recruit articulate candidates with writing ability. Even English majors had withered vocabularies and a hazy grasp of grammar. Many didn't know a noun from verb and – strangest of all – they struggled mightily to avoid direct speech. In its place they employed self-quoting, playbacks of past conversations, "uptalking" (ending declarative sentences with an interrogative rise), and run-on sentences. They seemed to be defending themselves against their own words. I called this evasive dialect Vagueness.
At first I wondered if Vagueness had escaped from the zoo of post-hippy slang. For example, the overuse of "like" as a speech particle goes back to the early 1960s and beyond. But slang usually has an edge. Vagueness was amorphous. Operating as a kind of oral anti-matter, Vagueness camouflaged meaning with childish idioms, vocal intonation, facial expressions and ambiguity. To be understood, Vagueness had to be decoded. It wasn't as though these students were capable of speaking standard American English but, for some perverse reason, had decided not to. Extended interviews revealed that most of them had no idea how to carry on a lucid conversation.
Gibberish-Filled Job Interviews
There was another problem. Along with their lack of verbal skills, intern candidates displayed serious shortcomings in composition. They didn't know how to write. The secrets of sentence structure and punctuation eluded them. If college students were not embarrassed about speaking gibberish at a job interview, if young women were not self-conscious about using the rasping, nasal voices I called quack-talking, they must have reached ages 19 or 20 without being corrected for writing and talking like children. Vagueness must have been incubating for years.
When did it begin, and why? In 1988, a professor at Vassar told me that by the time they arrived on campus, his incoming freshmen had already been "juvenilized." He blamed their poor language skills on high schools that apparently had stopped teaching English. But why, I wondered, would secondary schools do something like that? It wasn't until two decades later that an answer began to emerge.
The Virus of Lower Standards
In 2009 I came across an article that had been published in the New York Times 22 years earlier, just as Vagueness was morphing from fringe dialect into mainstream speech. The front-page story reported the puzzling failure of 1987 Scholastic Aptitude Test (S.A.T.) scores to rise above the level of 1986, even though the 1987 test takers had more high school credits. In response, David R. Owen, a professor of psychology at Brooklyn College, and T.W. Teasdale, a research fellow at the University of Copenhagen, wrote a lengthy letter to the editor, which the Times published on Oct. 14th. Owen and Teasdale assured Times readers there was no need to worry about disappointing test scores.
"…Such changes could come about, for example, because of economic circumstances, influencing more or fewer students to consider attending college and therefore willing to complete the steps necessary to take the S.A.T… Other things being equal, we should not be surprised to see scores drop when there is increased access to college (and the marginal sub-group is included in the average) and rise when access to college decreases…"
Something didn't add up. In the 1980s I'd been told that faculty advisers only recommended top students for intern positions. Average S.A.T. scores might be falling, but if intern candidates were among the best of the bunch, why did it suddenly become harder to find students who spoke and wrote English fluently?
On October 29, 1987, the Times published a startling reply from Steven M. Cahn, then serving as Provost and Vice President for Academic Affairs at the CUNY Graduate Center:
"(Owen and Teasdale) urge us not to be concerned about the fall of Scholastic Aptitude Test scores since the 1960s because decreased scores may result from increased access to higher education. But in 1966-67, of the approximately 1.4 million students who took the verbal portion of the S.A.T. a score of 700 or higher was attained by more than 33,000 students. In 1986-87, over 1.8 million students took the test, and a score of 700 or higher was attained by fewer than 14,000. No appeal to increased access should blind us to this astonishing decline in the absolute number of students who possess excellent verbal skills."
There it was: the Vagueness microbe in focus. Interns with "excellent verbal skills" had become harder to find in the late 1980s because there were, in fact, far fewer of them. Something, it appeared, really had gone wrong in American high schools.
Are Colleges Responsible?
I decided to call Steven Cahn. Cahn, who is now a professor of philosophy at the CUNY Graduate Center in Manhattan, has written at length about the "eclipse of excellence" in American education. Cahn recalled his 1987 exchange with Owen and Teasdale and the precipitous 20-year drop in S.A.T. scores that preceded it. Citing research by David Riesman, Cahn still wonders about one of the most mysterious elements in this decline. "Women had always done much better than men on the verbal S.A.T.s. But just as the women's movement was finding its voice, women gave up their lead in the verbal abilities."
"The decline must have started in high school," I said.
"No!" Cahn replied. "The decline began when colleges made their curricula easier. Typically, colleges used to require sixty hours of core courses for graduation. In the seventies, all that changed. No more required courses in math, science, English composition, speech, or foreign language. Brown University became the new star of the Ivy League because their open curriculum made it easier to get a degree. When other colleges and universities followed suit, so did high schools. The virus of lower standards moved from colleges down to high schools, not the other way around."
If Steven Cahn is right, then the undergraduates I interviewed in the late 1980s – who were born after 1964 — were educated in the era of plunging SAT scores, the era when colleges radically downgraded the difficulty of getting a degree, the era when high schools lowered the bar accordingly, the era that gave rise to Vagueness. Did college students taking easy courses end up speaking easy English?
Today, the linguistic revolution that, like, I mean, you know, dared not speak its name, has almost run its course. Quack-talking, a contemporary version of baby talk (last seen in the 1930s) is steadily losing status. Playbacks and self-quoting (He was like, "Where are you going?" and I was like, "I'm going to work") are the most durable symptoms of Vagueness, and may find permanent homes in 21st century English. But don't count on it. For better or worse, language defies prediction or restraint. Its future is forever vague.
Clark Whelton was a speechwriter for New York City mayors Ed Koch and Rudy Giuliani.