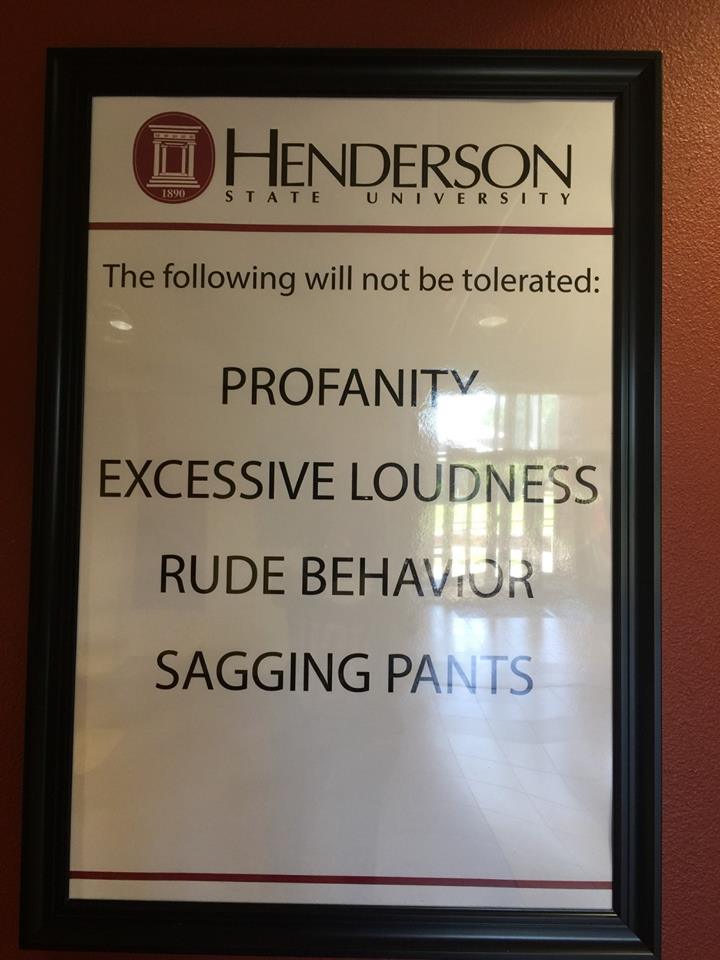 There is no shortage of silly proposals on college campuses.  We have, for instance, the University of Tennessee Office for Diversity and Inclusion asking students to use gender-neutral pronouns such as ze in order to create a more welcoming campus. Transgender people, you see, don't fit this gender binary, and so a foundation stone of the English language must be changed.
But every once in a while a policy surfaces that is so wise and appropriate that it deserves applause from even the sharpest higher-ed critics. Dillard University has one in place, and it should spread across the country.  It's a suggested dress code for male students.  As insidehighered.com reported it two weeks ago,
when the academic year begins today at Dillard University, faculty are expecting to see far more professional attire, as male students are encouraged to don suits and ties for the first day of class.
Yes, 19-year-old males, who typically prefer t-shirts and caps and jeans and cargo-shorts and other middle-school-appropriate attire, are urged to dress up and look like professional men.  The initiative originated not in the administration, either.  It was the conception of a Dillard senior, one Jerome Bailey, who realized at the end of his undergraduate career in 2012 that he didn't realize at the beginning the meaning and value of proper deportment, including the type of clothing you wear.
The goal of the program is "to elevate the standard for the appearance and image of Dillard men."  That adds a peer-pressure factor to the idea, which probably ensures its success more than would faculty and administrative support.  For entering students who have no suit or tie, the school keeps a shared "closet" from which they can borrow the apparel they need. Professors and upper-classmen will assist them in learning how to tie a tie, too.
At present, about 40 percent of the undergraduate males show up on Day One looking like junior professionals. The dean of students tells the reporter, "On the first day now, there are suits everywhere on campus. And it's a fantastic look."
We might add another justification for sharp dress besides decency and manliness. When organizations query employers about the deficiencies they see in younger workers and candidates for jobs, the respondents often highlight poor "soft" skills. One poll by CareerBuilder asked them to name the skills recent college graduates lack the most. Topping the list was "Interpersonal or people skills," which drew 52 percent. Math skills came in at only 15 percent, computing and technical prowess at 13 percent.
Another CareerBuilder poll reported that 77 percent workers report witnessing adolescent behaviors on the job, including whining, pouting, gossip and tattling, cliquishness, and outright tantrums.
Managers are worried, and any evidence of adolescence they see during the screening of candidates will be a disqualification. Another survey by the National Association of Manufacturers found that among the "most serious skill deficiencies" in the workplace was "Inadequate basic employability skills (attendance, timeliness, work ethic, etc.).
The suit-and-tie program at Dillard addresses these deficiencies by setting a better tone.  Males coming into college live largely in a world of pseudo-masculine youth culture. It is anti-intellectual, anti-eloquent, sloppy, irresponsible, and irreverent. Dillard is a historically black college, so we should add the hip-hop culture of misogyny and aggression to the mix.  The values that go with it are contrary to the values of most workplaces. You can't talk in young male lingo in a job interview, and you can't dress that way.  Everything must change—posture, diction, and manners. Put a young male in a suit and tie, and we see that process begin to happen.
The Dillard case forms a worthy contrast to what happened at Henderson State University recently when the school posted signs stating that saggy pants are prohibited.  One news story blasted, "'Sagging pants' sign causes uproar at Henderson State University." The sign included profanity, excessive loudness, and rude behavior, but the sagging pants got all the attention. That's because many critics pointed out that this targets African American students, who make up around one-quarter of the student body. Two students have called for the university to hire an "official diversity officer" so that such racial insults don't happen again.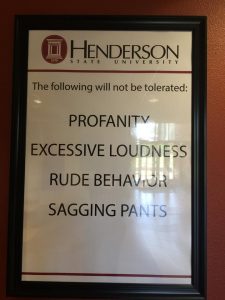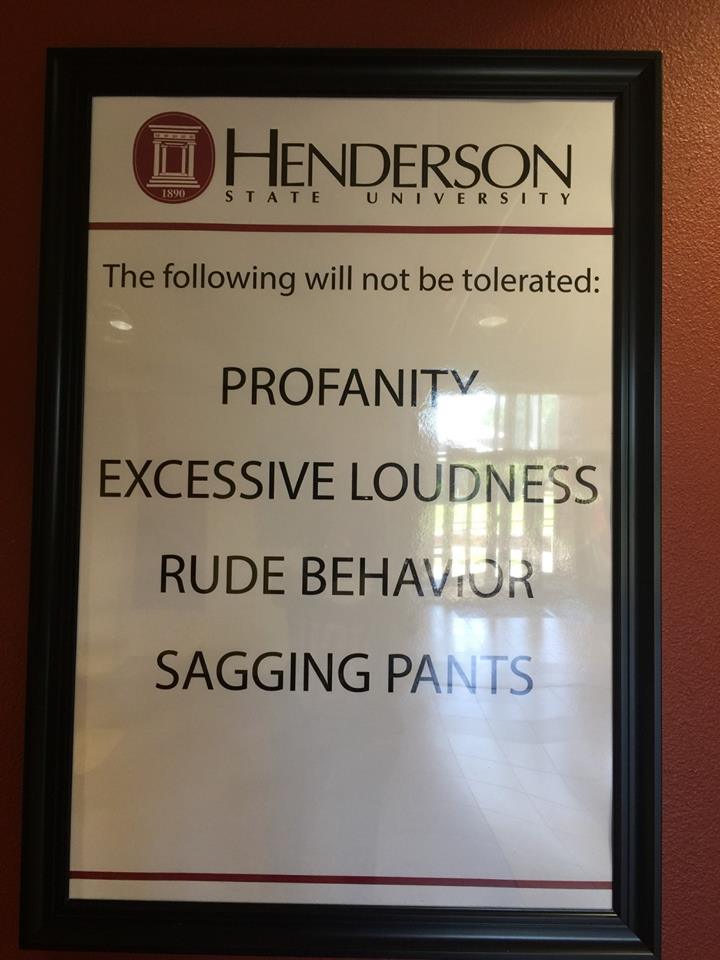 The ACLU (of course) objects to all such bans as "an affront to the Constitution." Its press release from a few years ago stated that such rules license police to stop people on the street and search them merely for committing a "fashion crime."
In opposing ordinary rules of decency, critics borrow the old argument that standards are just social constructs and can be revised, especially when they have a disparate impact, if not a racist motivation.  If colleges buy that argument, then the only standards of conduct left are those demanded by political correctness. The sad consequence is that when many of these liberated and affirmed youths enter the job market, they're going to hit a wall, and not all the cries of injustice and racism are going to help them one bit.