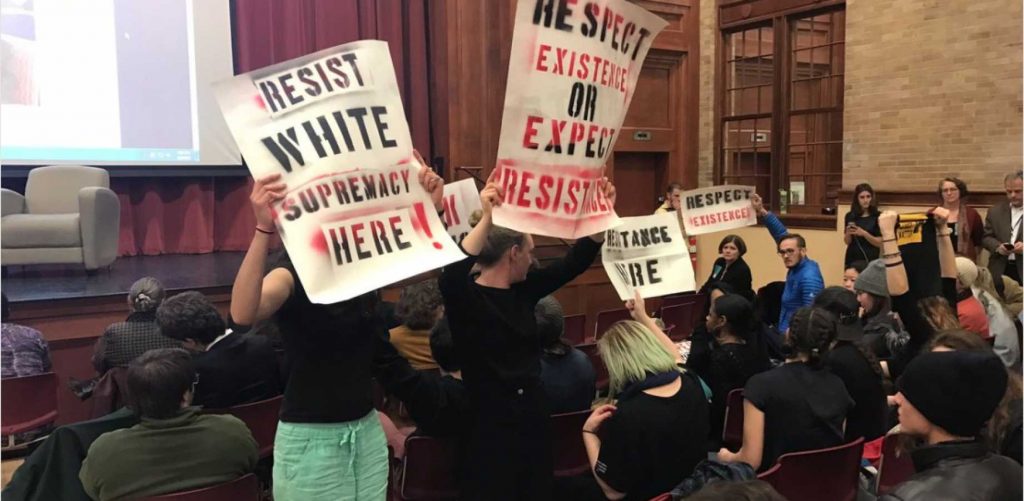 There is so much zany nonsense erupting on campuses these days that many items deserving notice get buried in the avalanche. Here are three from the past weeks that, while perhaps not each warranting a full-fledged article, are too good to ignore.
Charlottesville: No Violence From "Our" Side?
Walt Heinecke somehow finds time to serve as an associate professor in the University of Virginia's Curry School of Education despite what appears to be a full-time career as protest organizer,  participant, and ubiquitous "community activist." "As hellish as August 12 was for much of Charlottesville," he commented to C-Ville Weekly, "Heinecke says the counter-demonstrations in McGuffey and Justice parks 'were very successful. There was no violence in either of our parks.' His team provided food and water to counter-protesters, as well as first aid for tear gassing and contusions, including to one white nationalist 'who was pretty beat up,' says Heinecke."
Since there was no violence, especially from the noble counter-protesters — all of whom he claimed were local since "they went out to defend their community" — that "white nationalist" must have beat himself up.
Mark Lilla and Critics
Last November Columbia humanities professor Mark Lilla published a controversial op-ed in The New York Times, "The End of Identity Liberalism," arguing that "American liberalism has slipped into a kind of moral panic about racial, gender and sexual identity that has distorted liberalism's message and prevented it from becoming a unifying force capable of governing." His message was repeated and often attacked in a number of interviews (such as Salon and Slate), amplified and extended in a recent book, The Once and Future Liberal: After Identity Politics, and most recently presented in long essay based on his book in the Chronicle of Higher Education, "How Colleges Are Strangling Liberalism."
Some of Lilla's critics were so flabbergasted by his argument that they unwittingly confirmed it. In his August 25 interview, for example, Slate's Isaac Chotiner simply could not comprehend how Lilla does not believe white racism "is the central reason" for the Democrats' decline. "The central reason?" Lilla replied. "Not at all, not at all. Just go out there. It's not the central reason."
"We do disagree," Lilla continued, "and frankly I have to say I feel you are illustrating my point…. [T]here's been a kind of slightly hysterical tone about race that leads us to overestimate its significance in particular things…. It's just not where the country is."
Now comes Johns Hopkins professor Martha S. Jones, about whom Lilla could say the same thing. Responding to his recent Chronicle essay, she argues ("What Mark Lilla Gets Wrong About Students," Chronicle, August 24) that "Lilla managed to overlook my students and others like them." She differs, "because my thinking grows out of the granular every day of campus life. From my vantage point, students are democracy's newest agents, able to engage the wider world while also understanding their places in it."
Her "vantage point" — "For nearly 20 years I have taught African-American history and critical race theory" — was of course not overlooked by Lilla, whose Chronicle essay called specific attention to the not altogether beneficial fact that "[t]he study of identity groups now seemed the most urgent scholarly and political task, and soon there was an extraordinary proliferation of departments, research centers, and professorial chairs devoted to it."
Criticizing Lilla for "rely[ing] upon on little more than broad, untethered musings" about what today's students are like, Jones dips into her granular bag and pulls out two examples to counter Lilla's generalizations. Alas, they do not.
She points to an opinion piece by Tony, a former student, "Confederate Memorials Endorse Treason And Racism." Aside from the fact that they often do more or less, than that (see, for example, excellent essays here by Peter Wood and in the Knoxville Mercury), Tony's essay acknowledges that "private citizens, on their private property, should be allowed to fly any flag or let any statue stand" but emphasizes that the First Amendment "doesn't discuss the government's own speech. Thus, when it comes to statues and flags being on government property, it is strictly a matter of policy preference."
Fair enough, but the author makes the distinction between government speech on public property and private speech on private property so absolute and fundamental that it is not clear whether he recognizes any limits on purging public spaces of offensive symbols. Would he and his mentor, Professor Jones, for example, tear down the Confederate monuments in the Gettysburg National Military Park? In addition to the prominent state monuments, a Gettysburg site notes, "A small handful of unit monuments have been placed at Gettysburg, with over half erected since 1980." And what of the Confederate dead buried at Arlington National Cemetery, and the imposing monument there honoring them?
Moving from one sort of battlefield to another, what would Professor Jones and her protégé do about Confederate flags in dormitory windows? "When the Confederate flag flew at Harvard," The Washington Post noted, Harvard let it fly as protected speech. Harvard, of course, is private; would a public institution be justified in prohibiting its display?
Professor Jones' own view of these questions is suggested by the second student she enlists to combat Lilla's view that today's students are obsessed with matters of racial and ethnic identity. "For many weeks," she writes, "the University of Michigan at Ann Arbor campus, where I then taught, was subjected to a white-supremacist poster campaign. Opposition to these anonymous provocateurs was led by, among others, Lakyrra, a young woman in my class." Observing their protest, Professor Jones continues, "I saw young people posing questions about the future of our university. How, for example, should freedom of expression operate in the face of hateful acts that threaten another of our ideals, the dignity of all community members?"
I cannot speak for Mark Lilla, but I suspect he would regard Lakyrra's and Professor Jones' view of posters as "hateful acts" rather than protected speech as further confirmation of his views.
Is Diversity Hiring Counterproductive?
After years of publishing studies on gender equity issues, Inside Higher Ed has yet another article about yet another such report.
This one, a study of faculty representation and wage gaps in six major fields at 40 selective public universities, concentrates on the relative absence of blacks in STEM fields, noting that there have been efforts to diversity but that "such efforts haven't led to any premium in pay for those hired to contribute to campus diversity." In this age of obfuscation double-speak ("race conscious" or "race sensitive" rather than racially discriminatory hiring and admissions, etc.) it is almost refreshing to see such an unembarrassed call for treating a dark epidermis as a qualification for higher pay.
But believe it or not, that is not the most dramatic assertion in this new study. The authors found (unsurprisingly) that faculty representation by race and gender is closely related to the number of underrepresented Ph.Ds. in various fields, except for "black faculty members, who are overrepresented in non-STEM fields relative to Ph.D. production, and underrepresented among STEM faculty relative to Ph.Ds. granted."
The authors' explanation for this imbalance is quite striking, and has unexpected implications for the ubiquitous diversity hiring now occurring in higher education: "If a rationale for policies to improve faculty diversity is to provide role models for underrepresented students," they point out, "and if it is presumed that students will gravitate toward such role models, the current diversity imbalance in higher education implies that students from underrepresented groups may be nudged toward lower-paying, non-STEM fields. This would serve to perpetuate an already-existing imbalance in the work force, both in academia and the broader labor market."
Role model, diversity hiring, in short, is not only legally questionable and otherwise offensive to those who still believe burdens and benefits should not be distributed based on race. It also may contribute substantially to steering blacks into lower paying fields.
But it does continue to succeed at least in signaling the virtue of their employers.