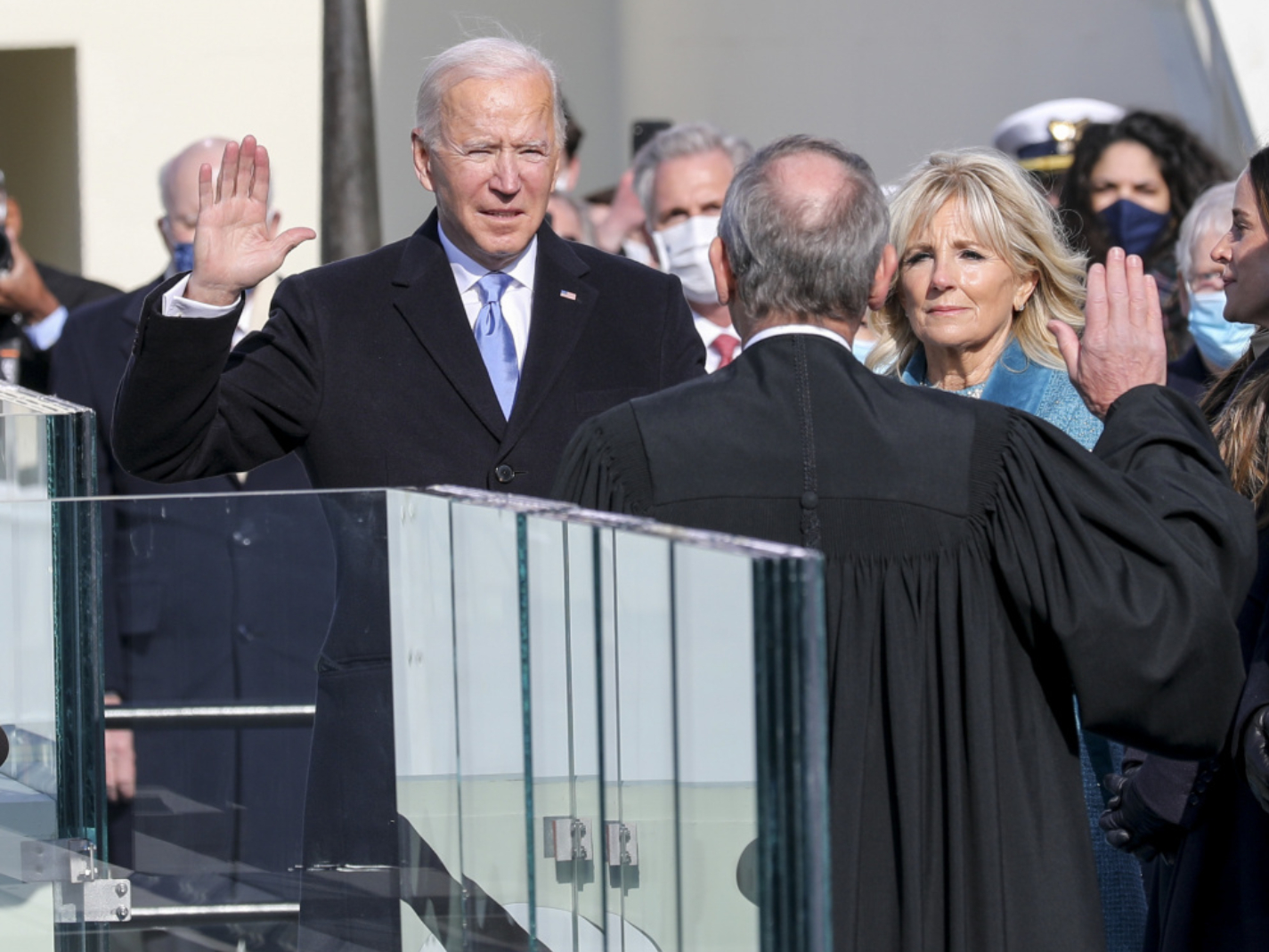 In my last essay here, "'Equity?'," I noted that President Biden's recent executive orders and appointments dealing with race have been almost universally mischaracterized as "aimed at reversing as many of President Trump's policies as possible." In fact, I argued, they reverse "the civil rights policy not just of Trump but of every American president back to John F. Kennedy."
What has been too little appreciated — even by conservatives and the few remaining old-fashioned liberals alarmed by this move from equal opportunity to equal results — is that the policies rapidly being put in place by the Biden Administration do far more damage than reversing previous policies. By substituting "systemic racism" for "discrimination" as the problem to be solved, they threaten to undermine our entire current understanding of the meaning of civil rights.
With the exception of usually trivial examples of discrimination against individuals based on personal prejudice, according to the new progressive understanding, virtually all racial inequity is the result of "systemic racism," which must be eradicated by the programs called for in the new "Executive Order on Advancing Racial Equity and Support for Underserved Communities through the Federal Government." One of the problems with this Order is that its definition of equity — "the consistent and systematic fair, just, and impartial treatment of all individuals" — is useless because it provides no criteria by which to determine whether or when "equity" has been achieved.
National Association of Scholars president Peter Wood quotes a much better and more revealing definition (from the "Racial Equity Tools Glossary") in his perceptive article, "What Does 'Equity' Really Mean?":
Racial equity is the condition that would be achieved if one's racial identity no longer predicted, in a statistical sense, how one fares. When we use the term, we are thinking about racial equity as one part of racial justice, and thus we also include work to address root causes of inequities, not just their manifestation. This includes elimination of policies, practices, attitudes, and cultural messages that reinforce differential outcomes by race or that fail to eliminate them.
This definition carries some very heavy, if hidden, freight, with far-reaching effects. It assumes, first, that talent, skill, and ability are evenly distributed among all groups, and hence, second, that all "inequity," i.e., racial underrepresentation, is the result of present or past racism. Those assumptions — more like articles of faith — lead to two radical, even subversive, conclusions: 1) "equity" will not be achieved until all "differential outcomes" are eradicated; and 2) those differential outcomes, resulting as they could from "attitudes" or "cultural messages," need not be the result of discrimination — whether intended or unconscious.
To see this version of "equity" at work in the fields of Ivy, one need look no further than Princeton. Most readers will recall the notorious Faculty Letter signed last July 4 by around 400 members of the Princeton faculty and staff, who demanded a large number of drastic race-preferential policies because "Anti-Black racism has a visible bearing upon Princeton's makeup and its hiring practices." (I discussed here how several of the policies demanded in that letter would violate freedom.) In a September 2 Open Letter, Princeton president Christopher Eisgruber outlined his plans "to combat systemic racism at Princeton." Those plans are needed, the letter stated, because "Racism and the damage it does to people of color … persist at Princeton, as in our society, sometimes by conscious intention [emphasis added]. … Racist assumptions from the past also remain embedded in structures of the university itself."
Although this post-Floyd racial posturing was not unique to Princeton, what followed was distinctive, dramatic, and very revealing of the new order of "equity." Pointing to Princeton's admission of embedded systemic racism, the Department of Education (ED) launched an investigation to determine whether Princeton had long been in violation of Title VI of the Civil Rights Act, which states that "no person in the United States shall, on the ground of race, color, or national origin, be excluded from participation in, be denied the benefits of, or be subjected to discrimination under any program or activity receiving Federal financial assistance."
"Based on its admitted racism," ED was concerned that "Princeton's nondiscrimination and equal opportunity assurances" in its applications for "well over $75 million in federal Title IV taxpayer funds alone" since 2013, when Christopher Eisgruber became president, "may have been false." In addition, ED stated, "the Department is further concerned Princeton's many nondiscrimination and equal opportunity claims to students, parents, and consumers in the market for education certificates may have been false, misleading, and actionable."
Given Princeton's admissions, this investigation hardly seems surprising. "It would seem the Department of Education had little choice," wrote Frederick Hess, director of educational policy at the American Enterprise Institute. "After all, the president of Princeton University, which annually collects $300 million in federal research funding and millions more in federal student financial aid, recently declared that his university is systematically racist." Nevertheless, the academic and cultural establishment went ballistic.
David Wippman, the president of Hamilton College, blasted "the department's Orwellian reading of Eisgruber's statement." The American Council on Education and 55 other higher education associations asserted, incorrectly, that the ED investigation was an "unprecedented move to investigate Princeton University for recognizing that racism remains a significant problem in U.S. higher education." Keeanga-Yamahtta Taylor, Princeton professor and New Yorker contributor last seen here, tweeted that "the federal government is just a tool of the Trump thugs to harass and intimidate." On September 17, Princeton itself responded more reasonably if not more accurately that "It is unfortunate that the Department appears to believe that grappling honestly with the nation's history and the current effects of systemic racism runs afoul of existing law." On September 24, 80 college presidents sent a letter to then-Secretary of Education Betsy DeVos attacking as "outrageous" the ED investigation of Princeton "for possible misrepresentations in its reports of adherence to federal non-discrimination law because its president publicly recognized that historic racism has been embedded in the institution over time."
These 80 worthies to the contrary notwithstanding, the investigation was not based on Princeton's "grappling honestly with the nation's history and the current effects of systemic racism" or its recognition of historic racism embedded over time but rather on President Eisgruber's admission that racism "persist[s] at Princeton … sometimes by conscious intention" [emphasis added].
What is truly remarkable about these heated reactions is the assumption — not argument, just assumption — that an institution's practices can be suffused with (perhaps even determined by) persisting systemic racism with no conflict whatsoever with "federal non-discrimination law."
In my recent "Equity"? essay, I noted that it is hard to see how the proportional representation implicitly but clearly required by Biden'sExecutive Order on "Advancing Equity" will avoid coming into direct conflict with the longstanding prohibition of quotas recognized and repeated by the Supreme Court ever since Justice Powell's decision in Bakke (Assuring "some specified percentage of a particular group merely because of its race or ethnic origin … [is] facially invalid. Preferring members of any one group for no reason other than race or ethnic origin is discrimination for its own sake. This the Constitution forbids.")
That rejection of quotas was based on the 14th Amendment, but the assumption here — that an institution riddled with persisting systemic racism can nevertheless honestly insist that it is in compliance with statutory non-discrimination laws — is both radical and risible in its rejection of the relevance of civil rights law in the fight against racism and racial discrimination. If one can comply with the non-discrimination requirements of civil rights laws while presiding over a federally funded institution rife with "systemic racism," either "systemic racism" is a chimera or current civil rights law is irrelevant and we are even at the end of "civil rights" as a meaningful concept.
A defender of this new approach might reply that it is not new at all, that "equity" remedies to "systemic racism" are just a slightly beefed up version of finding "disparate impact" discrimination. In employment law, for example, courts have found that policies or practices can be discriminatory even though they are neutral on their face and were adopted with no discriminatory intent.
This defense, however, falls flat. Disparate impact discrimination must, first, be based on finding identifiable polices or practices that result, second, in identifiable discriminatory effects. "Attitudes" and "cultural messages that reinforce differential outcomes by race or that fail to eliminate them" do not qualify as triggers for disparate impact, nor can they be linked to identifiable effects on identifiable individuals.
Describing racism as "systemic" is a now-fashionable way of saying that it is too amorphous to locate, or to conclude that it, whatever it is, violates civil rights law. ED, for example, asked Princeton to provide, among other records, "A spreadsheet identifying each person who has, on the ground of race, color, or national origin, been excluded from participation in, been denied the benefits of, or been subjected to discrimination under any program or activity receiving Federal financial assistance as a result of the Princeton racism or 'damage' referenced in the President's Letter."
If no such person can be found, whose civil rights have been violated? But if pervasive and persistent "systemic racism" violates no one's civil rights, what does it do? And what does the protection of civil rights protect? Does the concept of "civil rights" even make any sense in this new world of "equity"? And what if whites are "underrepresented," as they are at the University of California? Does "equity" require the admission of more whites? Kristen Clarke, Biden's nominee to head the Civil Rights Division at the Department of Justice who has written that melanin makes blacks superior, would no doubt demur. Her "history of opposing civil rights prosecutions of black defendants" strongly suggests she would oppose any "equity" remedy that did not benefit blacks.
Finally, if the presence of "systemic racism" does not violate civil rights law, under what legal authority can the president impose by executive order "equity"-justified proportional representation remedies for unidentifiable violations?
---
Image: Sgt. Charlotte Carulli, Wikimedia Commons, Public Domain