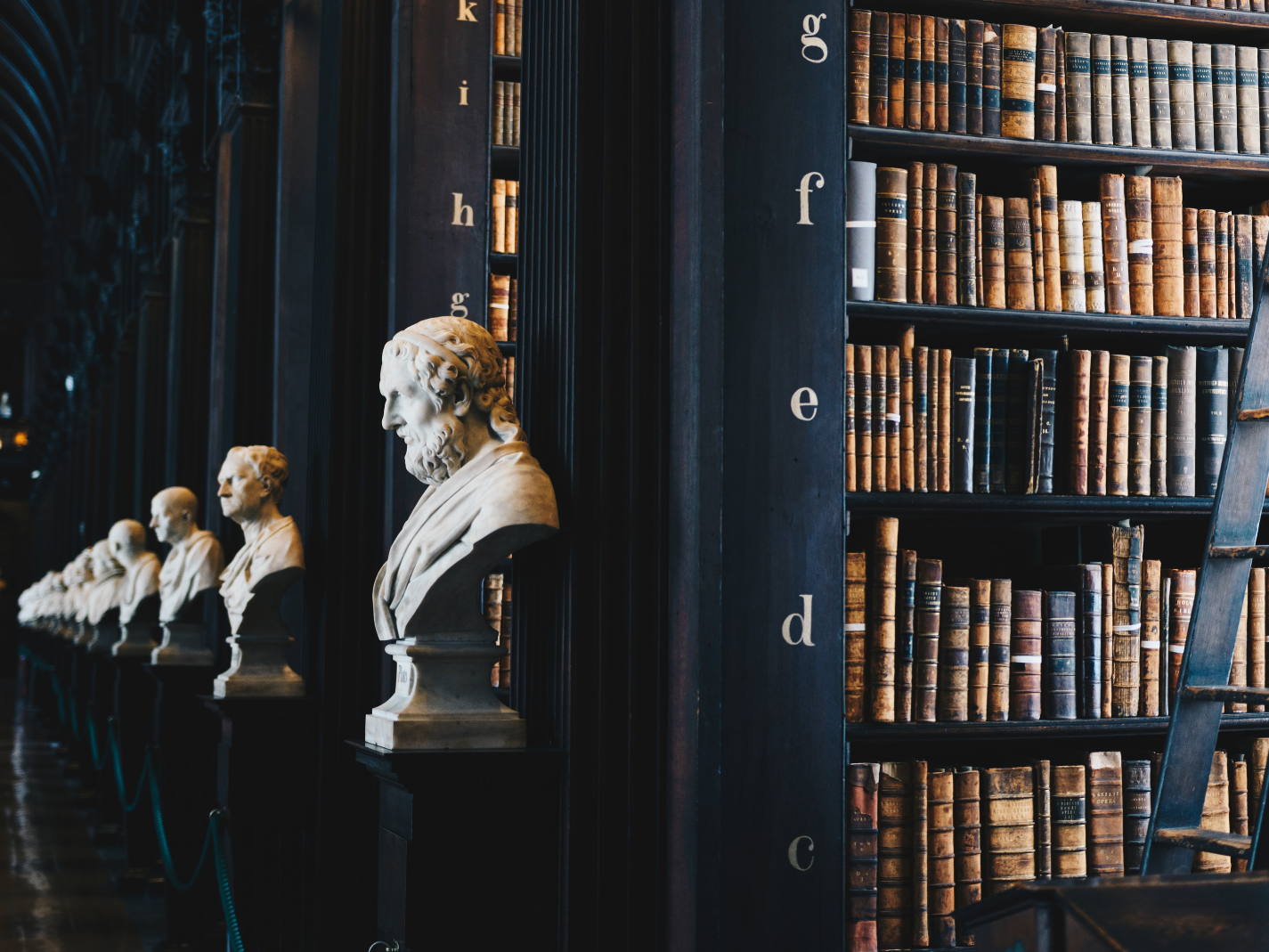 A recent Wall Street Journal article told of how Bard College, my alma mater, has tasked three undergraduates, funded by the school's Office of Inclusive Excellence, to peruse the college's 400,000-book library and evaluate "… each book for representations of race/ethnicity, gender, religion, and ability." According to the library's newsletter, this evaluation was the first step in "decanonizing"—breaking the connection to the past—the stacks and, ultimately, exorcizing some ill-defined toxic miasma (though, to be fair, Bard library director Betsy Cawley insisted that no book was to be removed).
That being said, the message remains clear: Bard is building a new and politically updated Librorum Prohibitorum, or a catalogue of prohibited books. One library spokesperson said that this measure is necessary since these books "…are written mostly by straight white men, are a physical manifestation of white men ideas taking up all the space in our library stacks." (Confession: I have several books in the library's "alumni collection" but, so far, I've not been "deaccessioned").
Culling "bad" books from libraries is as old as libraries themselves, so Bard's textual purge is hardly novel. It's all a question of whose books get removed and how the cleansing is justified. Still, acknowledging this history hardly excuses outbreaks of censorship, and proponents of intellectual openness should at least monitor those rooting out alleged evil. One can only wonder how three undergraduates—Bard's little Torquemadas—can digest hundreds of thousands of books on subjects well beyond their intellectual expertise.
Moreover, Bard is hardly unique—similar ventures targeting "stereotypes" and "domination" by cis-gendered white males have already occurred at Loyola Marymount University and the University of California Irving (for more on anti-racist ideology in libraries, see here). In 2019, Quebec public schools removed 4,700 books from their libraries for alleged "outdated" content and negative stereotypes. Thirty were burned in public.
Now, where is the American Library Association (ALA), an organization ostensibly opposed to any and all censorship of libraries? Will this venerable organization condemn Bard's drift toward censorship? Alas, if one visited the ALA's own bookstore, the censorious-minded would happily find Narrative Expansions: Interpreting Decolonisation in Academic Libraries, a goldmine for would-be defenders of the Faith. Its message is crystal clear:
This collection explores the ways in which academic libraries are working to address the historic legacies of colonialism, in the context of decolonizing the curriculum and the university. It acknowledges and explores the tensions and complexities around the use of the term decolonization, how it relates to other social justice aims and approaches, including critical librarianship, and what makes this work specific to decolonization.
It's hardly surprising, of course, to watch Goodthink librarians condemn the removal of Critical Race Theory texts while simultaneously purging books authored by white males (at least those white males who are pre-woke or who don't toe the party line).
[Related: "The Greatness the Professors Denied"]
Escaping such inconsistency will not be easy, but rest assured, librarians are skilled wordsmiths, and the hemming and hawing has already begun. One Bard library representative announced that the project was designed "to increase our understanding of our collection, not to remove books." Maybe just attach a trigger warning on books authored by the patriarchy. Perhaps the ALA will claim that it just sells a how-to manual on censorship in its bookstore, but this hardly officially endorses censorship. Narrative Expansion, the ALA might claim, only provides a choice, and who can oppose choice?
Unfortunately, what has occurred at Bard should not be viewed as yet one more wacky outlier at a pricey liberal arts college. Today's academy is a petri dish of intellectual insanity, and crackpot ideas often escape the lab. Past experiences are clear: there is no such thing as crying wolf when the woke are on the march. Professional librarians may well object to this politicization, but they are easily pushed aside. Today's social justice warriors may soon multiply into an army of the righteous committed to decanonizing. Make no mistake—the academy itself is at stake. Think about the current mania over banishing statutes of Thomas Jefferson, Teddy Roosevelt, and similar icons of American history. So much for an idea once judged too crazy to be taken seriously.
This detoxification of libraries will inexorably undermine the publishing industry, which in turn will destroy the careers of young scholars struggling up the academic ladder. Today's academic publishers already have enough financial problems, and with library acquisition budgets tight, why should librarians risk ordering a soon-to-be-demonized book due to the author's sex, race, and/or sexuality? In fact, buying this book may endanger one's own career by aiding and abetting the white, heteronormative patriarchy. Library acquisition now becomes a political act—who wants to be on the wrong side of history? And, for good measure, no outsider will ever know which books were neglected due to the author's oppressor status. This is the perfect weapon in the culture war: kill the enemy with no witnesses.
Now, with libraries removed from the marketplace, good luck to the junior faculty with the "wrong" demographics seeking a publisher, regardless of manuscript quality. Even if one is of the "right" demographics, simply doubting the official narrative on race, gender, social class, ableism, and all the rest may mean self-publishing on Amazon, a choice that counts for zero at tenure time.
The chocking of book publishing outlets will be felt long before the manuscript is submitted. Department recruitment committees, particularly at better schools that stress publication records, evaluate assistant professor candidates with an eye toward future tenure decisions. Junior faculty will be doomed from the start if review committees beyond the department demand a book or two from a name-brand publisher. And good luck explaining to the committee members how things have changed since the era when book publishing was far more open to those with the "wrong" demographics.
[Related: "Campus' Disappearing White Males: The MacArthur Awards"]
The ramifications will likely extend to those still in graduate school. Many faculty know "the talk": "Listen, Fred. You're brilliant, and I'm sure you can be a productive scholar at a top school, but due to factors you have no control over, you will have troubling getting into print, and that is the coin of our profession, so do yourself a favor …" At best, Fred will be advised to steer clear of anything "controversial," and if necessary, to fill his articles with woke boilerplate to appease the commissars.
Meanwhile, a different talk will be given to those with a more "diverse" genetic profile. These fortunate future academics will be told that publishers are hungry for their scholarship thanks to libraries' need for books authored by the previously excluded. Better yet, with a little revising, their dissertation could be published as a scholarly monograph, which may be sufficient for tenure at a decent school.
All in all, Bard's decanonization may be just the beginning—from a little microbe, a mighty plague is born. Defenders of free speech will correctly claim that while these purged books may be few in number and are likely available from non-traditional outlets, the deeper impact will be on the composition of the academy. A Bard student who wants to read my Bad Students, Not Bad Schools, if and when it is de-acquisitioned by the college, may find a cheap used copy on Amazon, but buying it hardly supports the publisher. My publisher (Transaction Press) wants libraries to buy new copies, and when libraries dread adding such books to the stacks, publishers will likely reject the manuscript.
Don't underestimate those little Torquemadas at Bard. They probably have scant idea of what they are reading, but they are a harbinger of things to come. Their labor will shape the future professoriate and, more importantly, will determine future knowledge.
---
Image: Giammarco, Public Domain