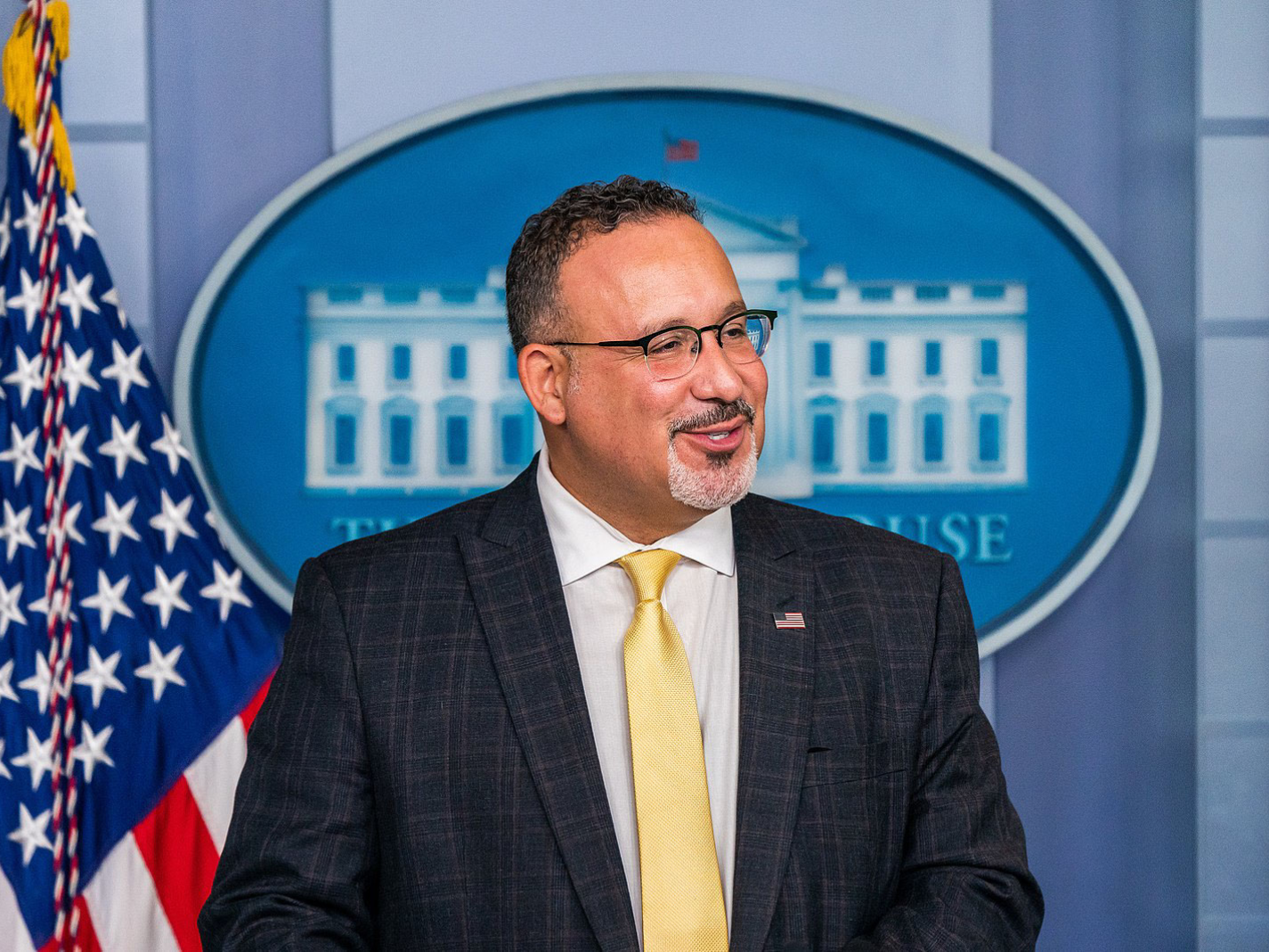 Using the U.S. Department of Education as its facilitator, the Biden Administration is running roughshod over the Constitution and federal law to implement its racist and sexist agenda.
Not since Woodrow Wilson's presidency more than 100 years ago has an administration been as committed to institutionalizing racism and segregation. The Biden administration's overarching focus on slicing and dicing people by race, gender identity, and sexual orientation makes Wilson look like a piker in the racism department.
Contrary to the Due Process Clause of the 14th Amendment, federal civil rights laws, and Supreme Court precedent, on its second day in office, the administration announced a "whole-of-government" order to embed "diversity, equity, and inclusion" (DEI) in all aspects of federal government policies and American life. Over the last 16 months, the U.S. Department of Education (ED) has been charged with implementing large swaths of this odious plan, from allocating billions based on unconstitutional and unlawful criteria, to promises made in the department's new Equity Action Plan.
Wilson is best known for leading the U.S. into World War I, championing the League of Nations, and suffering a stroke that left his wife in control of the executive branch. Of late, he also has received well-deserved condemnation for re-segregating the federal civil service and selecting candidates for hiring, promotion, and senior positions by race. He authorized his cabinet secretaries to segregate their facilities and to adopt race-based employment policies. After his administration improved its collection of data, it refined its exclusionary systems.
The parallels are conspicuous to Biden's DEI in the federal workforce order and strategic plan, which ordered the invasive collection of data on race, gender identity, and sexual orientation among federal workers and applicants; hiring and promotion based on those characteristics; and the adoption of race-based employment policies and assessments of managers based on their compliance with DEI goals. Subsequent executive and agency orders have expanded the reach of data collection to include academia and government contractors for the purpose of allocating jobs, grants, loans, contracts, and other government benefits based on race, gender identity, and sexual orientation. Straight white males are at the bottom of the list, but other whites and Asians also are disfavored.
The Biden administration has upped Wilson's game. First is the overlay of gender and LGBTQI+ identification. More broadly, the administration is leveraging the federal government's power as the largest purchaser of private sector goods and services to unlawfully force businesses to submit, and federal grants and contracts to unlawfully coerce educational institutions to adopt DEI employment processes and curricula, thereby assuring the indoctrination of future generations in the progressive dogma of so-called "anti-racism," Critical Race Theory (CRT), gender fluidity, and antisemitism.
Let's put the federal government's power into perspective: according to the latest data available from the National Center for Education Statistics, the federal government directly provided more than six percent ($23 billion) of public four-year university funding for the 2018-2019 academic year, and potentially considerably more by directing grants through states, as well as about 12% ($28 billion) of private four-year university funding. According to the U.S. Census Bureau, the federal government provided about 8% of public K-12 funding ($60 billion) during the same period. In some states the federal share of total elementary and secondary education spending is less than 5%, while in other states it exceeds 16%.
The administration initially obscured its reliance on the ED as a key intermediary for its DEI plans by burying nearly $200 billion of funding for schools in its so-called COVID-19 relief act (American Rescue Plan) and the infrastructure bill, a substantial portion of which was designated for marginalized minorities and underserved communities. In its COVID-19 Handbook, the ED directed schools to allocate grants using principles in the Abolitionist Teaching Network's Guide for Racial Justice & Abolitionist Social and Emotional Learning. Among other radical ideas, the Guide advocates "antiracist therapy for White educators" and "disrupt[ing] whiteness."
[Related: "Bending the Knee for Diversity, Inclusion, and Equity"]
According to its new Equity Plan, the ED released more than $13 billion to Minority-Serving Institutions—including Hispanic, Asian American, Native American, and Pacific Islander-serving institutions—more than $10 billion to community colleges, $2.7 billion to Historically Black Colleges and Universities (HBCUs), and $192 million to Tribal Colleges and Universities. This was on top of the department's investment of nearly $1 billion in grant funds to "under-resourced institutions" and its discharge of approximately $1.6 billion of infrastructure debt provided to HBCUs.
In pursuit of its DEI focus, in July 2021, the ED established priorities for an American History and Civics Education grant program that require the "development of culturally responsive teaching and learning" that benefits "underserved populations" as part of "the ongoing national reckoning with systemic racism [that has] highlighted the urgency of improving racial equity throughout our society, including in our education system." The department praised Ibram X. Kendi, who advocates discrimination against whites as the remedy for past discrimination, urged grant applicants to incorporate the racist and factually false message of The 1619 Project and other "anti-racist" practices in their programs, and required applicants to "take into account systemic marginalization, biases, inequities, and discriminatory policy and practice in American history."
Then, in September and October 2021, the administration issued executive orders to promote "equitable access to and participation in college-readiness, advanced placement courses, and internship opportunities" for black, Hispanic, and Native American students. The order for black students is typical. It explains:
"Black Americans face systemic obstacles to getting good jobs, gaps in wages and promotion, and higher incidences of reported workplace discrimination than White workers. Eliminating these inequities requires expanding access to work-based learning and leadership opportunities, including mentorships, sponsorships, internships, and registered apprenticeships that provide not only career guidance, but also the experience needed to navigate and excel in successful careers. In order for our Nation to equitably recover from the COVID-19 crisis, and to ensure that every Black person in America has a fair shot at the American dream, we must advance equity and excellence in public education and access to economic opportunities."
The orders established three White House Initiative on Advancing Educational Equity, Excellence, and Economic Opportunity committees as part of the ED, appointed the Secretary of Education to chair each committee, and directed 25 federal agencies to participate.
Numerous courts have enjoined portions of the administration's DEI programs, and there are more than a dozen lawsuits pending. Nonetheless, last month the administration issued a broadside of policies, orders, and fact sheets expanding its DEI juggernaut and announced that 140 agencies are developing action plans to achieve equity in their missions. It bears repeating that the progressive definition of "equity" entails allocating benefits in proportion to favored races, gender identities, or sexual orientations, without regard to experience, track record, capabilities, or probability of success.
Perhaps recognizing the legal riptides ahead, there are scant details in the new ED Equity Plan. The plan employs euphemisms and abstraction, but its purpose shines through. For example, the plan's prologue cites Horace Mann for the proposition that education should be the "great equalizer." Though the plan gives lip service to Mann's meaning of equal opportunities, it immediately clarifies that "to fulfill its mission, the department must embed equity throughout its operations and mission." Equity does not mean equal opportunity—it means allocating outcomes pro rata and pari passu.
[Related: "The DIE Industry's Iron Rice Bowl Under Attack"]
The plan's highlights include:
• Equalizing per capita financial resources available to community colleges, state regional universities, and Minority-Serving Institutions with resources available to four-year flagship institutions—including by investing in HBCUs, Tribally Controlled Colleges and Universities, Hispanic-Serving Institutions, Predominately Black Colleges, Asian American Pacific Islander-Serving Institutions, community colleges, and other under-resourced public institutions—and sponsoring a new vision of college excellence that makes inclusivity a marker of prestige.
• Ensuring an equitable impact of American Rescue Plan funding for K-12 students, including requiring all education agencies and institutions complete public plans for diverse and inclusive planning processes that ensure the "best investment decisions will be made."
• Investing resources to help advance civil rights, building on the ED's "historic decision" to collect data annually instead of bi-annually. The department will seek public input on a proposal to restore data elements removed during the previous administration that are useful in "identifying racial disparities and inequities in students' access to educational programs and staff."
• Advancing equity in contracting and procurement, by making certain contracts available only to minority-owned small businesses, "consistent with the authorizing statute and regulations."
• Advancing equity in the grant process, by allocating funds with a focus on underserved students. The department will require each applicant to describe the steps it will take to ensure "equitable access to, and equitable participation in, the project or activity to be conducted with such assistance… to overcome barriers to equitable participation, including barriers based on gender, race, color, national origin, disability, and age." The department also will establish meaningful criteria and provide technical advice to applicants on how to develop specific and actionable steps, and will "create an equity dashboard to provide the public with accurate information on equity in the nation's education system and assist the Department and other stakeholders in identifying gaps in our collective capacity to understand equity in education.
• Advancing equity through Title IX, by explaining to educational institutions the ED's interpretation of Title IX and publishing a Notice of Proposed Rulemaking to amend the Department's Title IX regulations and confirm its interpretation that Title IX prohibits discrimination based on sexual orientation and gender identity. For example, to prohibit "discrimination" against transgender students in sports, the ED added gender identity to the definition of "sex." The department also intends to repeal due process protections put in place by the Trump administration.
• Supporting student loan borrowers by "redoubl[ing]" its efforts, particularly to help "low-income borrowers and Black Americans, who rely more heavily on student loans due to a host of financial inequities." The ED did not explain why wealthy blacks are lumped in with low-income borrowers of all races.
Though the ED is the lynchpin of the administration's education plans, it is not the only agency using federal resources to coerce educational institutions. For example, the Department of Defense is funding STEM programs for K-12 schools in "underserved communities" and at HCBUs, while the National Science Foundation will collect data on the race and gender of students and research directors and will increase funding for minority-serving institutions.
[Related: "The Evolution and Implementation of Equity"]
Unlike Kendi's radical insistence that discrimination must beget more discrimination, Chief Justice John Roberts has reasonably opined that "the way to stop discrimination on the basis of race is to stop discriminating on the basis of race" (Parents Involved in Community Schools v. Seattle School District No. 1 [2007]). In Shaw v. Hunt (1996), the Supreme Court unambiguously held that "racial classifications are antithetical to the Fourteenth Amendment." Since then, the Supreme Court has extended the same analysis to gender and sexual orientation.
For more than 20 years, polls have shown that Americans oppose the use of race in admissions decisions (see, among many polls, here, and here). Last month, Pew Research Center released the results of its extensive poll in March of more than 10,000 U.S. adults. A sample of that size provides reliable results for subgroups. Pew found that Americans preferred that grades and standardized test scores determine college admission; 74% reject any use of race or ethnicity, 19% believe they should be a minor factor, and just 7% believe race or ethnicity should be a major factor. For gender, 82% reject any weight, 14% thought gender should be a minor factor, and just 4% thought gender should be a major factor. Further, 79% of white adults, 68% of Hispanic adults, 63% of Asian adults, and 59% of black adults say race or ethnicity should not factor in admission decisions. 87% of Republicans and 62% of Democrats agree.
Like other racists, the administration is out of step with American values, the Constitution, civil rights laws, and repeated court decisions.
Over the last generation, America has seen a leftward lurch unprecedented in its history. Notions of American exceptionalism, merit, and equal opportunity are under siege. Malign strategists in the Biden administration have unleashed unrestricted war in an effort to categorize people primarily by their race, gender identity, and sexual orientation.
DEI damages American institutions, prospects, and values. Innovation, living standards, the justice system, and personal liberties will suffer. The risk of violence is palpable. These consequences are not obscure. The only logical conclusion is that these outcomes are the goal. Progressives are increasingly willing to publicly identify as socialists and Marxists. It requires no leap in logic to conclude that tearing down American society is their goal. Many activists proudly proclaim it.
For the Biden Administration, the Department of Education is the tip of that racist spear.
---