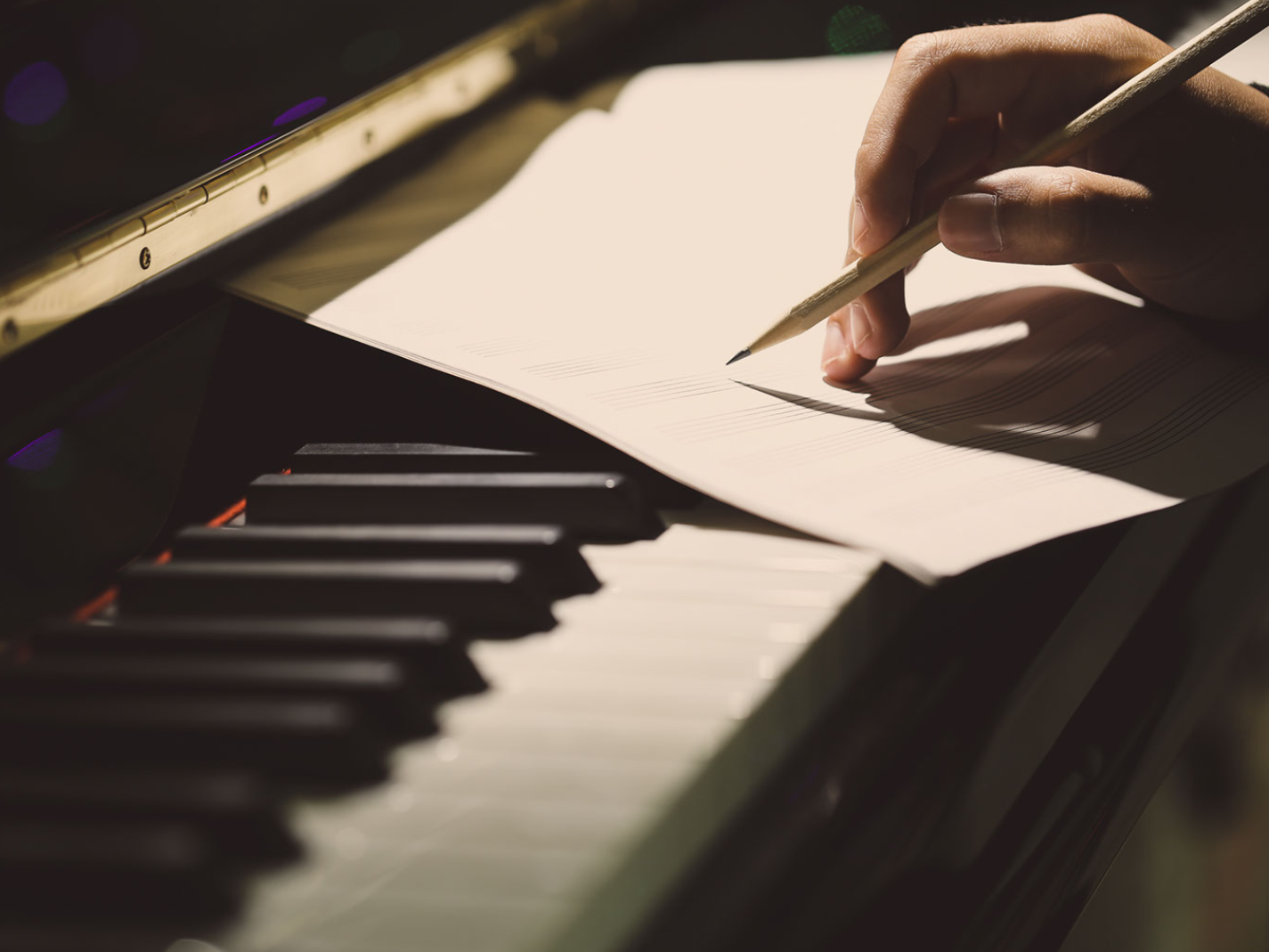 In 1975, Frederic Rzewski composed his 36-variation piano piece The People United Will Never Be Defeated! in response to the struggles of the Chilean people under the new rule of Augusto Pinochet. Pinochet, whose dictatorship usurped the leftist Unidad Popular coalition in 1973, came under heavy criticism from artists of the time, especially since the United States aided in the uprising.
What does this anecdote have to do with modern American music? First, even though leftist political sentiments inspired Rzewski's piece, the work still embodies the intellectualism of Western music and tries to say something worthwhile compositionally. Additionally, its virtuosity has much more to offer than—for instance—the current musical line-up at the University of Arizona's Arizona Arts program. Rzewski's work is not necessarily right-leaning—but it is true that, even by the standards of the 1960s and '70s, our cultural conscience has rapidly declined. Even Walt Disney, in his classic movie Fantasia, recognized the importance of quality classical music in pop culture.
This is no longer the case. Headlining at Arizona Arts this season are musical artists like Cimafunk, whose Afro-Cuban musical style was showcased on Tiny Desk, a National Public Radio concert series. Other headliners include Mariachi Herencia de Mexico with special guest Lupita Infante, Impulse, the Los Angeles Master Chorale, and Sugar Skull! A Dia de Los Muertos Musical Adventure. It is curious that the Los Angeles Master Chorale made the lineup, yet the connoisseur of Western classical music sees on the program not even the likes of the rather commonplace Four Seasons by Vivaldi.
It is almost as if Arizona Arts is trying to be falsely "inclusive" of Western high art while slowly poisoning its programs with intellectually dishonest ideas regarding what the art really is. Instead, we are forced into a cultural experience we might rather choose to avoid. Administrators want us to hear what they perceive as superior, a perception grounded in their political worldviews. Arizona Arts clarifies its intentions, stating:
As we enter a time when we are able to be together again, we are excited to bring performances that truly express what Arizona Arts Live is all about, [you'll] find household names in a lineup of world-class artists at times in unconventional spaces, to expand our horizons and make us feel. Because that's what we know the arts are about.
The problem with these selections is that they are far from what truly intellectual music "is all about," especially when they are programmed by an institution charged with classical education. This criticism is not to minimize their appeal, but it is to say that the intellectual importance of the Western canon is under attack in postmodernity. While this is not a unique observation—indeed, the "canon wars" have been going on for decades—to characterize such artists as "world class" is quite jarring and unconvincingly audacious.
[Related: "Disordered Aesthetics, Disordered Morals"]
The bulk of Arizona Arts' selections are within specific "ethnic" styles, eschewing truly world-class musicians like Monteverdi, Bach, Mozart, Beethoven, and even modern composers like Rzewski, Stravinsky, Schoenberg, Asia, Thomas, Tower, and Mahler. Works by such talents are referred to as "pieces written by old dead white guys" (their infamous slogan)—in other words, far removed from pop culture. This is precisely their goal: to erase the richness and beauty of Western culture with no aim other than political gain and popularity. Ideas must be developed, with good ideas kept and bad ideas thrown away. These good ideas are, of course, not based on fabricated agendas, but real, genuine feelings and beauty.
 It is easy to fight for a cause that has no basis, like DEI or "systemic racism," because the stakes upon which one might fall are seemingly lessened. Yet, when hidden beneath the veil of an empty "cultural experience," these ideas can become utterly coercive, since postmodern society disguises its agendas behind culturally vogue ideas that may not last. Antony Davies and James R. Harrigan, in their book Cooperation & Coercion, argue that "Human beings can and do accomplish astonishing things." But, for Davies and Harrigan, our engagements must be spontaneous and not forced, because spontaneous endeavors yield uniquely free and brilliant ideas that those coerced by a majority-in-power do not. This is precisely the problem with postmodern arts programs. They are overrun by agenda-based politics, which inevitably excises the artist and collectively implements undue, forced, myopic artistic control.
Perhaps the most striking example of musical ineptitude in recent history took place in 2018, when academics unanimously deemed Kendrick Lamar's hip-hop album DAMN to be high culture. Lamar's album subsequently, and perhaps "fairly and squarely," won the 2018 Pulitzer Prize. But was this decision genuine? It sent shock waves through many academic circles, whose far left–leaning music professors could only whisper in silence since in all years previous, the winners were classically trained musicians. This public disapproval was much different, however, than the 1913 uproar over Stravinsky's The Rite of Spring. Stravinsky's music moved composition forward using traditional mediums, and challenged, intellectually, the typical styles of the day. It did not explore senseless, musically unrelated political agendas.
This is not the case in modern pop culture, however. Today, the upcoming release of Taylor Swift's album Midnights has caused a stir of excitement amongst her groupies. Her album releases are often shrouded with the latest tabloid hearsay. Nevertheless, though she is a brilliant businesswoman, she has become a somewhat questionable example for young girls, since her early, more sentimental country albums were rather modest and perhaps not as mainstream. How did society go from the much-anticipated release of Puccini's La bohème, a timeless drama, to what seems like a pop culture of offended, sub-par creators?
[Related: "Is Diversity Our Strength? Please"]
In a way, it seems that the truth of past high-culture artists has been "defeated" by the falsity and polarizing politics of the Left. It is curious how unaware our youth are of high art, and how quickly vulgar songs like Swift's You Need to Calm Down become all-the-rage. Will this music stand the test of time? A better question is: when will Western art music, even pop music, become less about race-based politics, gender ideology, and the sexual revolution, and more about those "astonishing things" human beings can accomplish? Who cares anymore about old news like Beethoven's Symphony No. 5, Schoenberg's Verklarte Nacht, or even the stark beauty of Hildegard of Bingen's Gregorian chant? I, for one, still do.
Far be it from postmodernism to value beauty in the arts simply because the art is beautiful, like the absolute music of Brahms or the lush pentatonic dissonances of Takemitsu's A Flock Descends into the Pentagonal Garden. If, as a musician in academia today, you are not touting some socialist manifesto as great art—worse in sentiment than Rzewski's homogenous piano work The People United Will Never Be Defeated!—you are not worth a grantor's dollar.
Art is truly deformed when it becomes less about beauty and more about an agenda, especially when it is an ugly agenda. The late Roger Scruton eloquently mused that, "… there is no deductive relationship between premise and conclusion when the conclusion is a judgment of taste. I am always free to reject a critical argument in a way that I am not free to reject a valid scientific inference or a valid moral claim." We must assess the quality of Western music, and the intellectual validity of the arts, like Scruton says, before reducing our intellects to lesser desires, feelings, ideas, and art that embodies such principles.
---
Image: Yinzhong, Adobe Stock