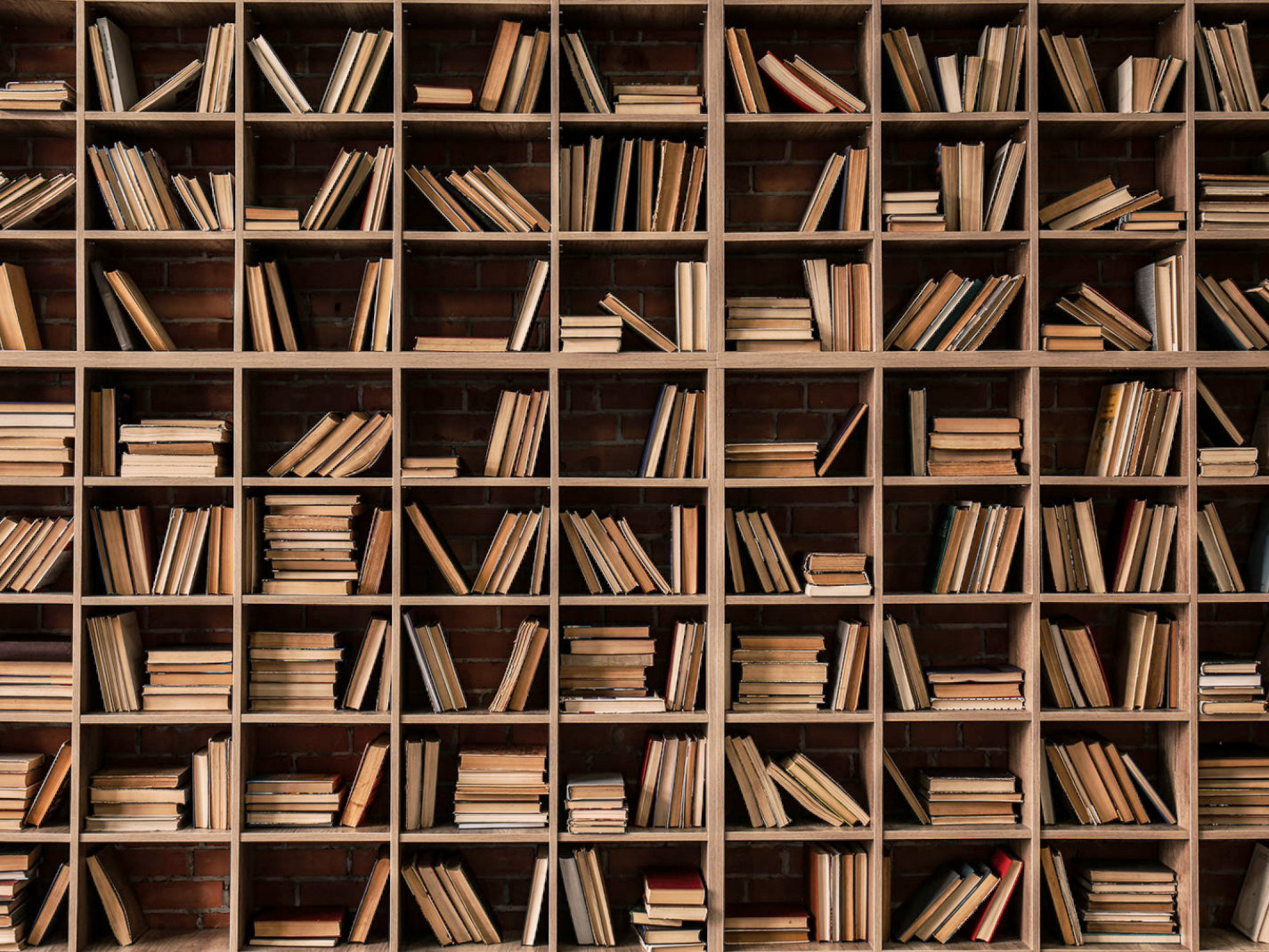 On March 2, the magazine of record for professional librarians in the United States, Library Journal, will host an online seminar entitled "Resisting Book Bans." On the surface, the seminar could not be more timely. Since 2018, academic and public libraries have been banning books with increasing frequency because they fail to promote the progressive political agenda of "diversity, equity, and inclusion" (DEI). In a survey of 220 college and university libraries that had conducted "DEI audits," published last year by information provider Gale Cengage and Library Journal, one third of the respondents said that book bans were being used for materials that had been caught up in the DEI dragnet.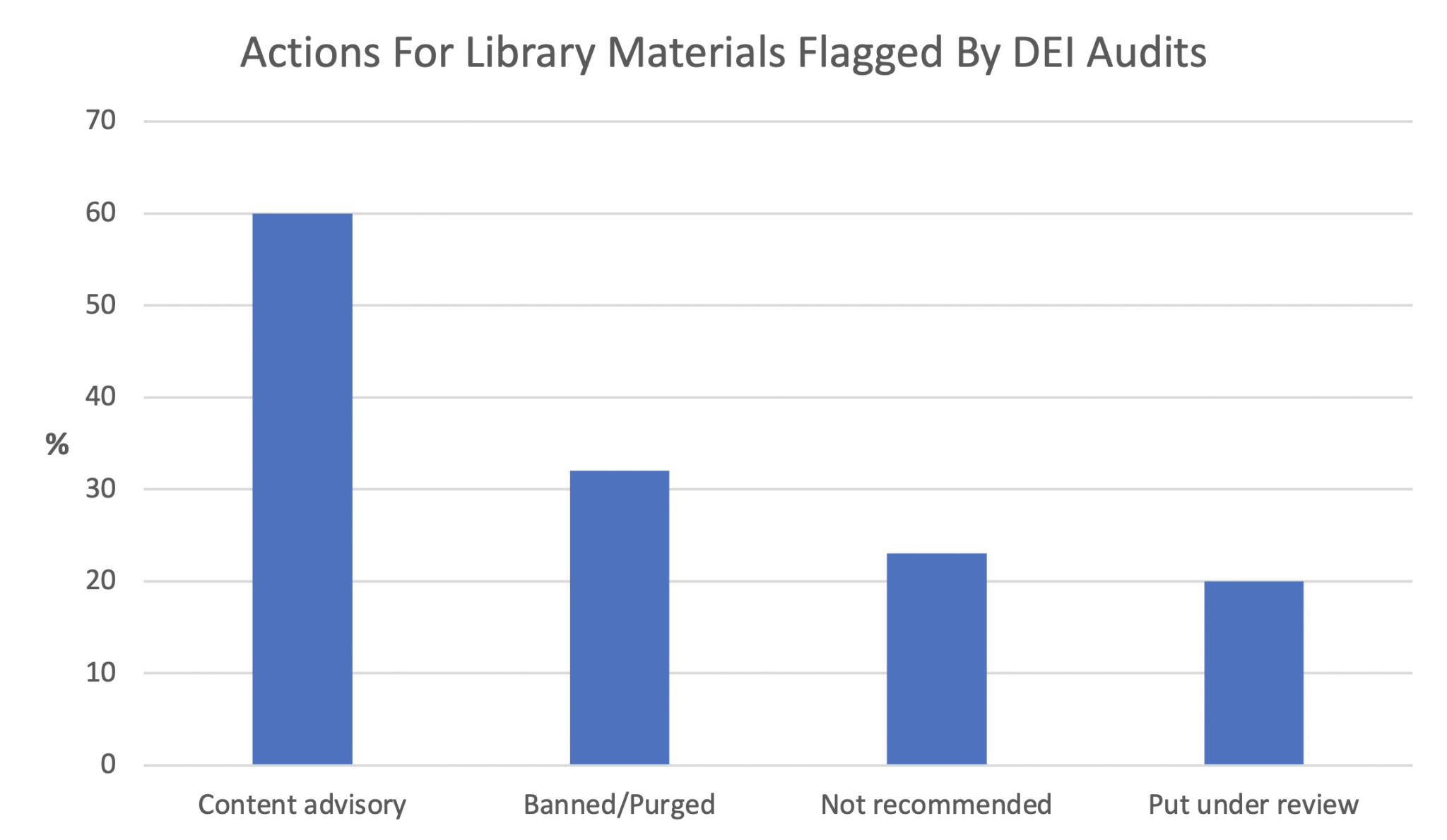 Gale/Library Journal 2022 survey on academic libraries' use of DEI audits for collections.
But the March 2 seminar has nothing to say about these DEI book bans. Instead, it concerns the removal from K–12 school and public libraries of sexually explicit and transgender-promoting books at the behest of parents, including a section on "tactics for school board meetings."
The chasm between what modern librarians consider inappropriate for libraries and what modern parents and taxpayers consider inappropriate has grown to Grand Canyon proportions. But if "intellectual freedom" is at stake, as the upcoming seminar asserts, then it is the librarians, not the parents and members of the public, whose actions are the biggest threat. After all, the latter have argued merely for the delay of certain complex and challenging materials for young readers, rarely for outright removal. The librarians, on the other hand, have no qualms about declaring books and magazines that do not conform to the current academic zeitgeist to be off-limits for all time.
[Related: "Going Woke Isn't Hard When You've Got a Library Card"]
Consider one of the "diagnostic questions" posed in a 2021 Library Journal article by Colleen Wood, a public librarian in Darien, Connecticut and overall DEI warrior in the American Library Association. It concerns the decision on whether to "flag" a book for a DEI violation: "Does the author show prejudice? Does the book reflect partiality or preference for or against a person or an idea?" One might wonder how any creative act could not reflect partiality or preference for or against a person or an idea, or whether such a book would be worth acquiring at all. After all, even books on bridges reflect partiality for the idea that the bridge should not collapse.
The purpose of such open-ended questions is obviously to give librarians free-hand to cull books with which they disagree. For a group that is currently holding emergency seminars on "defending intellectual freedom" against parents, this claim to the intellectual high ground is rich indeed. What, one wonders, would Ms. Wood consider Ibram X. Kendi's How To Be An Antiracist if not partial for and against certain ideas, as well as persons? What could possibly go wrong by interrogating every book on the shelves with that question in mind?
The DEI audits are intended not only to ban, disappear, or otherwise curtail certain books—they are also intended to flood the zone with books that bring us to the utopian future of racial and group-based justice. This leads to a second assault on the intellectual freedom of the library by DEI audits: the contrived emphasis on books that happen to have authors with pigmented skin or a vagina. As a librarian at a public high school in South Carolina, Christina Fuller-Gregory, wrote of her colleague's assiduous DEI reclassification scheme, "The importance of accurately and effectively identifying keywords was underscored when she noticed that author Amy Tan, who is Chinese American, was not properly categorized."
God forbid that Amy Tan, or any other author, is "not properly categorized"! After all, for the DEI ideologues, humans must be put into categories. Yesterday's peasant, worker, and soldier is today's BIPOC, queer, and female. Amy Tan should thank her lucky kitchen gods that she wrote in an era before being "properly categorized" mattered more than being widely read.
The DEI audit movement in libraries can be traced quite clearly to a 2018 article entitled "Diversity Auditing 101: How To Evaluate Your Collection" by a public librarian named Karen Jensen. Along with the mandatory confession of guilt ("As a 45-year-old white woman …"), the article told librarians that it was time to think of the library as a propaganda mill to push out "positive representations" of favored groups.
[Related: "Measuring the Spread of DEI"]
The reductio ad absurdum program promoted by Jensen had faint echoes of the bloody debates in the Chamber of Deputies in revolutionary France, when each deputy claimed that the others had miscalculated the true extent of repression under the ancien régime as justification for leading their rivals to the guillotine. Consider this example of her revolutionary fervor run amok:
If there are 200 titles with LGBTQIA+ representation, divide 200 by the total number of books in the collection (let's say that's 2,000 books). In that scenario, 10 percent of the collection includes LGBTQIA+ representation. That number can be compared with U.S. Census data to decide if its satisfactory. Research from a 2016 survey by the J. Walter Thompson Innovation Group found that 52 percent of Generation Z (people between the ages of 13 and 20) identified as something other than straight, meaning that more than half identify in some way as LGBTQIA+. When there are areas with low percentages, use that data to target ordering to diversify your collection.
Like the revolutionary calendar invented by the sans-culottes, Jensen also advocated an "annual weeding calendar" that used each month to target a certain type of non-DEI-compliant book for elimination ("weeding"). Perhaps books by whites in January, books about cis-gender people in February, and so on through the end of the year, when we might conclude December by purging books that are partial to the idea of American greatness.
The librarian used to be a kindly person who helped individuals explore their own curiosity. Today, they are intolerant Maoists creating revolutionary collections to pave the road to the workers' paradise, weeding the garden of counter-revolutionary thought crimes, all the while using their version of the People's Daily to assail the banning of Mao's Little Red Book by reactionary forces abroad. How little we have travelled.
---
Image: Adobe Stock