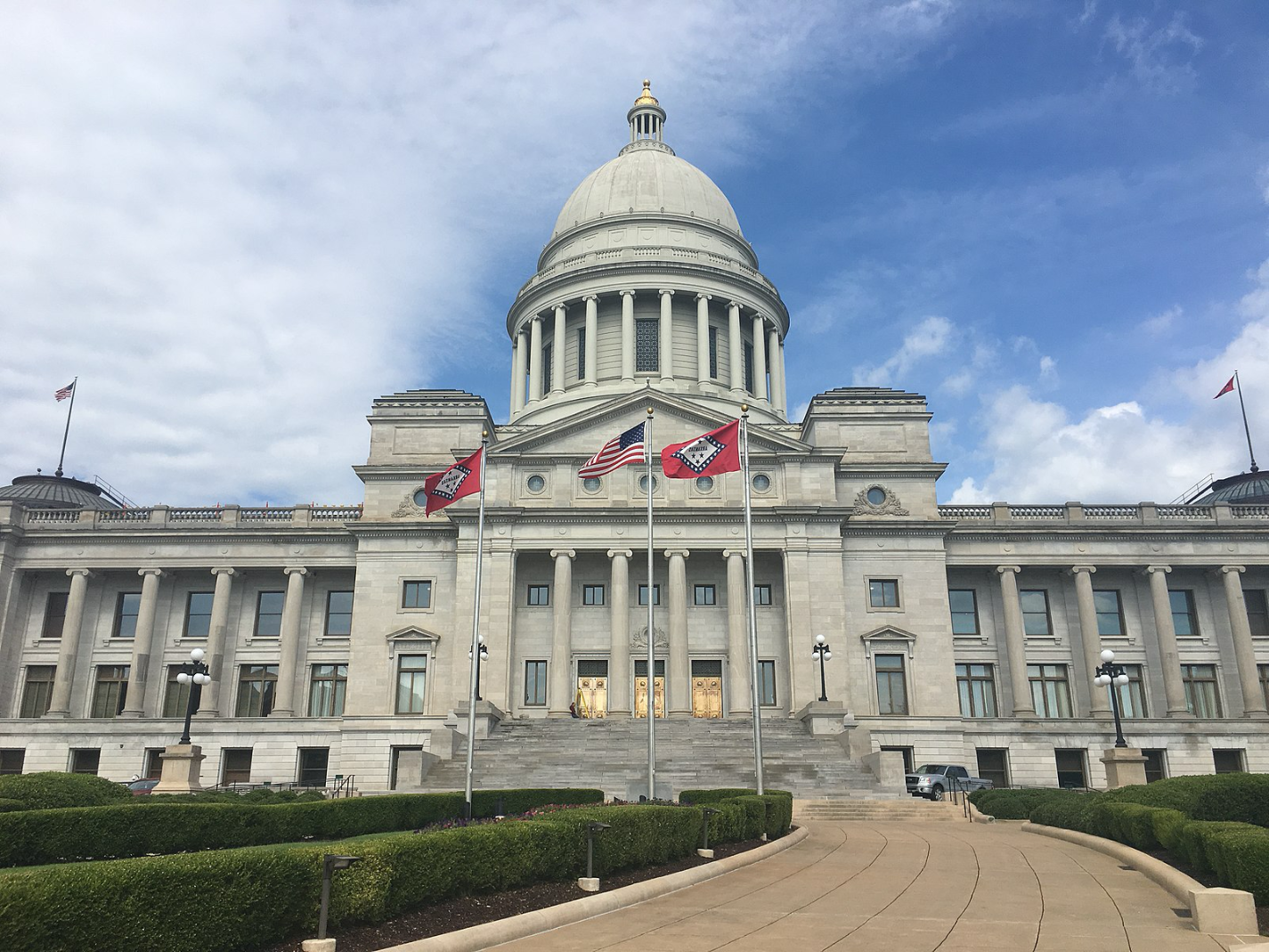 On March 9, 2023, the Arkansas State Senate—controlled by a 29-to-6 Republican majority—narrowly passed a legislative ban on race-based affirmative action: Senate Bill 71 (SB 71). If signed into law, SB 71 would make the Natural State the tenth U.S. state to prohibit racial preferences in public programs. However, when the bill made its way to the lower chamber of the Arkansas General Assembly, it was tabled after a Republican lawmaker in the House Committee on State Agencies and Governmental Affairs motioned for its deferral, citing concerns over the ban's effects on state minority programs.
On April 3, after receiving criticism from the Wall Street Journal and organizations such as the Pacific Legal Foundation and the Californians for Equal Rights Foundation, the committee reopened the discussion. Even though the committee leans Republican 18 to 2, the bill was passed by a vote of 10 to 3, after lawmakers from both parties grilled the bill's lead sponsor, Senator Dan Sullivan. 14 members of the public spoke in opposition, while six testified in support. The fate of SB 71 is uncertain as it heads to the House floor.
At a time when progressive states like California and Washington have successfully defended their state constitutional bans on race-based affirmative action, and when the U.S. Supreme Court is set to decide on the future of race-conscious college admissions, Arkansas's less-than-enthusiastic reception of SB 71 seems misplaced.
Among the nine states that have banned race-based affirmative action, six (California (1996), Washington (1998), Michigan (2006), Nebraska (2008), Arizona (2010), and Oklahoma (2012)) accomplished this goal via constitutional amendments at the ballot box; two (New Hampshire (2012) and Idaho (2020)) utilized the state legislative process; and one (Florida (1999)) did so through an executive order. Colorado and Missouri attempted to change their state constitutions in 2008 to no avail: the Colorado Civil Rights Initiative (Amendment 46) was defeated at the polls by a margin of 50.81% to 49.19% of votes, and the Missouri Civil Rights Initiative (Ballot Measure 009) failed to gather enough signatures to qualify for the ballot.
[Related: "Race Consciousness Hangs by a Thread"]
Notably, in recent years, voters in California and Washington struck down electoral measures to repeal their states' civil rights initiatives: Proposition 16 in California (2020) and Referendum 88 in Washington (2019). In California, a considerably more diverse and progressive electorate voted 57.2% to 42.8% to keep its state constitutional guarantee of equal treatment during a presidential election year when political polarization in the U.S. reached a record high.
Essentially, Arkansas's SB 71 contains the same language as its predecessors in these nine states. It states in part:
The state shall not discriminate against, or grant preferential treatment to, an individual or group on the basis of race, sex, color, ethnicity, or national origin in matters of state employment, public education, or state procurement.
Compared with ballot-box voting to amend a state constitution, the legislative process, which only requires a simple majority of votes in each level of the state legislative body, is far less costly and more politically expedient. That is true for those states that do not require a citizen-initiated process to prohibit racial preferences. In Idaho, for instance, the ban on race-based affirmative action took the form of House Bill 440, which was passed along the party line and promptly signed into law by Republican Governor Brad Little just ten days later.
The rationale behind these efforts to outlaw race-based affirmative action in public education, public employment, and government contracting is unambiguously rooted in the spirit of non-discrimination and the original intent of equal protection in the 14th Amendment to the U.S. Constitution. However, as similar initiatives bore fruit even in America's bluest states, proponents of racial preferences have become more duplicitous in crafting a false narrative of perceived harms that, they claim, have resulted from ending state-sponsored discrimination.
In Arkansas, the Legislative Black Caucus argued that SB 71 would "end programs aimed at providing opportunities for Arkansans who have historically been denied access to those benefits" and hinder the help minority students need to "stay in college and graduate." The Arkansas conference chapter of the NAACP condemned the proposal for undermining affirmative action. In March 2023, Arkansas House Republicans apparently caved to the political pressure, when Republican Representative Marcus Richmond moved to table the bill. The general grievance expressed by the Republican lawmakers is that SB 71 would hurt museums that commemorate black history and restrict funding for the state's Historically Black Colleges and Universities (HBCUs).
Rep. Richmond proposed creating a "working group" to study the issue first. But the empirical data for colorblind equal opportunity and against race-preferential programs are numerous and strong. Public opinion research shows that more and more Americans—from 65% in 2016 according to Gallup to 73% in 2019 according to Pew to 74% in 2022 according to another Pew survey—oppose race-conscious college admissions. This opposition is shared by majorities of all racial and ethnic groups (79% of whites, 59% of blacks, 68% of Hispanics, and 63% of Asian Americans).
More importantly, the recent votes in California and Washington have demonstrated that American voters, regardless of party affiliation and political persuasion, would always vote against racial preferences when given the chance. The consensus against race-based affirmative action is growing, national, bi-partisan, and broad-based.
[Related: "Surprise! Americans Oppose Discrimination"]
Like its predecessors elsewhere, SB 71 expressly contains a clarifying exemption regarding federal funding eligibility. Specifically, it states that the bill does not "[p]rohibit an action necessary to establish or maintain eligibility for a federal program if ineligibility would demonstrate result in a loss of federal funds to the state."
Defined by the Higher Education Act of 1965 as "institutions that were established prior to 1964 with the principal mission of educating Black Americans," HBCUs today enroll students of all races and will not see declines in state funding even under a ban on racial preferences, so long as they give no race-preferential treatment in their operations. For example, Florida Agricultural and Mechanical University, an HBCU in Florida where race-based affirmative action is prohibited, received $70 million in new state funding in 2022 "to beef up the University's student success initiatives, including graduation and retention rates, first-time licensure pass rates for nursing, pharmacy, and physical therapy, boosting the number of STEM graduates and the recruitment and retention of faculty."
There are four HBCUs in Arkansas: Arkansas Baptist College, Philander Smith College, Shorter College, and the University of Arkansas at Pine Bluff. Among them, three are private colleges which receive the vast majority of their funding from student tuition and fees and the federal government. A state ban on racial preferences in public institutions would not apply to these private entities anyway. Meanwhile, the University of Arkansas at Pine Bluff (UAPB), the only public HBCU in Arkansas, offers the state's only aquaculture program, which was created to support Arkansas's second-in-the-nation aquaculture industry. As of 2020, UAPB has reportedly received $15.8 million in federal grants and contracts, compared to $3.6 million in state grants and contracts.
Unlike many of its woke peers that have gone test-optional or test-free, UAPB uses a merit-based undergraduate admissions process that requires an ACT score of 19 or above or an SAT of score of 1330 or above for full admission. Many opponents of racial preferences have argued that underrepresented minority students would be better off academically if they were to be accepted into rigorous and meritocratic programs offered by HBCUs and other less prestigious schools, rather than being admitted into top-tier schools through affirmative action.
It is simply presumptuous to argue that funding for UAPB would shrink as a result of SB 71, or that the school's mission "to promote and sustain excellent academic programs" would be hindered. More broadly, the unjustified fear about SB 71, as Bill McGurn of the Wall Street Journal observed, "isn't a good look for a Republican Party trying to persuade the American people it offers an alternative to business as usual."
Perhaps, instead of reinventing the wheel with a working group, Arkansas lawmakers should just lean on the treasure trove of anti–racial preferences data provided by voting history, public opinions, and empirical research. Given its conservative majority in the state legislature, it would be imprudent not to embrace the national consensus against racial preferences and join the other nine states. Like Bill McGurn argued, "Eliminating preferential treatment isn't easy, but if California can do it, there's no excuse for the Republicans who control Little Rock."
---
Image: HAL333, Wikimedia Commons, Creative Commons Attribution-Share Alike 4.0 International license