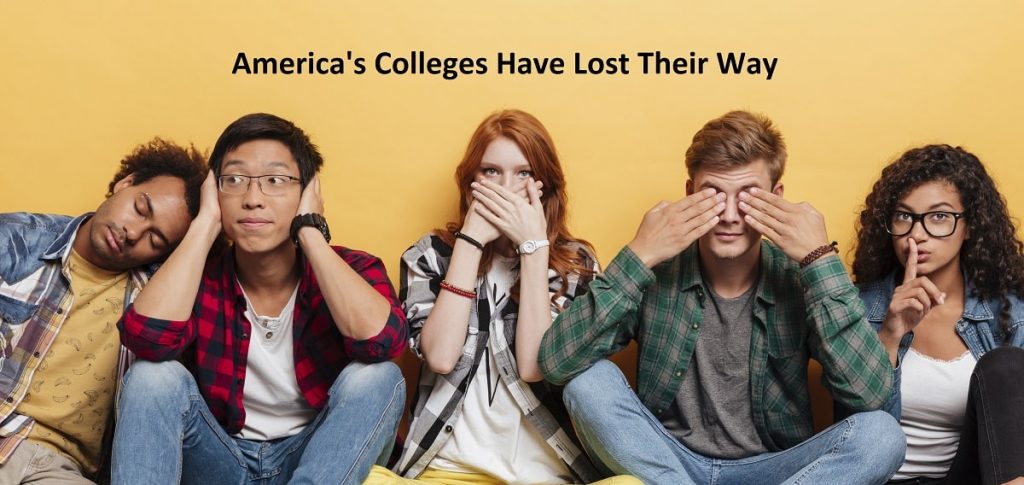 In my recent book, The University We Need, I wrote, "A moment's reflection should confirm how strange it is that no leading university has been founded in the United States since Stanford in 1891." The reason cannot be that no one has enough money to establish such a university because the United States has more rich people now than ever before. The reason cannot be that everyone with enough money is satisfied with the universities we have because most conservatives and many others are very unhappy with those universities.
Some donors have even spent large sums on founding conservative colleges and universities, including Liberty University and Ave Maria University, which became universities in 1985 and 2003 respectively. But none of these places can seriously claim to be a leading university—that is, an elite institution comparable in quality and ambitions to Harvard, Princeton, Yale, or Stanford.
Not only I but several other conservatives, most recently Frederick Hess, Brendan Bell, and Peter Berkowitz, have argued in favor of founding a leading conservative university. Yet some conservatives are skeptical about the idea. Doubts about it appear in the March 11 Minding the Campus in an essay by Peter Wood, President of the National Association of Scholars, an organization of conservative professors to which I belong. While acknowledging that founding a new university would be technically feasible, Wood warns that it "will only work if we also drastically change the political environment in which it will have to live." That seems an impossibly high bar for the university to surmount.
All conservatives should want to see the right kind of drastic change in the political environment for higher education. The problem is how to bring about that change. During the last fifty years, the change has been drastically for the worse. Whatever has been tried, including lawsuits, legislation, cutting state funding, forming organizations, and founding and supporting less ambitious conservative colleges and universities, may have helped some but has failed to reverse the steady trend toward academic mediocrity and leftist politicization. If we wait for a dramatic change for the better before founding a new university, it will not be founded any time soon, and if and when such a change finally occurs, it would make a new university superfluous. In my opinion, however, founding a new university is the only feasible proposal likely to make a decisive change for the better.
Drastic Change Needed
Without explicitly arguing against a new university, Wood raises several interrelated objections to it. First, he implies that founding it would mean giving up on existing colleges and universities: "Conservatives have blithely walked away from any real concern for the trillion-dollar higher education we already have. Is that system so far beyond repair that conservatives should simply write it off?"
Second, he argues that since a new leading university would necessarily be a research university, it would be corrupted by federal regulations that are "rife with political impositions." Third, he argues that given current academic ideologies, the new university "cannot be 'open' to the ideas that will destroy it. But if it is not open to those ideas, it cannot be a truly liberal institution." Apparently, since conservatives need to concentrate on fighting leftist regulations and leftist ideas, conservative institutions cannot be committed to research (which would subject them to leftist regulation) or to free inquiry (which would subject them to leftist ideas).
Wood says he regrets his conclusion that a new leading university would be unworkable in practice: "The new university would come to birth in a political maelstrom, and it would survive only by embracing a political identity. I am not happy about that. I would prefer the university that Treadgold, Hess and Bell, and Berkowitz prefer: a university that is conservative in character but eschews politics as such. … But that cannot happen without the university also fiercely taking up the political battle against its ideological foes."
Hess, Bell, Berkowitz, and I have made clear in what we have written that none of us disagrees with Wood about the sorry state of American higher education, or about the need to reform government regulation of it. But, contrary to his implication, none of us has advocated giving up on existing colleges and universities. I believe that a new university could itself make a large contribution to reforming existing colleges and universities and government regulation.
I certainly agree with Wood that reforming government regulation is an urgent priority. Last year the National Association of Scholars made a major effort, to which I made a modest contribution, to encourage Congress to pass a reformed Higher Education Act (HEA). I made additional proposals for federal legislation to reform universities. Unfortunately, even when Republicans controlled the Presidency and both houses of Congress, the HEA never passed the House. The Democrats who now control the House are most unlikely to agree to any legislation that reduces leftist dominance over higher education.
Even if Republicans regain the House and retain the Senate and the Presidency in 2020—a result far from assured—I see few signs that they would make higher education reform a priority or could override a filibuster against it by Senate Democrats. In any case, I feel certain that such a reform would not be harmed in the least if plans for a new conservative university were under way at the time.
I take seriously Wood's fears that a new university might either be captured by leftists or neutered by moderates afraid to combat the leftist ideas that have devastated higher education. Wood correctly identifies those ideas as "multiculturalism, radical feminism, identity studies, the diversity doctrine, the idealization of victimhood, socialism, sustainability, and postmodernism." In principle, the solution is simple: the new university should hire the right people.
Around 10% of the roughly 1.5 million professors in America still identify themselves as conservatives, and many conservative scholars can be found in foreign universities and outside academia. A national advertising campaign offering competitive salaries should be able to attract at least a thousand professors who firmly reject leftist ideology and embrace academic freedom and excellence. A thousand—the size of the faculty of Princeton—is enough to staff a leading conservative university.
No reason to Disguise
Although leftist academics are usually easy to identify because they have no reason to disguise their leftism, professors dedicated to academic freedom and excellence now have good reasons to hide their views, and academic qualifications in specialized fields can be hard to judge. So hiring the best professors would sometimes be difficult, and some mistakes would probably be made. For this reason, I proposed that at the new university hiring should be the responsibility of carefully selected chairpersons for each department, subject to the approval of a carefully selected president and dean, who should also be ready to replace any chairperson when necessary. This should ensure that no department could be permanently captured by poorly qualified or leftist professors.
Effects on Other Colleges
From what I know of the best conservative scholars, if they were hired and supported at a leading conservative university, they would be delighted to produce research combating multiculturalism, radical feminism, identity studies, the diversity doctrine, the idealization of victimhood, socialism, sustainability, and postmodernism. Such scholars have learned from bitter experience that these doctrines are incompatible with a liberal education and the search for truth. Refuting unsound theories that have become widely accepted is an essential element of sound academic research.
To have a widespread impact outside the classroom, however, such refutation needs to be done through publication, public speaking, and training graduate students, at a university where the results of research are never predetermined by institutional ideology. Only a conservative research university could free conservative scholars to combat leftist ideology in these ways, without the fear of damaging or destroying their academic careers that now makes so many of them reluctant to say and write what they think and know.
Many leftist government regulations of research universities can be evaded with a little ingenuity, especially if the new university takes advantage of religious exemptions from some regulations by dedicating itself to traditional Christianity and Judaism. Other regulations should be found illegal or unconstitutional if the new university appeals to the courts; as I wrote in my book, "The university would need a strong legal department to contest the many government regulations that are incompatible with free speech and academic quality." The university should lobby strongly to have any remaining leftist regulations overridden by legislation or executive action. If the new university did these things, its impact would exceed that of any likely revision of the Higher Education Act.
Finally, founding a leading conservative university would have a massive effect on existing colleges and universities. The absence of serious competition is the main reason today's leading colleges and universities can ignore the misgivings they inspire among so many Americans. The best and most ambitious students want to attend colleges and universities with the most prestige and money.
Most major donors want to give money to prestigious universities that do important research. Students thinking of becoming professors now have no choice but to attend leftist graduate schools. If a new conservative research university offered a real alternative to Harvard, Princeton, Yale, Stanford, and Berkeley, those universities and others would have to compete for students and donors by becoming much more accommodating to conservatives and moderates. As it is, leftist academics can pretend that a leading conservative university is inherently impossible. We can prove them wrong only by creating one.