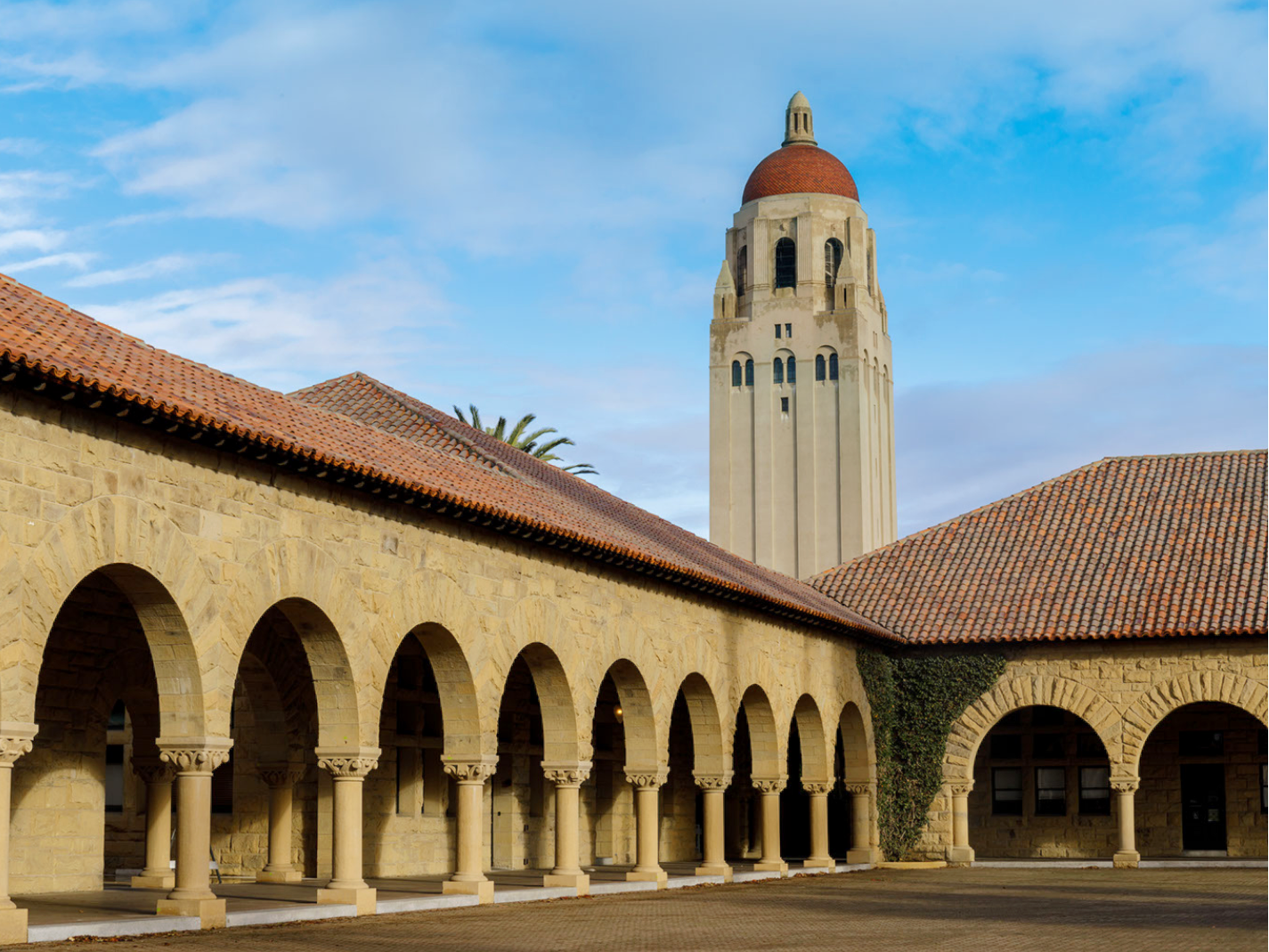 Stanford University has just apologized for its past discrimination … against Jews.
As summarized in Stanford Magazine, a presidential task force made up of faculty, students, staff (including a rabbi), an alumnus, and a university trustee released a 75-page report in September, "A Matter Requiring the Utmost Discretion", whose research was thorough and conclusion unsparing. Their "extensive investigation uncovered two key findings. First, … evidence of actions taken to suppress the number of Jewish students admitted to Stanford during the early 1950s. Second, … that members of the Stanford administration regularly misled parents and friends of applicants, alumni, outside investigators, and trustees who raised concerns about those actions throughout the 1950s and 1960s." Misled is a euphemism; they lied.
Stanford today is regarded as, in effect, an Ivy League school in a warm climate (graduates often refer to Harvard as "the Stanford of the East"), but that was far from true in the 1950s. Until 1952, admission was not selective; virtually all males who applied were accepted. That changed in 1953, when Stanford first turned to selective admissions—this, not by coincidence, is when it began restricting the number of Jewish students. However, unlike the Ivy League's restriction of Jewish admissions in the 1920s, Stanford administrators in 1953 had no clear picture of the ideal "Stanford man," but they knew that too many Jews would distort it.
Unlike the Ivy League, Stanford was always co-ed, but a cap on the number of women had been imposed by Jane Stanford. The task force found no evidence of discrimination against Jewish women applicants (which, of course, does not mean it did not exist, especially since Stanford ceased recruiting from some high schools in Los Angeles with heavily Jewish populations).
The Policy and Its Defense
Early in 1953, Stanford Director of Admissions Rixford Snyder brought his concern about too many Jewish men to Frederic Glover, assistant to President Wallace Sterling. Glover relayed those concerns and his own views in a February 4 "Dear Wally" memo (Appendix A of the report). Here is an excerpt:
Rix is concerned that more than one quarter of the applications from men are from Jewish boys. …
Rix said that he thought that you should know about this problem, since it has very touchy implications. He pointed out that the University of Virginia has become largely a Jewish institution, and that Cornell also has a very heavy Jewish enrollment. Harvard and Yale stick strictly to a quota system. Rix has been following a policy of picking the outstanding Jewish boys while endeavoring to keep a normal balance of Jewish men and women in the class. …
Rix feels that this problem is loaded with dynamite and he wanted you to know about it, as he says that the situation forces him to disregard our stated policy of paying no attention to the race or religion of applicants. I told him that I thought his current policy made sense, that it was a matter requiring the utmost discretion, and that I would relay these highlights of our conversation to you and let Rix know if you had different views.
"Wally" clearly did not have different views, and Stanford implemented the restrictive policy, although not so much with "utmost discretion" as with dissembling, misrepresentation, obfuscation, and outright lying. What were routinely dismissed as "rumors" about Stanford's new policy spread quickly, and the report quotes several replies over the following years to complaining parents and others from President Sterling, Glover, and Snyder, all denying that Stanford had a "quota." In one example, an alumna
posed the question to President Sterling directly, "Is there now or has there ever been in the past a quota on the number of Jewish or Catholic students Stanford will accept?" Sterling sharply denied the accusation, writing "Stanford has no quotas of any kind, racial, religious or geographic. It follows, therefore, that there are no quotas for Catholics or Jews. Statements or rumors to the contrary are wholly false."
In another typical reply, Glover asserted that "each applicant is considered individually." He went on to explain, according to the report, "that the university's admissions procedures do not ask about religion, race, or 'social background,' so 'if anyone has statistics on the proportion of Jewish students entering Stanford, the figures are not Stanford's.' He added, 'If we had such information, we could defend ourselves better against charges of discrimination, but if we maintained it, we would be open to charges that we kept the data to establish quotas.'"
[Related: "The President Has No Clothes"]
"These Actions Were Wrong"
Responding to the report, on October 12 Stanford President Marc Tessier-Lavigne issued an apology:
On behalf of Stanford University I wish to apologize to the Jewish community, and to our entire university community, both for the actions documented in this report to suppress the admission of Jewish students in the 1950s and for the university's denials of those actions in the period that followed. These actions were wrong. They were damaging. And they were unacknowledged for too long.
President Tessier-Lavigne is certainly correct, but his confident assertion that those actions were wrong raises a number of new questions, unaddressed in the report. Before addressing some of them, however, I should acknowledge that I have a personal interest other than my longstanding interest in discrimination: I entered Stanford as a sophomore transfer student in the fall of 1962. Perhaps by then Stanford's restrictive policy had lapsed—there is no clear evidence of a cut-off date—or perhaps Rixford Snyder, who was still head of admissions, didn't believe an applicant from a small town in Alabama could be Jewish enough to matter.
I had been a freshman at a small, selective college in the South. In an application interview with the long-serving dean of admissions there, I had asked directly, if perhaps naively, whether the college had a quota on Jews. Unlike Stanford's reply to many similar questions, the dean answered without any "discretion," hesitation, or discomfort. "Of course we do," he told me. "If we didn't, within one four-year cycle our student body would be heavily Jewish from within about 150 miles of New York City, and we're simply not that kind of school." (The restrictions meant, as they always do, that the Jews who were admitted tended to do well. A fraternity brother of mine that year graduated number one in the class and went on to win a Nobel Prize in medicine.)
Since the college had never admitted blacks or women, the restriction on Jews did not raise any issues for my old college dean. Stanford, by contrast, as stated in Glover's 1953 memo to Sterling, had a "stated policy of paying no attention to the race or religion of applicants." One need not believe that Sterling, Glover, and Snyder were personally committed to the principle of treating applicants without regard to race—indeed, their actions reveal they were not—but they knew that many of those on whose good will Stanford depended would regard violating that principle as wrong.
Which brings us back to current president Tessier-Lavigne. Someone should ask him why he believes the policy of restricting the number of Jews was wrong. Does he really believe in the principle that administrators in the 1950s violated, that all applicants should be treated "paying no attention" to race, ethnicity, or religion? That, of course, would seem to be impossible, since Stanford has long practiced affirmative action, i.e., raising and lowering the standard of admissions by race and ethnicity in order to promote diversity, not unlike the "balance" President Sterling and Rixford Snyder sought in the 1950s.
Stanford's current undergraduate student body is 25% Asian and only 28% white (the most "underrepresented" group there). The California Institute of Technology, by contrast, which is said to have no admissions preferences, is 44% Asian and 45% white (but also 7% black, the same as Stanford). Stanford is on record again and again defending preferential treatment in admissions (its brief in the Harvard/University of North Carolina case now before the Supreme Court is here), and it appears to practice what it preaches by taking race and ethnicity into account. Again, if it is fine to deny admission to some Asian and white applicants who would have been admitted had Stanford "paid no attention" to their race or ethnicity, what exactly was "wrong" with Stanford's old practice of restricting the number of Jews? What principle did it violate that is not also violated by today's practice?
[Related: "The Chronicle Airbrushes Affirmative Action]
Affirmative Action at Stanford Then …
The recent Stanford report is impressive, but it is not without blind spots. The most glaring is its failure to acknowledge that its policy of restricting Jews is more than similar to the racially and ethnically discriminatory policies of Stanford and similar institutions today; it is virtually identical. The old descriptions and defenses—creating "balance," judging each candidate individually, denying quotas—are still very much in use. In fact, Rixford Snyder, Frederic Glover, and Wallace Sterling should be recognized as creating Stanford's first affirmative action program—preferential treatment for non-Jewish applicants.
… And Now
Of course, affirmative action today is quite different from affirmative action in the 1950s and 1960s, and even as late as 2019. Consider, for example, Stanford's August 2019 "Equal Employment Opportunity Statement," signed by President Tessier-Lavigne, which still embraced the principle of color-blind non-discrimination. "To encourage . . . diversity," it stated, "we prohibit discrimination and harassment and provide equal opportunity for all employees and applicants . . . regardless of race, religion, color, national origin. [emphasis added] … The University does not sacrifice job related standards when it engages in affirmative action. The best qualified person . . . must always be hired; that is the essence of equal opportunity. Affirmative action simply asks us to cast our net more widely to broaden the competition."
You will notice that I did not provide a link to that statement. That's because I could not find it. (I had quoted it here, in a summer 2021 article predicting that President Biden's emphasis on "equity" was likely to displace older notions of affirmative action.) It is not surprising that the statement has been dropped, since I doubt that President Tessier-Lavigne would be willing to publicly affirm it today. If he did, he would be denounced as a white supremacist, or would at least be committing what the University of California, Berkeley defined as the "microaggressions" of advocating color blindness and claiming that "the most qualified person should get the job."
Apparently that older statement has been replaced by this Diversity Statement, which speaks a far different language. It lists as a top priority "Increasing the diversity of the faculty, especially faculty from underrepresented backgrounds including racial and ethnic minorities and women in STEM." Simply casting a wider net has been thrown overboard.
Stanford's administrators defended its first affirmative action plan by denying, duplicitously, that they collected the sort of data that would make quotas possible. That denial has been abandoned in favor of a proud affirmation that the university now seeks such data: "Stanford is asking that [sic] you to self-identify your race and ethnicity information so that we can evaluate our diversity, equity, and inclusion efforts."
Similarly, the Diversity and Access Office provides reports that
include Stanford's workforce summaries by school and unit, providing detailed demographic information. Furthermore, analysis of each job group is conducted to identify where Stanford is underrepresented with regard to women, minorities, veterans, and individuals with disabilities. This determines the affirmative action goals and the action-oriented plans to be implemented for the following year.
Again, President Tessier-Lavigne, what exactly was wrong with Stanford's then-stated policy of "paying no attention" to such things as race or religion and your predecessor Wallace Sterling's violation of it? His violation, in fact, reveals his recognition of the power of colorblind non-discrimination; he did not want Stanford to be seen violating it. Today's Stanford and its peers, however, not only violate that principle in practice but have rejected the principle as well.
---
Image: Adobe Stock