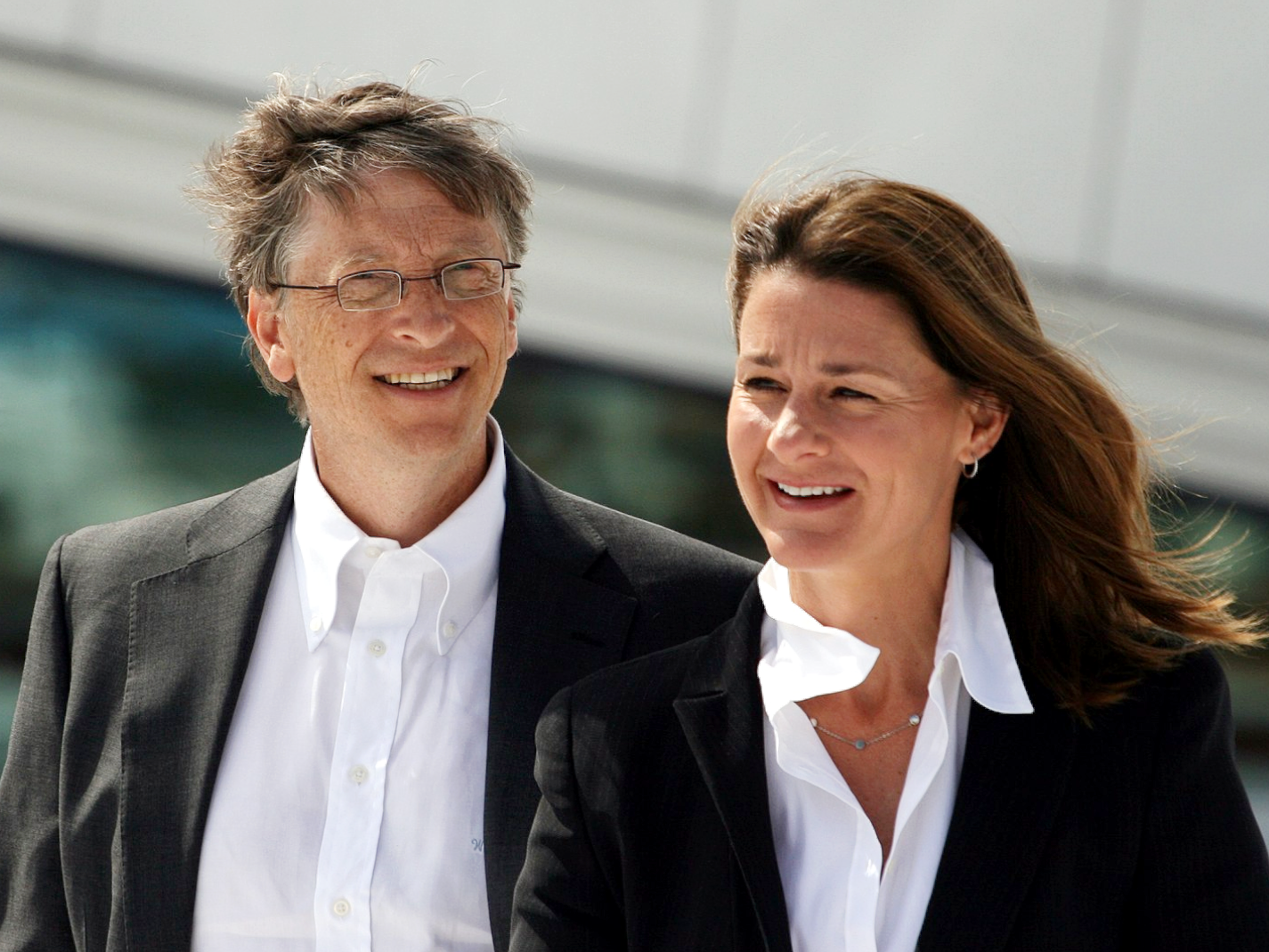 While employment opportunities have steadily diminished at traditional independent media outlets over the past quarter century, efforts to ameliorate or adapt to the decline have met mixed success.
A group of wealthy foundations, however, cleared a rescue path uniquely for US education journalists. Many who followed this path, laid by the Bill and Melinda Gates Foundation and its allies, now enjoy steady employment. The Gates Foundation also happens to be the chief proponent of a particular philosophy of curriculum, instruction, and testing—the Common Core Standards—funding its development and national implementation, with generally negative results.
Curious to track the progress of this foundation-led initiative, I have charted the career paths of 72 US education journalists. To be sure, it is not a scientific sample. The complex employment structure of US journalism does not lend itself to such.
Nonetheless, I have tried to represent a full range of media outlets across the political spectrum. My selection leaned toward print (including online) media, K–12 education coverage, and journalists who write on education research or policy for a national audience. Some media outlets (e.g., Newsweek) do not clearly designate anyone in this way. It would appear that "right-leaning" outlets are more likely to employ an education specialist, whereas "left-leaning" outlets seem more likely to borrow from education-only publications as needed, or to rely on non-journalist stringers (e.g., The Progressive).
You may find the product of my research here.
One overarching trend dominates the results: a migration en masse from traditional independent news outlets to education-only publications heavily subsidized by the Gates and allied foundations (hereafter called "Gates+"). Only two of the younger journalists began their careers at an organization sponsored by Gates+. By the end of their careers, however, 57 of the 72 were so employed.
Just within the past twenty years, Gates+ money has incubated several new education-only media outlets, such as Chalkbeat, EdReports, EdSurge, Education Next, Ed Post, FutureEd, and The 74. Gates+ money has also substantially boosted the efforts of preexisting education-only media organizations, such as EdSource, Education Week, the Education Writers Association, the Thomas B. Fordham Institute, and the Hechinger Report. All told, this accounts for almost all large-audience, US, K–12-education-only print media outlets, other than those tied to the traditional public education establishment.
[Related: "Has The Chronicle of Higher Education Become an Organ of the Democratic Party?"]
Figure 1 displays the numbers of journalist person-years (from among the 72 total) working for an organization substantially subsidized by either the Bill and Melinda Gates or Walton Family Foundations. These two organizations allow easier access to their committed grant information than do other foundations. As many other foundations tag along after Gates' initiatives, summing just Gates and Walton expenditures underestimates the total amounts accepted by recipient organizations.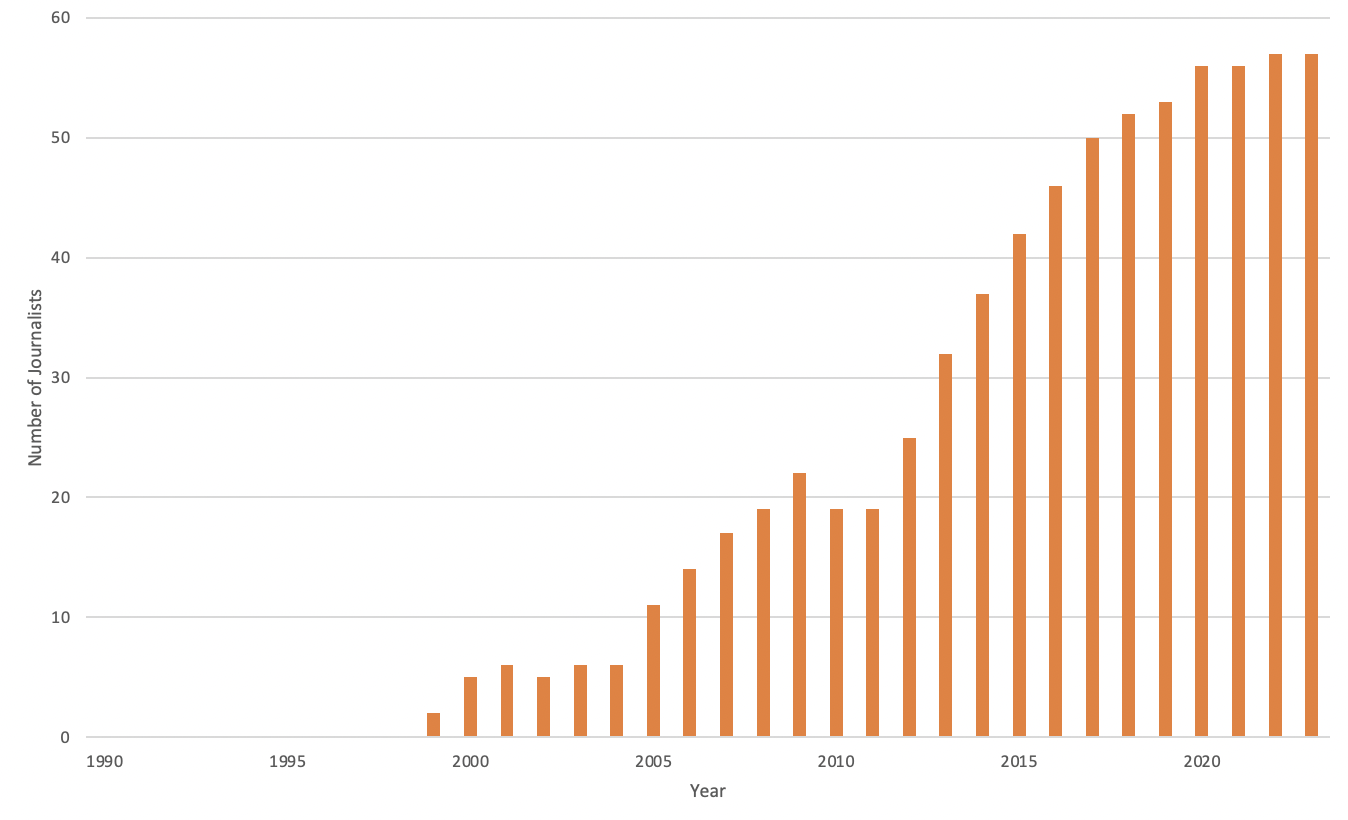 Figure 1. Number of US education journalists (out of 72 total) working in organizations largely subsidized by the Gates and Walton Foundations, 1990 to 2023
Some relatively successful traditional news organizations, such as the Associated Press, the New York Times, the Wall Street Journal, the Washington Post, and U.S. News & World Report, have thus far managed to retain education specialists on staff. Many other outlets, however, have not, and many journalists who used to work their education beats have moved to education-only venues, such as The 74 (ten out of the total 72), Chalkbeat (8), Education Week (5), EdSource (4), EdSurge (3), FutureEd (3), the Hechinger Report (2), and the Education Writers Association (3).
Another large group of education journalist expatriates moved to non-news organizations—think tanks, advocacy groups, and commercial enterprises—where they may continue researching, writing, and editing. Now, however, they do so to serve the political or commercial interests of their employer. Of the over twenty such organizations, each has accepted substantial sums of money from the Gates and Walton Foundations.
Yet another, smaller group of media outlets has employed pundits from organizations with clear political agendas (and substantial amounts of Gates and Walton funding) to write regular columns on education policy. These include Bloomberg Businessweek, Education Week, RealClearEducation, and U.S. News & World Report.
In her 2021 book, Bad News, Batya Ungar-Sargon describes a transformed American journalist corps, no longer staffed by gritty, blue-collar beat reporters but, instead, by elites with lofty ambitions far exceeding the mere reporting of news. Most of our 72 journalists' educational backgrounds match Ungar-Sargon's description.
[Related: "The Chronicle Airbrushes Affirmative Action"]
Undergraduate humanities degrees (e.g., English, history, philosophy), many from America's most prestigious universities, outnumber journalism degrees, for example. The Ivy League, Stanford University, and Northwestern University alone account for half of all degrees. Two-thirds of degrees emanate from the Northeast.
In general, one discerns three types of degrees. Undergraduate degrees in the humanities and social sciences account for the largest number (63). Though some of these programs may have included coursework in journalism, most likely did not. An absence of coursework in journalism probably means no coursework in journalism ethics, either.
Master's degrees in journalism (17) comprise a second group. In many cases, an individual "traded up" from a bachelor's degree at a less prestigious school to a master's degree at a more prestigious one.
Terminal bachelor's degrees in journalism represent the smallest group (15) but, arguably, also the widest range of colleges and universities.
Journalist Tim Schwab well summarizes the ethical and policy implications of this dramatic professional migration in his articles (and forthcoming book) on the Gates Foundation.
I have, on several occasions, encouraged education journalists to "quit taking the money." At one event, a journalist in the audience replied, "We have to." To which I replied, "You would do less, but you would be independent."
Admittedly, it cannot be easy for a newly unemployed veteran journalist to either leave the profession or work for peanuts freelancing, rather than accept a steady, well-paying job made possible by Gates+. From this point on, however, some young workers for whom a wide variety of possible careers remain available face a choice of working for Gates+ or not. If they choose to work for Gates+, it's on them, and they will have no excuse for any future ethical compromises they might make.
As for the organizations that accept Gates+ money, they are completely transformed as well. At this point, to refuse Gates+ money in the interest of asserting their independence would portend firing most of their staff and closing shop. For most of these organizations, there's no turning back.
---
Image: Kjetil Ree, Wikimedia Commons, Creative Commons Attribution-Share Alike 3.0 Unported license